The Ultimate Garden Furniture Buying Guide
In hindsight, it wasn't hard to predict the recent surge in garden furniture sales. The combination of a "stay at home" lockdown and a period of fantastic weather has brought hundreds of customers back to Oxford Garden Centre for their furniture fix. Indeed, with all of us spending more time in the garden, investing in the right furniture has never seemed more important.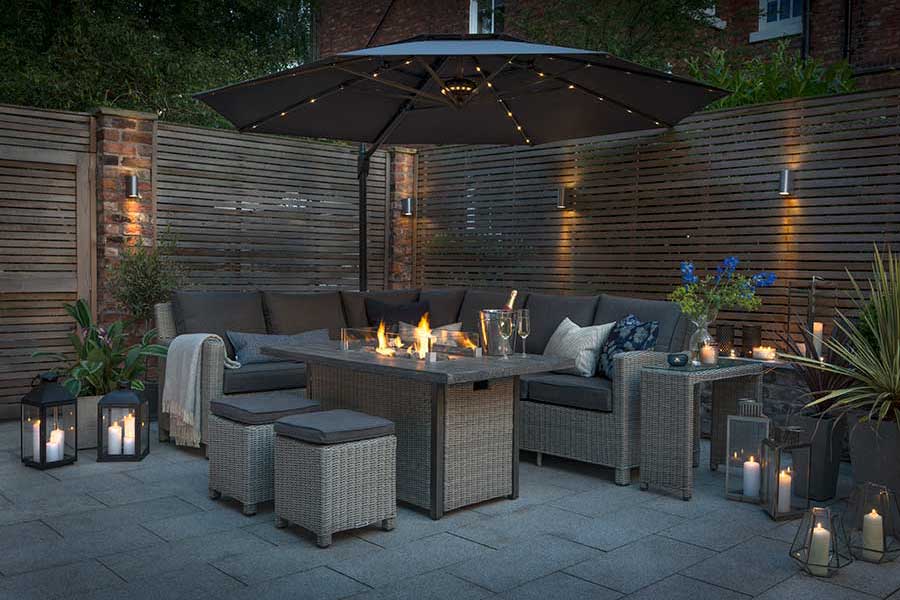 So, before splashing out on new furniture, ask yourself a few key questions:
What's my budget? – While our Kettler furniture is very reasonably priced (plus a 10% discount we're currently offering), be realistic about your budget. If money is tight, why not plump for a more modest set and spend the extra few hundred pounds on essentials such as shade and lighting.
Do I have enough space? – If you have the luxury of space, then there are no limits to your garden furniture. Those with a small patio or balcony should explore more intimate options, such as two person dining sets.
How will the furniture be used? – If al fresco dining is your thing, stay clear of lounge sets. However, if lounging is indeed a priority, then a low-height table will be perfect. Many customers prefer sets with a blend of sofas, armchairs and stools that can be manoeuvred based on the activity or number of guests.
Can I fit the furniture in a conservatory? – Large dining and lounge sets will see very little action over the colder months, especially if they're too big to fit in your conservatory. Make sure to bring any cushions inside for the winter and keep them in a warm, well-ventilated area.
This summer, we're offering 10% off most of our Kettler furniture range. As we explored in a previous blog, Kettler furniture offers an unbeatable match of comfort, style, and durability at an fair price.
Group Dining Furniture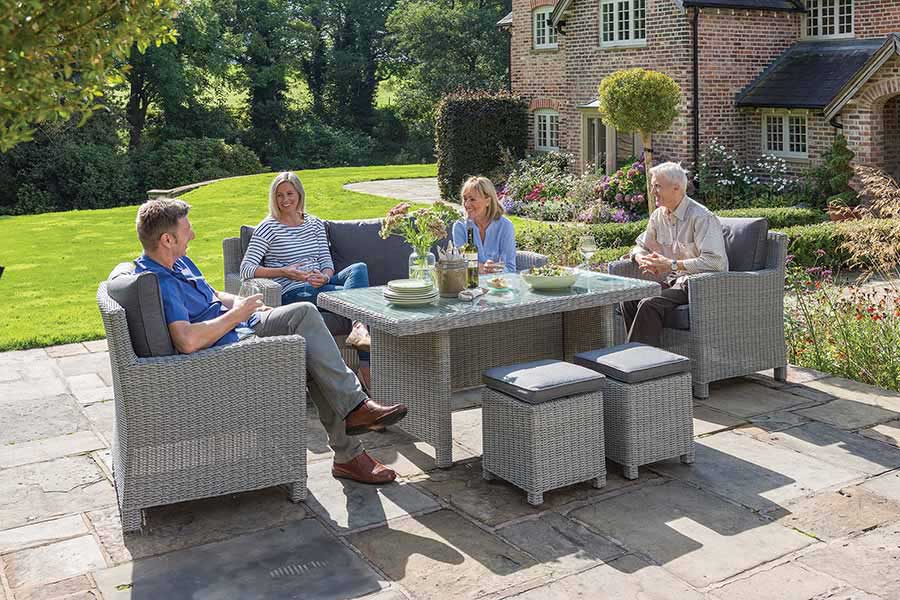 Hosting BBQs and small gatherings is one of the joys of having a garden. Indeed, garden parties have offered a rare reprieve this summer as one of the few permitted social activities during lockdown. Many of us have fallen back in love with al fresco dining – all the more reason to own a comfortable and long-lasting furniture set.
For sheer attractiveness and build quality, there's no beating Kettler's outdoor furniture range. Our best-seller is the versatile Kettler Palma Sofa Set with Table in Rattan or Whitewash (£1,599.99 with discount), seating up to seven people around a glass top or slatted polywood table. Further 10% discounts can be had on Kettler's compact Mini Corner Sets (now £1,349.99) and the larger Palma Corner Set (now £1,549.99). All these sets boast a stunning handwoven wicker shell with UV-resistant and waterproof properties for a longer life outdoors. Generous 3-year warranties are included as standard.
For a more formal dining setup, we recommend Kettler's Caredo 6 Seater Set with Cushions (£799). This traditional table and chairs set boasts durable steel mesh frame with a 5-year anti-rust warranty. Ideal for those on a tighter budget who still want the peace of mind of a durable and long-lasting furniture set.
Lounge Sets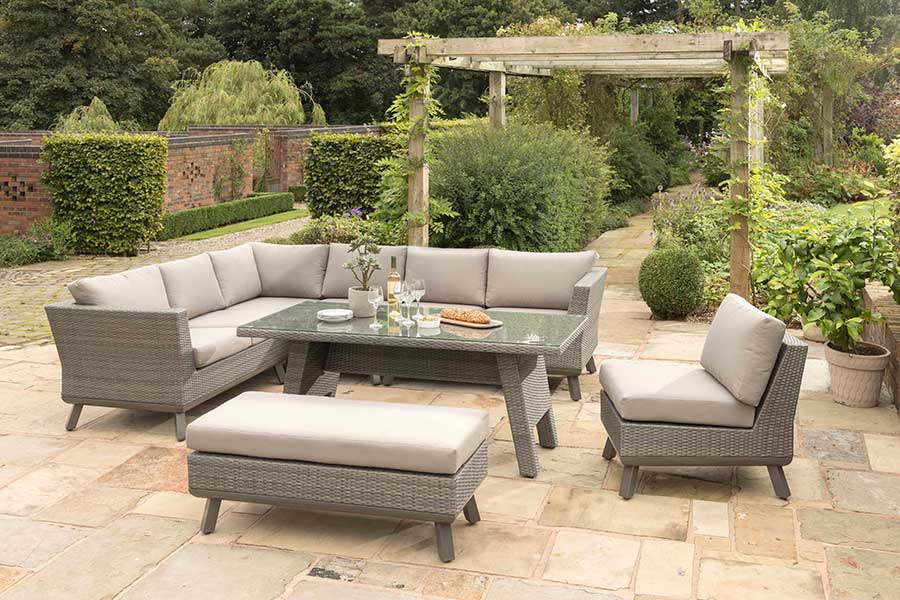 Kettler's lounge sets boast the same opulence and high-quality wicker as their outdoor dining cousins, all at a lower price point. The ever popular La Mode Lounge Set (now £849.99) is a true all-year-round star – perfect for the patio but equally at home in the conservatory. This set seats four people comfortably around its nifty glass top coffee table.
Or maybe intimacy is your thing? We've plenty of two-person lounge sets ideal for patios, balconies or even indoors. New for 2020, the Kettler Menos Metro Lounge Duo Set (now £149.99) boasts weatherproof dining chairs and aluminium table that can be left outside for good.
Benches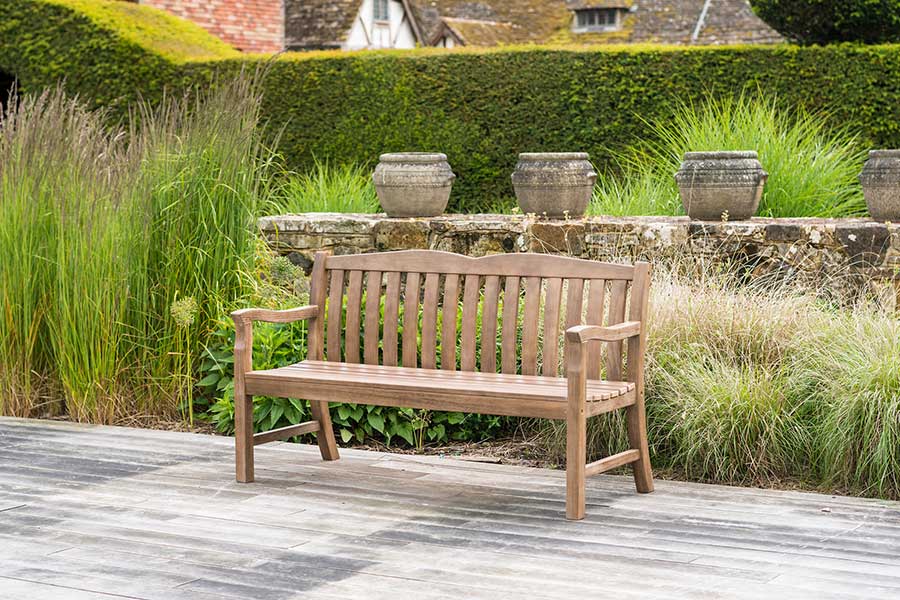 Benches truly come into their own in a traditional garden. Oxford Garden Centre offers six fabulous benches, including vintage designs by Alexander Rose and Kettler. For ergonomic comfort, we suggest the Cornis Broadfield Bench (£299.99, 6ft) made with FSC-approved Cornis wood. The design features curved seat and back slats, plus high arms for extra support. The Sherwood Broadfield Bench (£199.99, 5ft) is of the same ilk, albeit smaller and made with Acacia hardwood.
For Kettler's benches, the company has partnered with the RHS. The compact Rosemoor Bench (now £249.99, 4ft) boasts a pale green coat with the RHS logo etched into the latticework. There's also the slightly larger Chelsea Bench (£269.99, 5ft) with a more natural brown finish. Both benches are made from FSC-approved Acacia wood.
Sunloungers, Parasols, and Lighting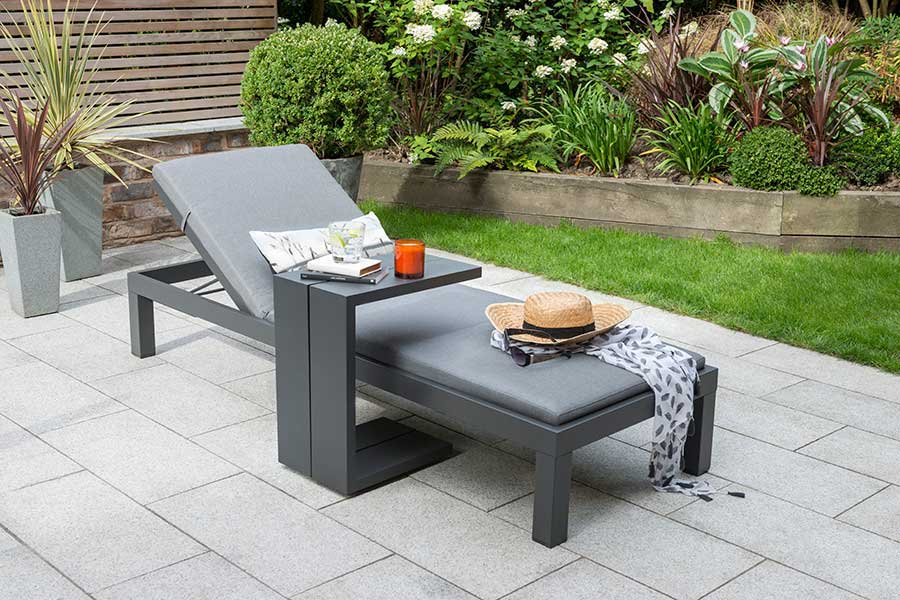 Furniture alone is never enough to make your garden the perfect hang out spot. Essentials such as the Kettler Wind Up Parasol (£109.99, 3ft, base sold separately) will compliment any of the furniture sets mentioned above. The Alexander Rose Adjustable Sunlounger with Cushion (£299.99) is a must-have for readers, sunbathers, and indeed anyone who loves a luxurious lounge in the back garden.
As for lighting, we have a ton of quirky, solar-powered options for your garden. From illuminated Foxglove flowers and bluebells to stake-light flamingos and peacocks (all £17.99), there's no shortage of fairy-tale lighting. Traditionalists might prefer our Cool Flame Rustic Lantern (£19.99) or Jumbo Rock Light (£9.99).
In an ideal world, we would be able to offer all our magnificent garden furniture ready to order. However, some of our Kettler furniture is currently at a 4 to 6-week lead time due to Covid-related supply issues. These products can still be pre-ordered. Please check each individual product page for delivery times. We also offer free local delivery for all garden furniture and accessories.
If you'd like to experience our Kettler and Alexander Rose furniture in-person, simply visit our garden centre near Oxford. We have introduced strict social distancing measures as well as enhanced cleaning to ensure the safety of all customers and staff. You can also contact us via phone or email with any questions about our garden furniture range.