How We Are Reopening Oxford Garden Centre Safely & Responsibly
At Oxford Garden Centre, we are pleased to say that re-opening to visitors has been a success. We have been welcoming hundreds of new and old faces to our new "socially distanced" layout over the past two weeks.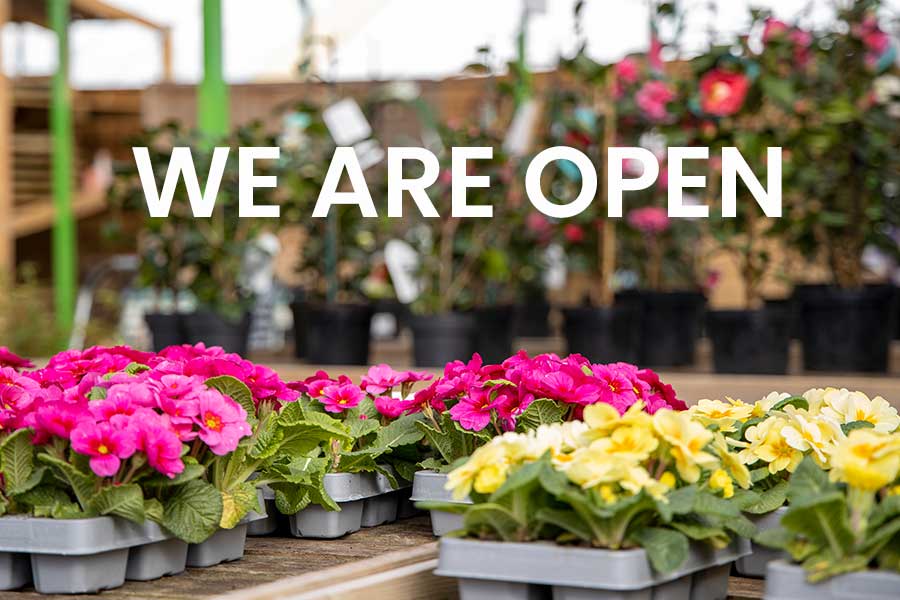 Before you pay us a visit, we would like to tell you about the important changes we have made to the garden centre post-lockdown. These precautions are all about ensuring the safety of our staff and customers. But we have also strived to keep the pleasant and relaxed atmosphere that makes a visit to the garden centre so enjoyable.
Re-opening has not been without difficulty. It has all boiled down to one question: how can we usher in the "new normal" while guaranteeing a safe environment that follows the guidelines for retailers? Our team has worked around the clock to fine-tune a post-lockdown plan that has paid off for staff and customers alike.
Why are garden centres open before other shops?
On May 9th, the government announced that garden centres would be the first non-essential retail businesses to be allowed re-open. Garden centres have been identified as "lower risk" due to the large, open layouts that venues such as Oxford Garden Centre offer. Indeed, research has shown that risk of Covid-19 transmission is considerably lower in open and outdoor spaces – an encouraging sign for gardening fans.
Like any responsible business, Oxford Garden Centre has followed the government's new safety guidelines to a tee. We have implemented a series of measures to ensure that all our customers can enjoy the delights of the shop as safely as possible.
What specific measures have we taken?
By now, everyone in the country is familiar with the golden "2 metre" rule. Our re-opening plan aims to facilitate social distancing via several measures. The first is to give customers adequate time and space in garden centre by limiting the number of customers allowed on-site at any time. Secondly, we have created a clear "one-way system" around the plant areas to prevent any pinch points and congestion.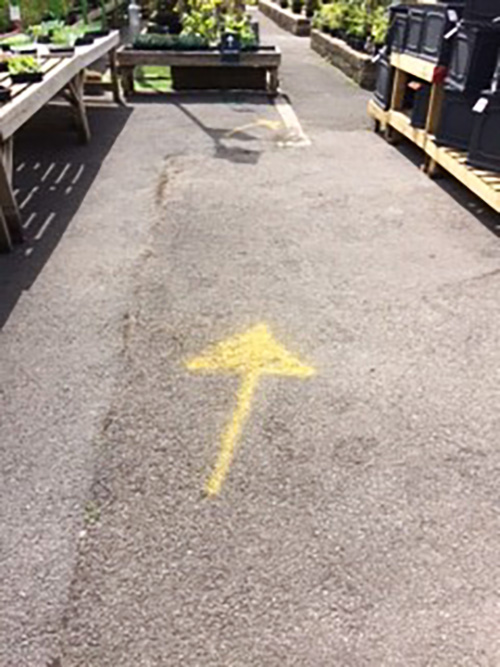 Furthermore, we are keeping a close eye on queues both inside and outside of the garden centre. All customers are asked to follow the bright markings on the ground, each placed at 2 metre intervals. We have brought in this measure for both the areas outside the main entrance and at the checkouts, with staff on hand to ensure full compliance.
We have also placed 2 metre markings in other areas of high footfall inside the main building. Once entering, customers will notice yellow tape on the ground where our most popular products are displayed. Signs have been placed at regular intervals around the shop, reminding customers to stay 2 metres apart at all times. Adapting to post-lockdown life calls on us all to be aware of their proximity to others – these markings and signs are a helpful reminder.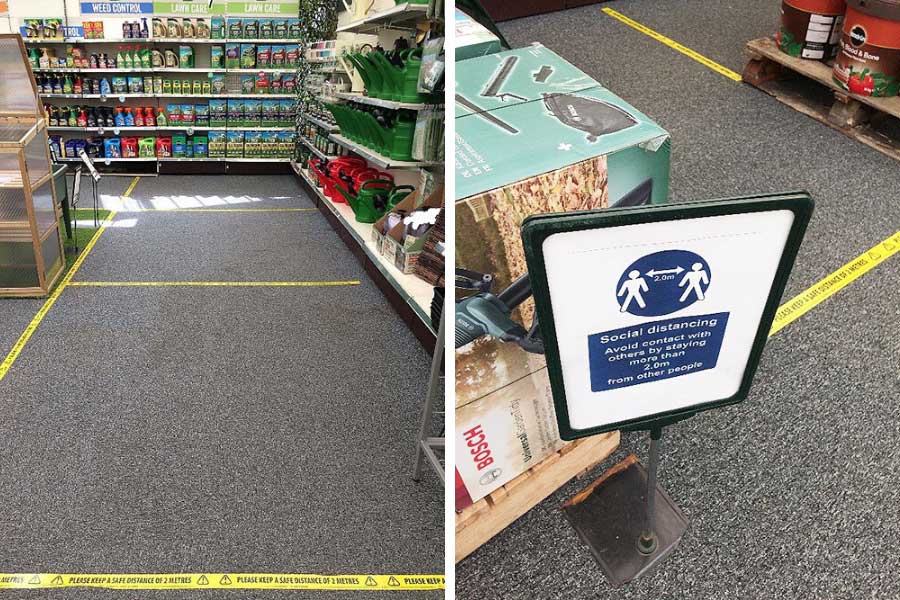 Aside from social distancing, we have introduced further measures to reduce risk. These include a special "cleaning station" at the main entrance, where staff disinfect every trolley and basket. We have also provided hand sanitizer for customers to use when they enter and leave.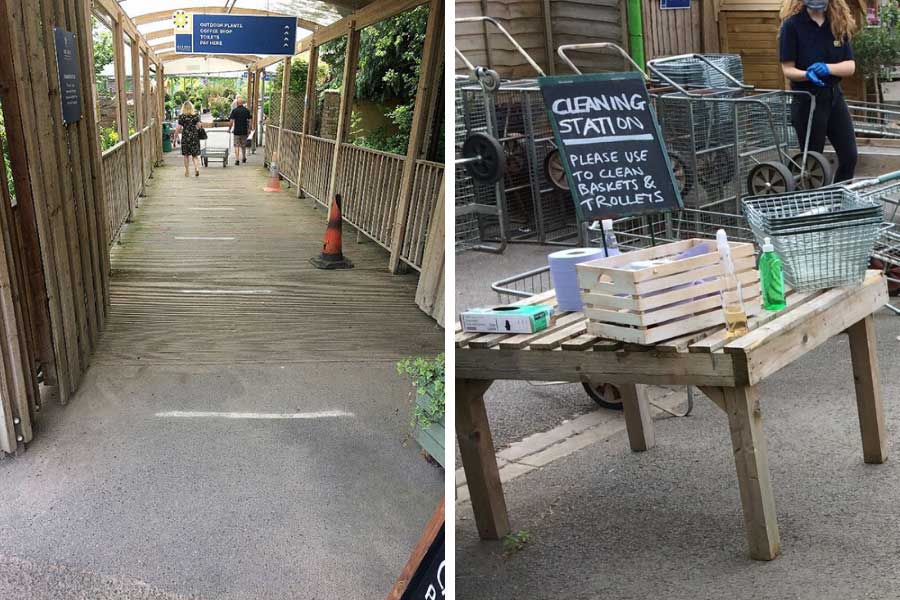 At the checkouts, tills are fitted with Perspex "sneeze screens" to protect staff and customers. We have also provided staff with PPE in the form of masks, gloves and hand sanitizer. Where possible, we have asked the same member of staff to remain on the same till to reduce the risk of cross-contamination.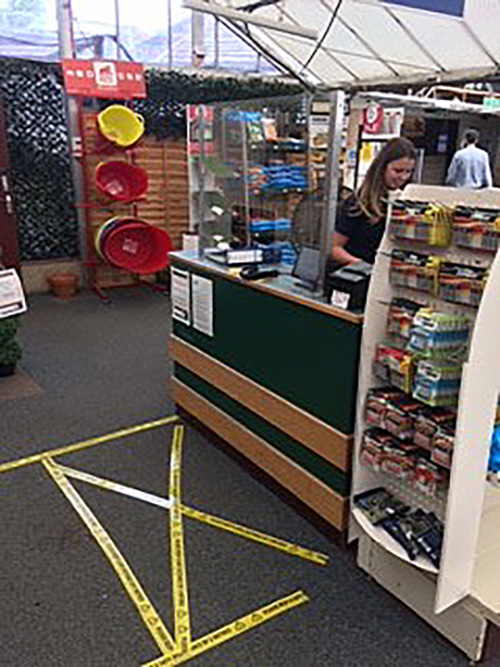 As for customers, we advise everyone approaching the checkout to leave their trolley or basket within a special taped area (see picture above.) Customers are then required to stand at a safe 2 metre distance from the till, allowing staff to scan the items from a safe distance. Once back behind the screen, the customer is called forward again to make the payment. Unfortunately, we are not accepting cash or vouchers at this time – only card or contactless payment. We do now accept both Google and Apple pay, which requires a quick tap of the phone.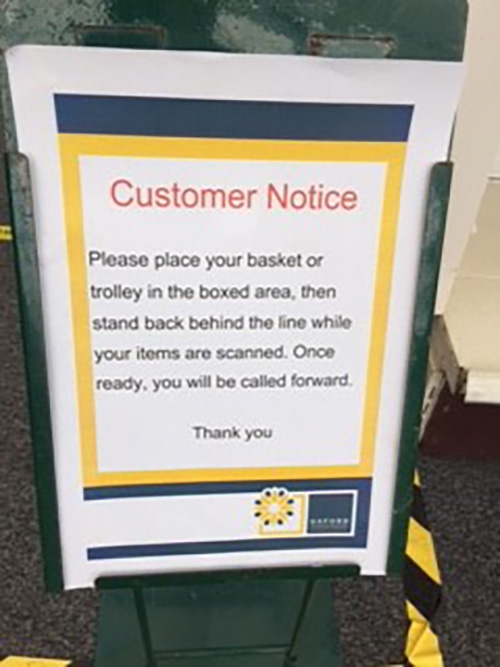 While we have done our utmost to bring back all the features that our customers love, there is sadly one short-term casualty: the café. Until the government changes its advice, we intend keep the café closed to the public. Furthermore, we are unable to offer use of customer toilets due to the narrow corridors and pinch points in that part of the building.
I can't visit the garden centre. Can I shop online?
Yes! We continue to offer free local delivery to all customers with an OX postcode. Our website is currently open for orders, albeit with certain limits on stock. This is due to a combination of extremely high demand and the disruption to supply chains that many retailers are currently facing.
The good news is that stocks are improving, and we are now getting more regular deliveries. Customers should be aware, however, that certain stocks remain quite erratic. These include many of our popular core horticultural ranges such as plants, composts and mulches. All we can ask is for customers to be patient as we work with suppliers to get stock levels back to normal. We expect normality to return quite soon – fingers crossed!
Finally, we would like to say a huge thank you to our amazing customers. Not only have you been supporting us by buying online, but many of you have already visited us in our re-opened garden centre – all while following the rules to a tee. For information on how to reach Oxford Garden Centre by car, check out this page. We are open every day: Monday to Saturday between 10am and 4.30pm and Sunday between 10.30am and 4.30pm.