2022 Garden trends: How to 'bring the inside out' in style
At Oxford Garden Centre, we usually kick off the year with a few predictions. After all, we have our ears to the turf (so to speak) when it comes to what our customers are craving and what our suppliers expect to be in high demand.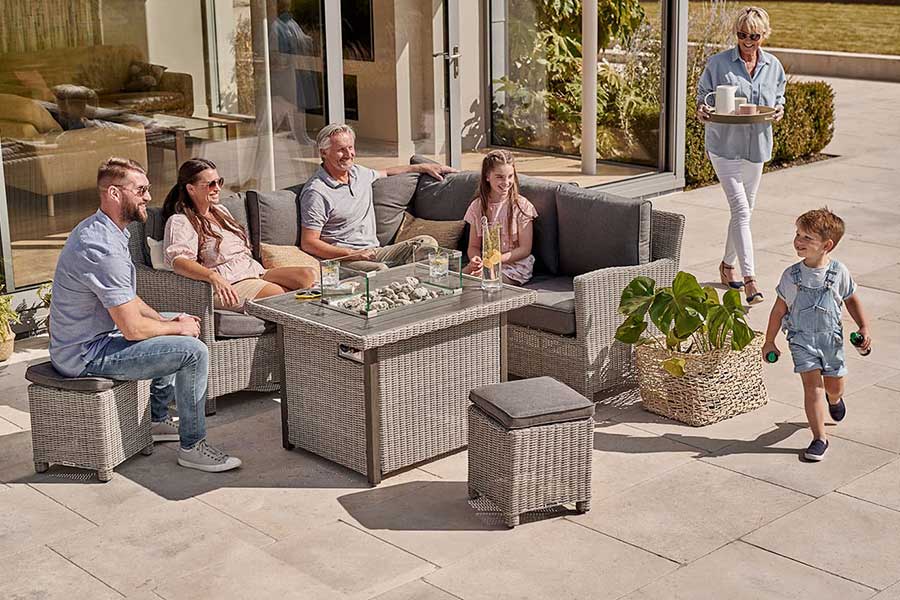 For 2022, our headline prediction is this: The biggest trend in garden living right now – 'bringing the inside out' – will grow even more popular. While the UK thankfully appears to be over the worst of the pandemic, some of the changes it has brought to our living and working patterns are here to stay.
What is bringing the inside out?
The idea is simple. It's all about creating luxurious and comfortable dining and entertaining spaces – similar to the interior of our homes, but in our gardens. As we've explored before, homeowners up and down the country are reimagining their gardens as a space to work, play, and host guests in a safe environment.
Garden furniture really is the centrepiece of any garden set up for living, not just gardening. What furniture you buy ultimately depends on what activities you enjoy – some sets are designed for outdoor dining, others more for lounging.
Furniture for outdoor dining
For casual dining, it's hard to beat Kettler's luxury range of rattan furniture. New this year is the Charlbury Corner Set (£1,999.99), which seats up to eight people around its mid-height glass-top table, with extra-comfy foam-core cushions that put most indoor sofas to shame.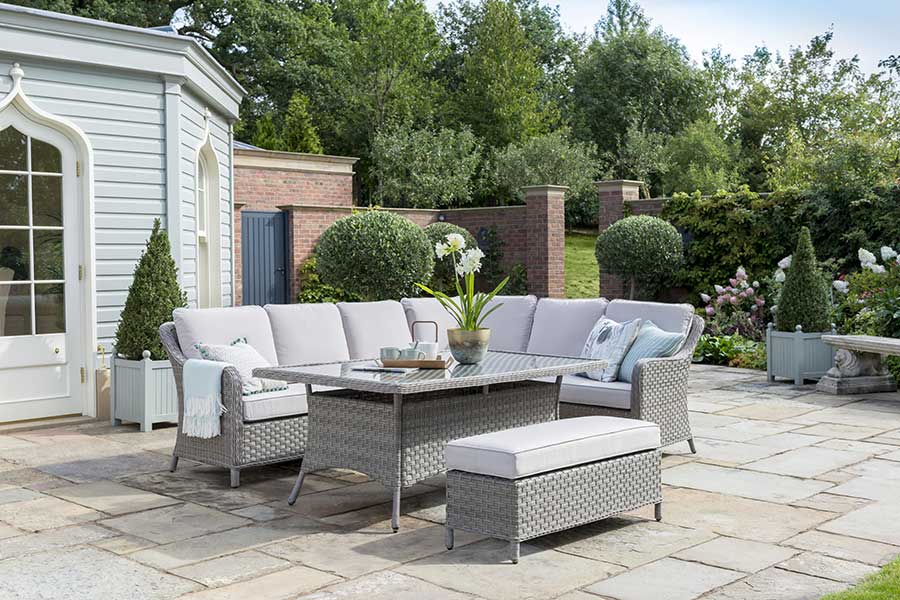 It's smaller cousin, the Charlbury Mini Corner Set (£1,699.99), boasts the same level of luxury in a smaller package (the table is square-shaped.) Both sets come with UV-resistant 5mm wicker, a 3-year warranty, and the option of a cover – in other words, weatherproof and built to last.
Kettler's Palma Corner Sets (£2,249.99, in Oyster and Whitewash) are another extremely popular choice for al fresco dining. Both come with a choice of table styles to suit any style of dining: Glass Top or Slat top for both colours, plus a Height Adjustable table and Fire Pit table for the Whitewash version.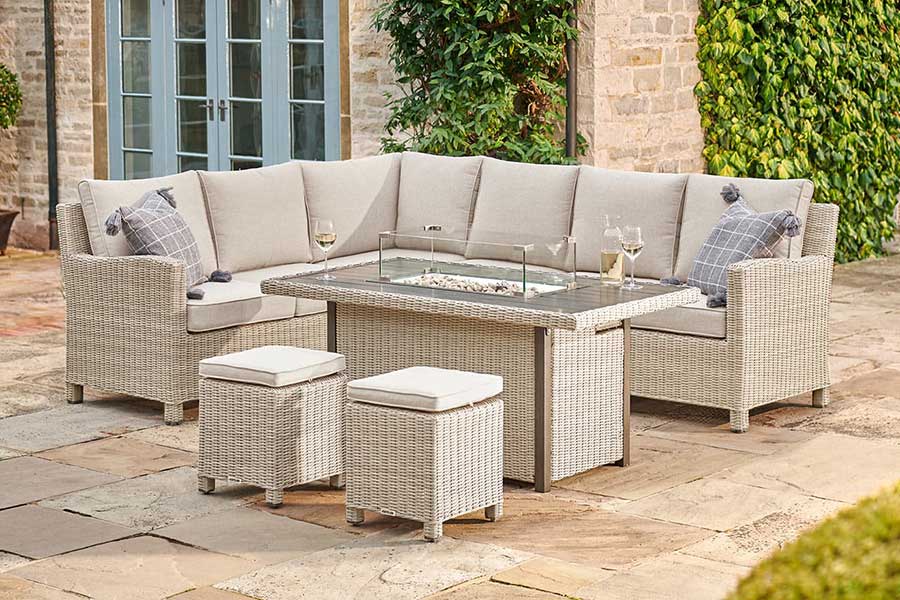 Outdoor kitchens
If you're willing to go the whole hog for outdoor dining, the showstopping Kettler Everdure Neo Outdoor Kitchen (£7,499.99) by Heston Blumenthal really is the holy grail. This beast has virtually everything a host could need to wine and dine guests (not to mention cleaning up afterwards).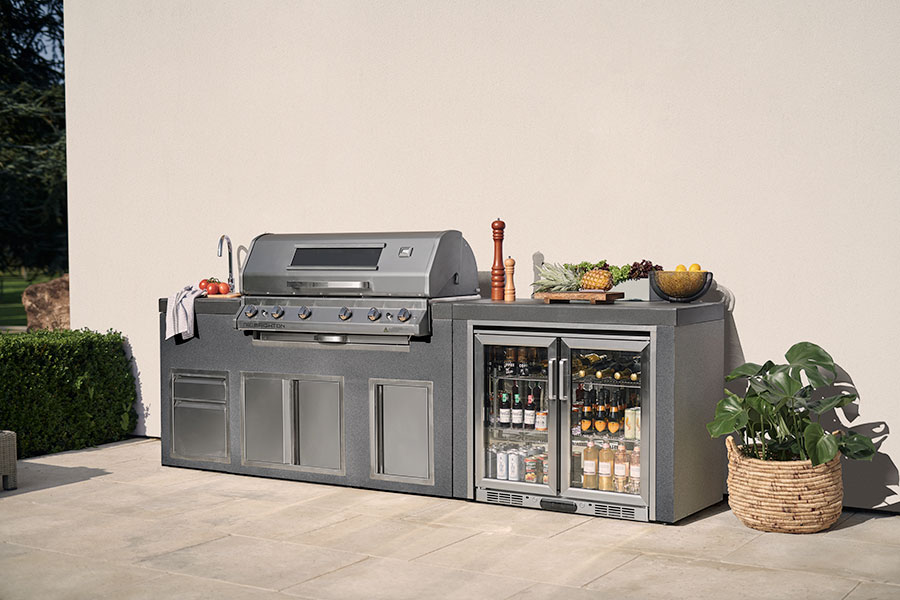 There are simply too many features to name here – if you're intrigued, check out our comprehensive review of the Neo Outdoor Kitchen from a few months ago.
Furniture for lounging and relaxing
Lounging around is one of the great joys of the garden – especially in summer. For supreme comfort with an industrial-look twist, look no further than the Alexander Rose Rimini Corner Set (Was £3,499, now £2,499). Shades of grey play off one another, with a textured matt grey finish to the frame, luxurious light grey for the deep cushions, and a dappled grey ceramic effect glass top to the coffee table. And there's a 5-year warranty to boot.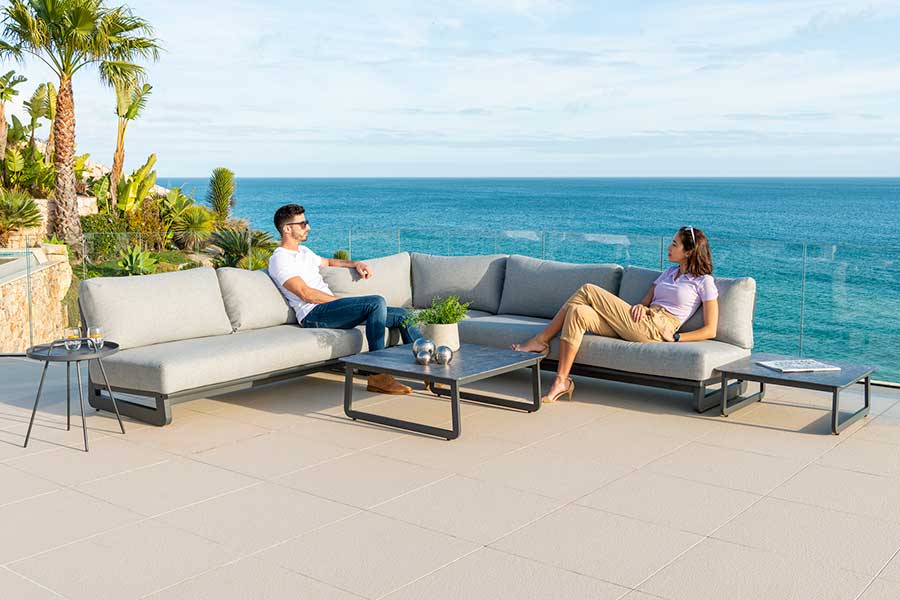 Even more minimalist is the on-trend Kettler Kingston Lounge Set (£949.99), now available to pre-order for delivery in mid-February 2022. Table-less furniture options include the wicker-framed, UV-resistant Kettler Palma Double Cocoon (£719.99, in Oyster and Whitewash), big enough for two people to lounge in comfortably.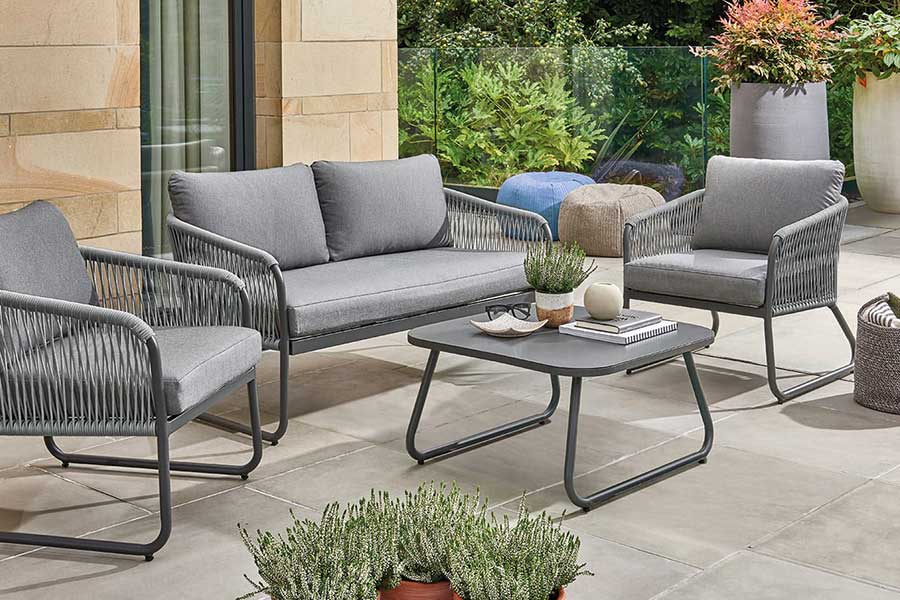 Add-ons for outdoor furniture
Even the most comfortable outdoor furniture set can be improved with a well-placed cushion or pouffe. At Oxford Garden Centre we stock several furniture accessories by Menos, a design company that specialises in durable, weatherproof soft furnishings. The trick is in the use of olefin fabric, which is mildew resistant, quick drying and water repellent.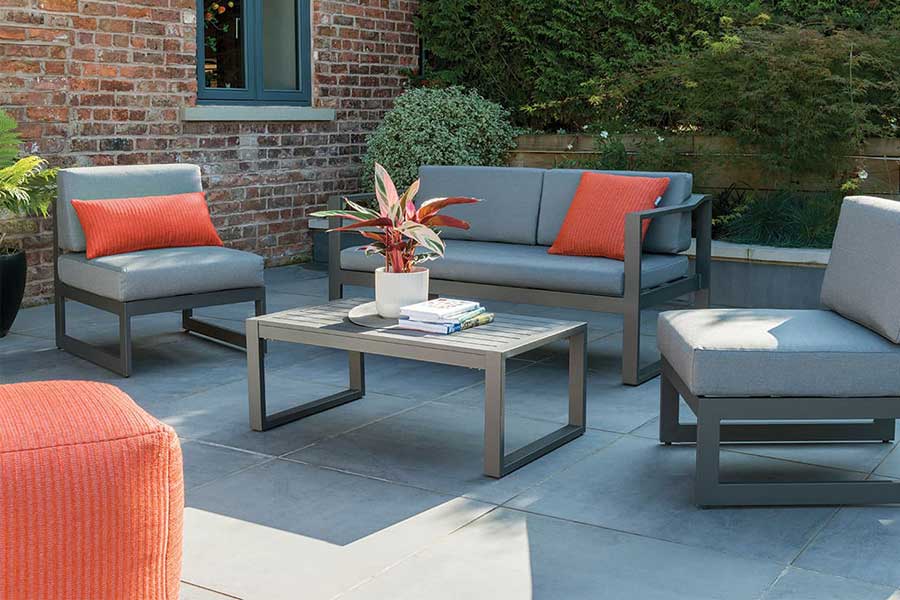 The Menos Large Round Pouffe (£199.99, 4 colours) can be used as a seat, footstool or coffee table. Alternatively, the smaller Menos Medium Square Pouffe (£59.99, 4 colours) is a steal for the price and will compliment virtually any outdoor dining or lounge set. We also stock matching Menos Cushions (£23.99) in Square and Rectangular versions.
Keeping cool… and warm
Garden comfort isn't only defined by the softness of a cushion or the versatility of an outdoor kitchen. Shade protection matters, too: It's why we stock 360-degree rotating parasols (in 3 metre and 3.3 metre versions). For maximum shade cover, try the vast Kettler Deluxe Panalsol (£1,399.99, 3x3.5m) with solar-powered LED lights soft Textilene roof that won't deteriorate in hot or cold conditions.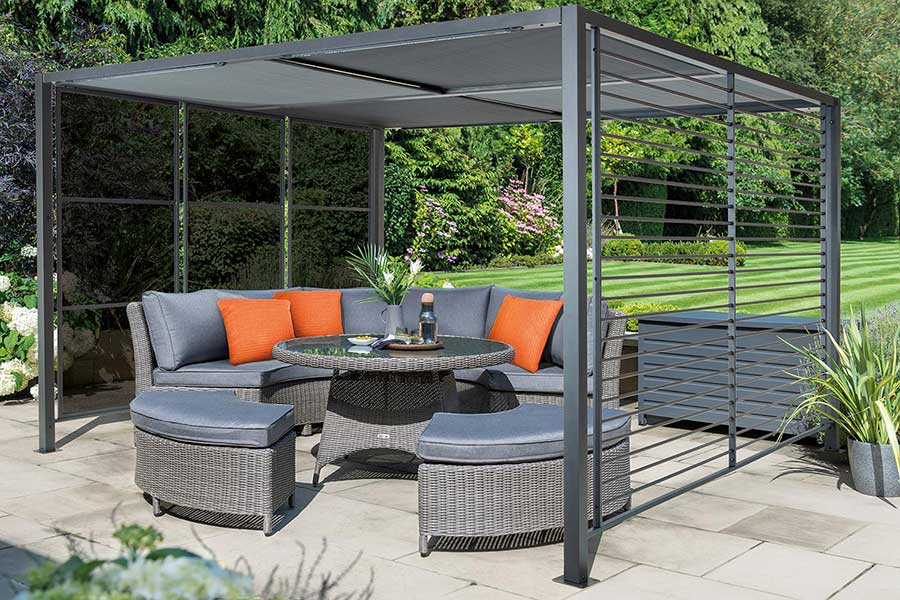 When autumn sets in, you'll also need some reliable heating to extend your garden living options. The Kettler Palma Fire Pit Table (£799.99) compliments Kettler's furniture sets in both look (Whitewash) and material (wicker.) It also boasts an easy-control panel that lets you alter the temperature of the gas fire pit to the optimum level. This is just one of many heating options we have available – view our full range of fire pits and heaters here.
We hope this selection has furnished you with some garden living ideas (pun intended!) Don't forget to make use of our free local delivery service to all addresses with an OX postcode. And if you have any questions about our garden products, however small, don't hesitate to get in touch.