Extend Your Summer With Outdoor Heating
Anyone who has sat in pub beer garden in autumn and winter knows the value of reliable outdoor heating equipment. At Oxford Garden Centre, we stock over a dozen outdoor patio heaters to help prolong your summer and keep you toasty-warm through the cold months ahead, as well as providing a safer option if Covid cases start to climb in winter.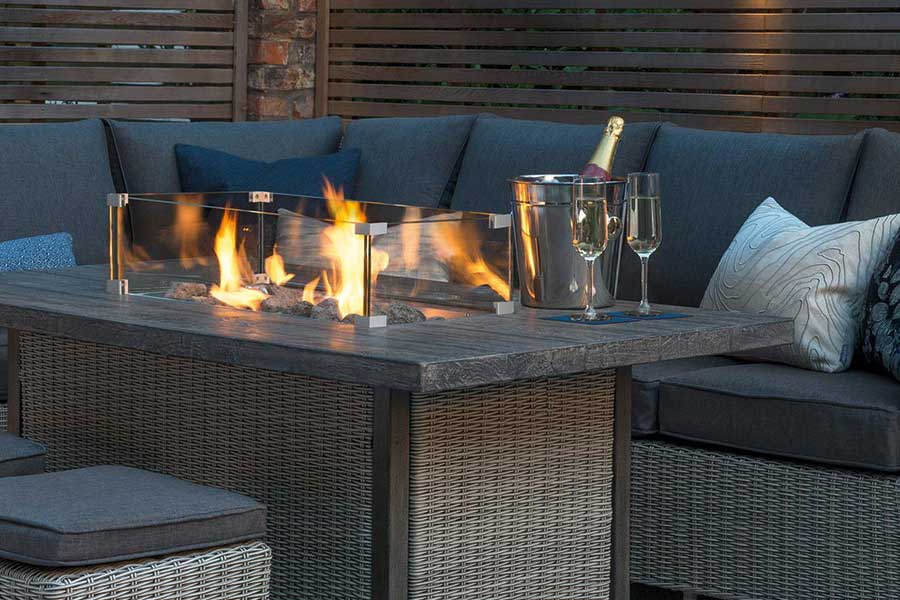 Outdoor heating falls into three types: electric heaters, gas heaters, and solid fuel heaters. In this article, we weigh the pros and cons of each and introduce you to the fantastic range of outdoor heaters that we offer, available both in-store and on free local delivery.
Gas heating
Like any heating option, gas patio heaters have an upside and downside. As a rule, they take a little longer to heat up than electric and solid fuel heaters. On the other hand, outdoor gas heaters are powerful and offer a wide heat range, making them perfect for larger spaces.
The Kalos Stone Gas Fire Pit Square with Cover (£479.99, 52x52cm) by Kettler offers rustic look and will keep you and your guests cosy and warm for hours on end. The beautiful stone-effect shell protects against mould and mildew, which, along with the stainless steel burner, makes the Kalos a truly all-year-round gas fire pit. There's a 12-month warranty included, although you'll have to buy the 5kg propane gas bottle separately.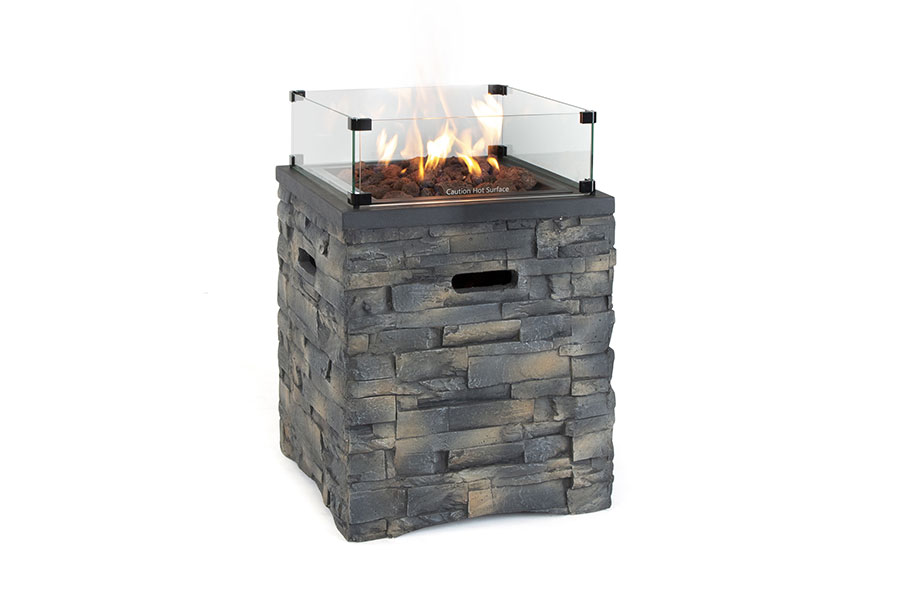 Even more majestic is the Kettler Palma Fire Pit Table in Whitewash (£799.99, or £859.98 with cover), which comes with a three-year warranty. Designed to compliment Kettler's famous Palma outdoor dining range, this fire pit boasts an easy-control panel to let you quickly adjust the temperature. The luxury wicker and aluminium slat top are both weatherproof, meaning you can leave the table out all year.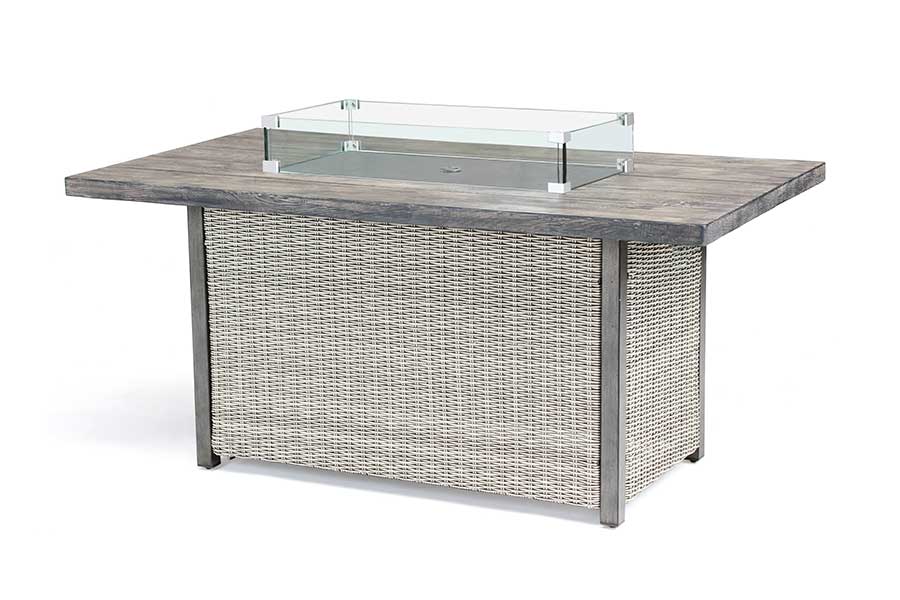 Solid fuel fire pits
Solid fuel burners come in several forms, most commonly fire pits and log burners. With all solid fuel burners, the pros and cons lie with the fuel itself: usually wooden logs or pellets. While they can create a lovely ambience and a true "campfire" feel, some products give off a lot of smoke.
We offer two solid fuel "Fire Globe" patio heaters by La Hacienda: Swallows and Leaves (both £129.99, 61x50cm). Not only do they provide a stunning centrepiece to your patio, with nature patterns carved into the oxidised steel globe, but they're big enough to carry a haul of logs that'll last all evening. See the below section on Efficiency Tips to minimise the smoke from your solid fuel heater.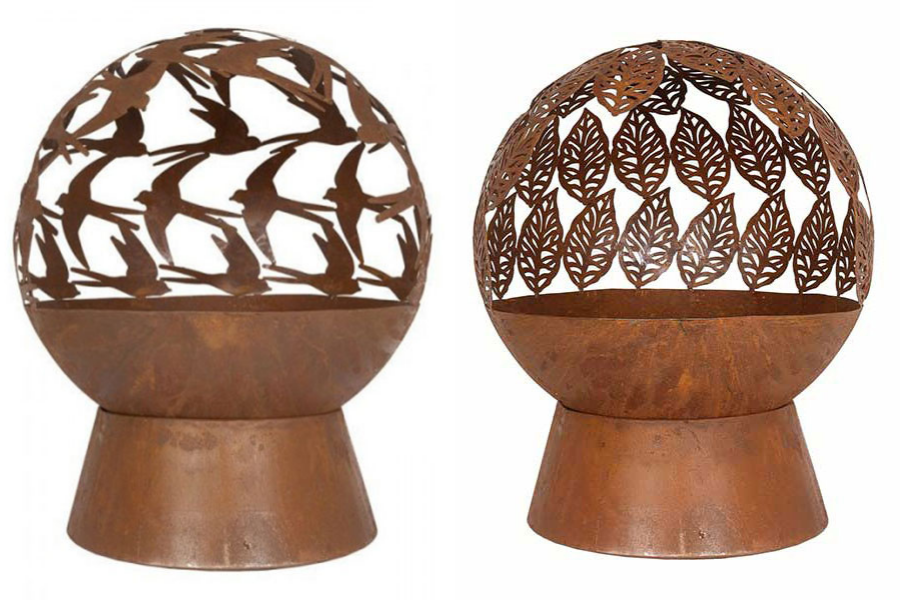 While our current range is slim, we are soon expecting a huge delivery of brand-new fire pits to expand our range to 15. Watch this space!
Electric heating
Electric outdoor heaters are the perfect no-frills option for warming your deck or patio area. They heat up quickly and can be turned on and off with the flick of a switch. What's more, unlike solid fuel and gas, electric patio heaters can be hung or mounted off the floor or placed on a table, freeing up more space and allowing you to get creative with how you heat your dining or entertaining areas.
Our best freestanding and table top heaters are again provided by Kettler, and each come with a 12-month warranty. Customers love the lamp-like Plush Floor Standing Garden Heater (£369.99), made from stainless steel and contained in a stylish taupe-coloured lampshade. It's smaller cousin, the Plush Electric Table Top Heater (£169.99), can be plonked on any table or surface to provide a quick and intimate heat source. Another eye-catching option is the Copper Lantern Patio Heater in 73cm (£159.99) or 84cm (£189.99).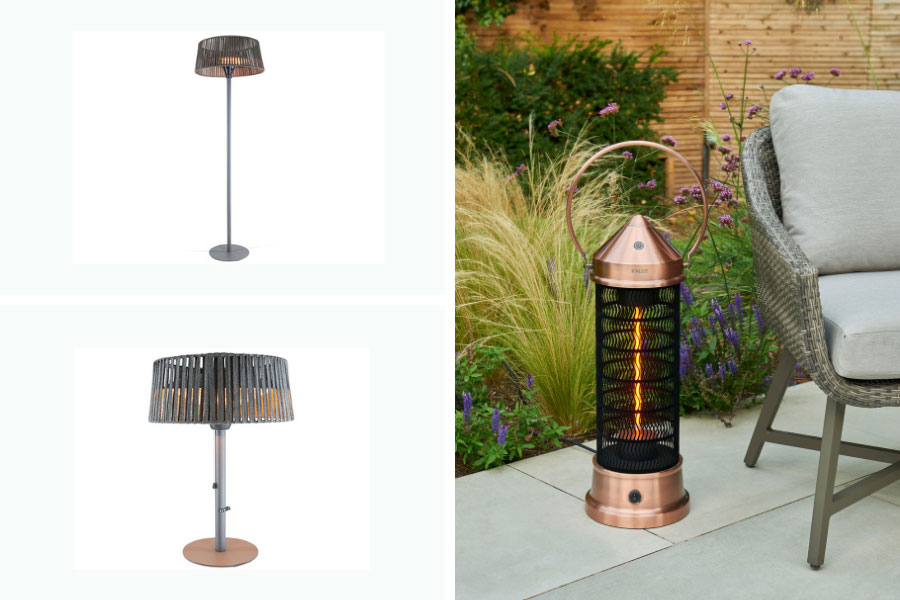 As for hangers, Kettler's Terrace Pendant Electric Heater (£179.99) boasts a minimalist black steel design. There's also hanging versions of the Plush heaters: Electric Heater Pendant (£209.99) with rustproof steel and wicker lampshade, and the Copper Electric Heater Pendant (£159.99) with a brushed copper finish.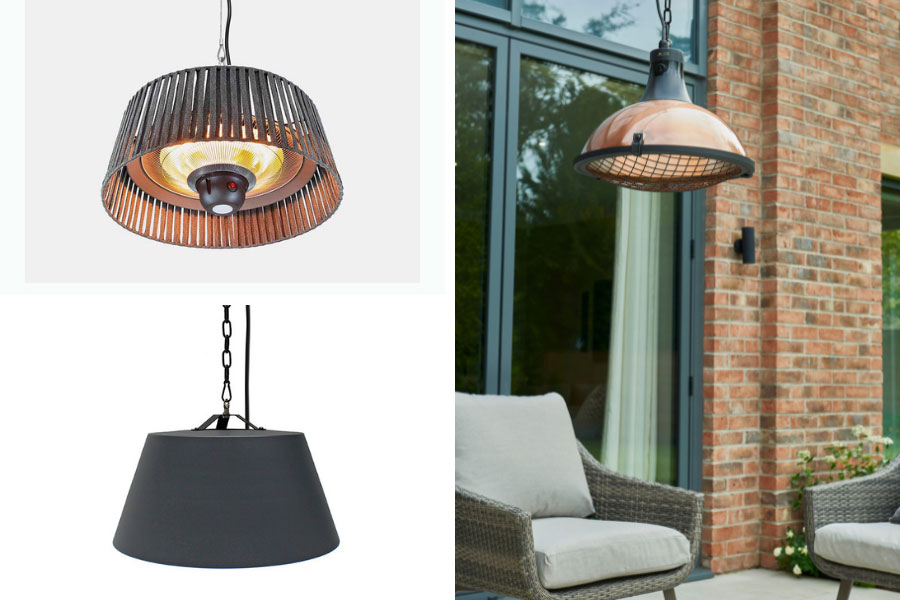 Efficient garden heating tips
Which of these three options heating options – gas, electric, and solid fuel – is the most eco-friendly? Electric outdoor heaters are hard to beat, as they emit no CO2, are more efficient, and can be targeted at a specific area. However, even with gas and solid fuel heaters, you can still follow a few guidelines to improve their efficiency and minimise impact on the environment.
Modern gas heaters, especially, have come a long way in being more efficient. For a garden or outdoor space, we suggest avoiding any gas heater that burns liquid petroleum. This option is noticeably more expensive than, say, electricity, and is more suited to large commercial settings such as restaurant patios and beer gardens.
For solid fuel fire pits, we suggest using sustainable and low smoke fuels. At Oxford Garden Center, we offer bags of Homefire Ecoal50 Smokeless Coal (£16.99, 20kg) that emits 80% less smoke than house coal and 50% less than dried kiln logs.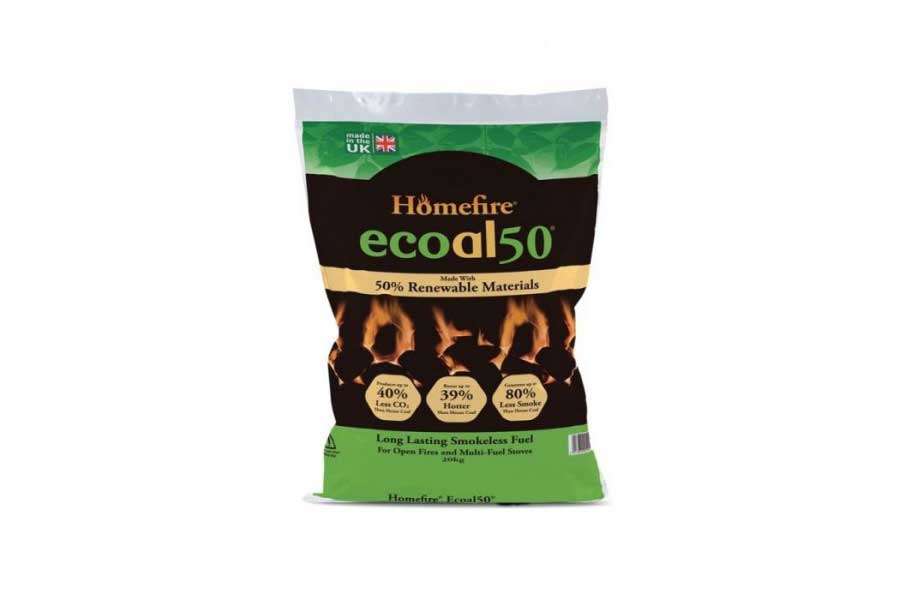 Lastly, whatever your heat source, a general rule is that wind makes heating less efficient. Fortunately, you can guard against wind by installing windbreaks in the form of gazebos, parasols, awnings, and arbours.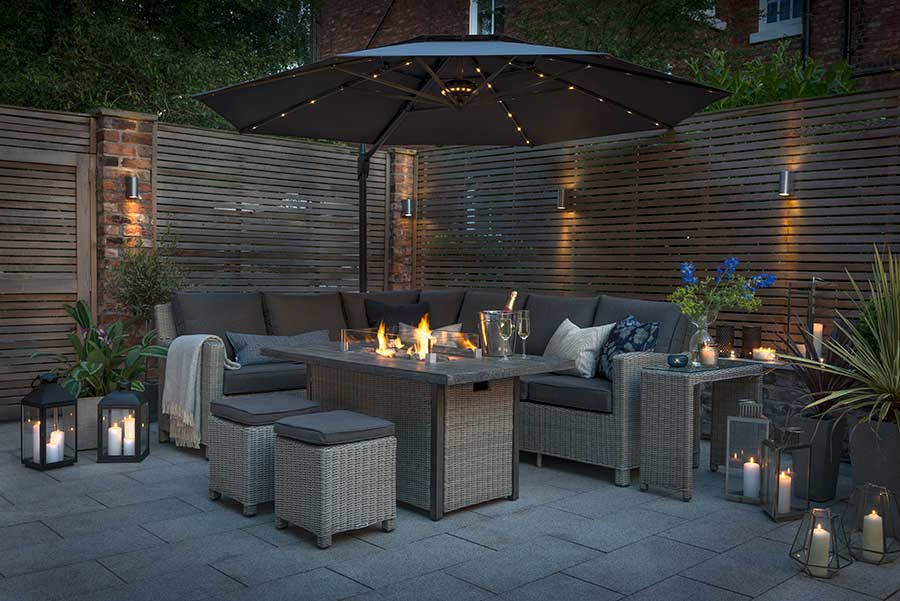 We know that picking the right outdoor heating option can be a tricky task. If you have any questions about the products featured in this article, feel free to contact our team. We'll share our expert knowledge of outdoor patio and deck heating and help you narrow down the right product for your garden.
Outdoor heating, patio heater, fire pits, gas patio heater, electric patio heater, electric outdoor heater, gas fire pit table, outside heaters, table top fire pit, fire pit bowl,