Garden Structures: Get Creative With Pergolas, Arches and Arbours
Does your garden lack a certain wow-factor? If so, adding a bold new garden structure should put things right. From the mighty pergola to the humble obelisk, decorative garden structures can add fresh personality while offering a practical space for shelter and climbing plants.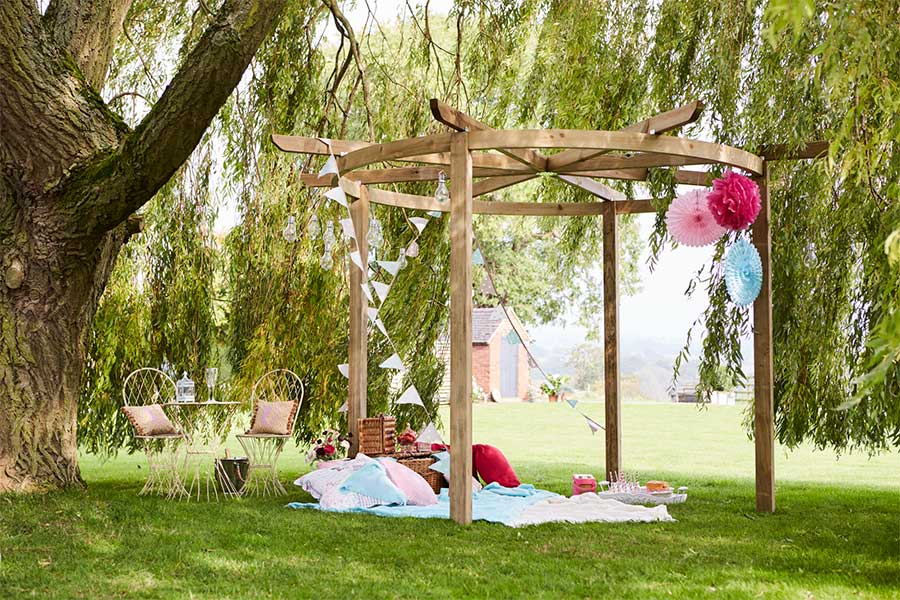 At Oxford Garden Centre, most of our garden structures are provided by Grange, a traditional British company with 150 years of heritage. Grange's range of pergolas, arches and arbours are as beautiful as they are well-built. Each structure boasts a pressure-treated timber frame with a smooth finish. (Please note: all Grange garden structures are currently on a 4-week delivery lead time.)
What are the benefits of garden structures?
Broadly speaking, garden structures are used for three reasons: to provide shade, to offer support for climbing plants, or as simple decoration. Certain structures can achieve all three in one go, depending on how they are used.
Here's a quick summary of the most popular uses for garden arches, arbours and pergolas:
Tunnels and walkways – Does your pathway need a bit more drama? Simply add an extended pergola or series of arches. You could even install lighting or hanging plants to make the pathway even more inviting.
Gateways and entrances – Welcome visitors in style with an attractive arch or pergola at the entrance to you garden or outdoor dining space. As for gateways, a simple arch placed above a gate offers more impact.
Shaded areas – If you plan on dining or relaxing outdoors, why not do so in a naturally shaded area? Combine a pergola with vines or another material for an all-year-round sanctuary.
Plant and flower structures – Decorative garden structures are also the perfect place to grow climbing plants. Take your pick from simple arches to long porticos with the option of an added trellis.
Converting a bench – What do you call an arch placed above an existing garden bench? A cost-effective arbour!
Pitch-perfect pergolas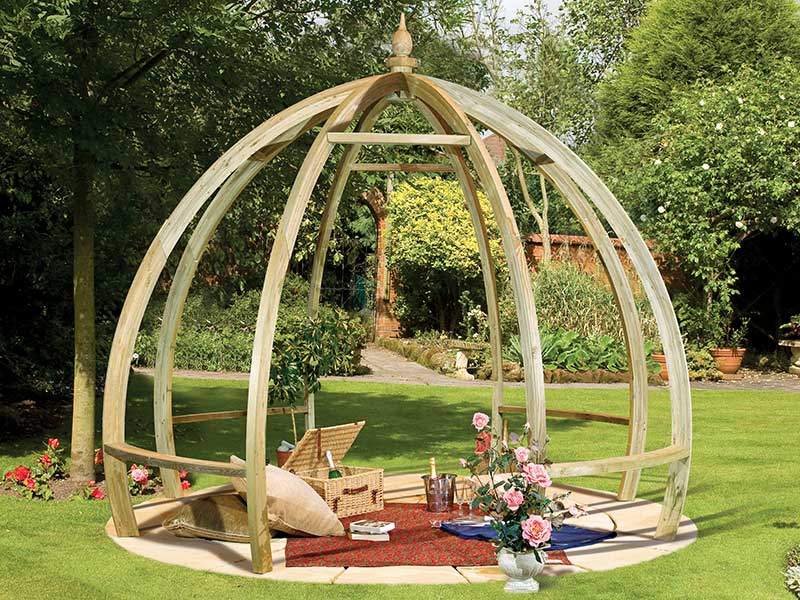 Our Grange collection features five stunning pergolas, each made with pressure-treated timber that protects from the elements. The domed Apollo Pergola (£863.10) boasts a sleek frame ideal for covering circular patios or dining areas. Another circular option is Grange's Carousel Pergola (£514.99), easily accessible from four sides. Or you could bring a slice of the Far East with the striking Dragon Pergola (£786.99)
For paths and walkways, the popular Grange Bowed Walkway Pergola (£635.30) offers plenty of overhead with its 3-metre height. Another big seller is the Traditional Pergola (£440.00), with a simple square layout ideal for lawns and patios. Both pergolas can be paired with a Grange trellis to allow roses and other climbing plants to flourish.
Awesome arches, attractive arbours
If pergolas are the show-stopping centrepiece, arches and arbours play the supporting cast. There's plenty to choose from in our Grange collection, with a variety of styles at different price points.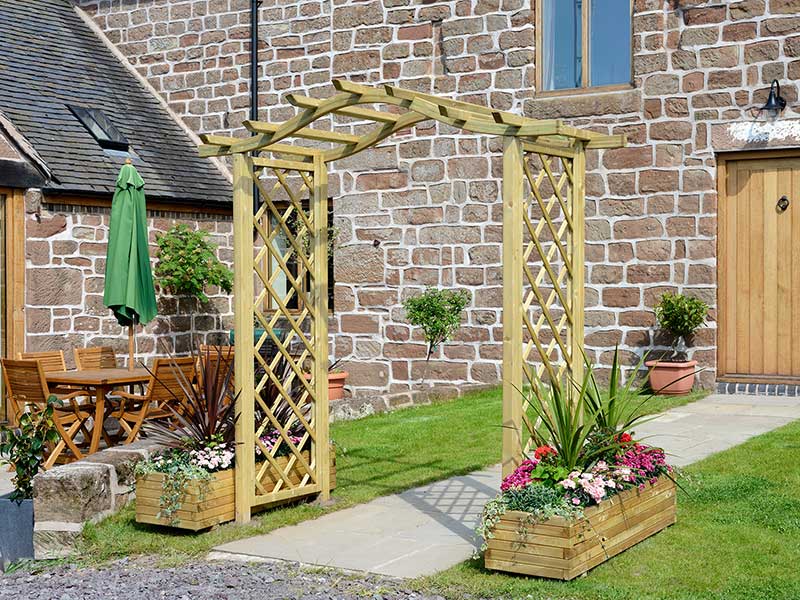 All our Grange arches come with integrated trellises, so you can plant those climbers on day one. For a traditional look, we recommend either the Elite Garden Arch (£148.20) or the Elite Granville Arch (£226.00). Both feature a classical dome topped design with square trellising. The Grange Bow Top Arch (£104.20) is a good entry level option with its no-nonsense frame and gently curving top.
For more adventurous types, the Grange Contemporary Arch (£416.80) boasts a seamless rounded frame with robust slatted sides ideal for any type of climbing plant. Alternatively, the Elite Portico Arch (£183.00) is made for covering a wider area, with its 2m+ width and impressive roof.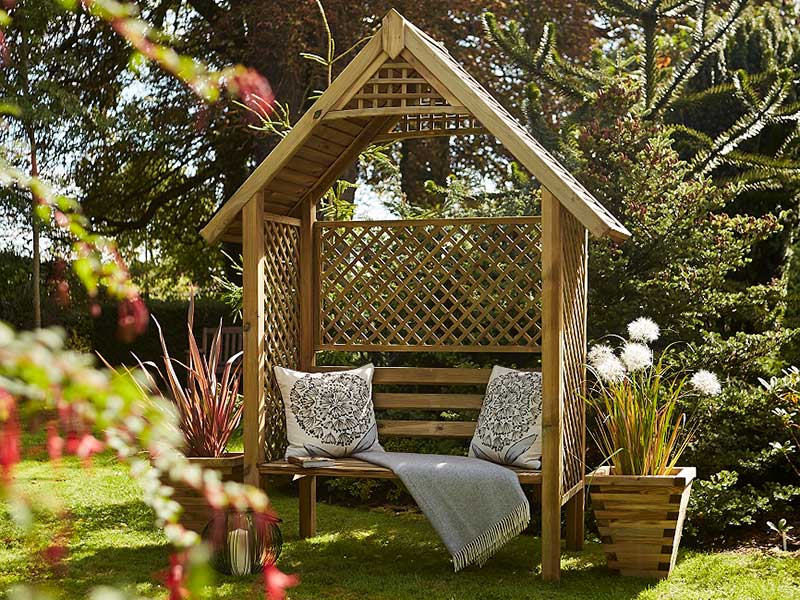 As for arbours, you should be looking for a balance of overhead shelter and comfortable seating. The Valencia Arbor (£224.50) or the Livorno Arbor (£403.10) both offer belt-and-braces protection from the weather with their steep, slatted roofs for water run-off. Fans of a curved room will adore the stunning Contemporary Arbour (£512,90), which boasts the same modern design as its arched namesake.
Obelisks, obviously…
If you're looking instead for a simple frame for climbing plants – without the expense of a large structure – obelisks are the answer. In gardening parlance, an obelisk is a pointy "mini-trellis" structure that stands freely in a flower bed or border.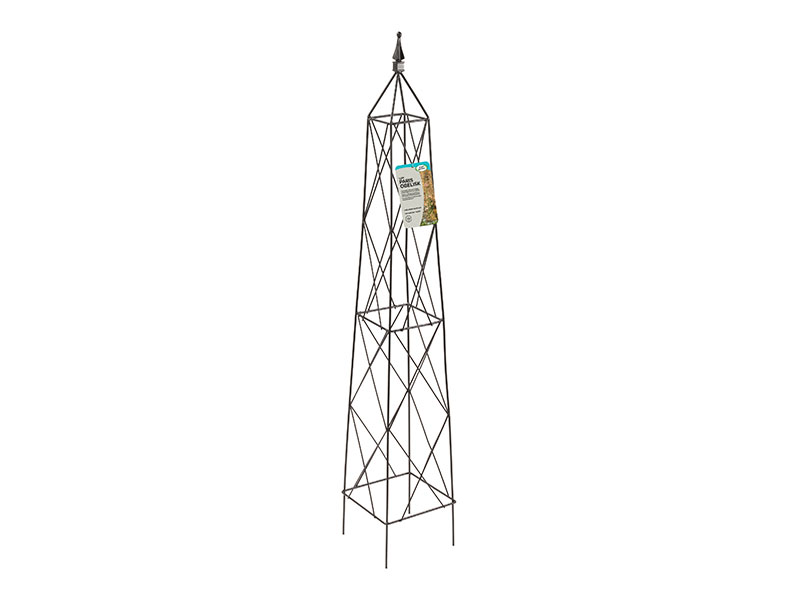 Smart Garden offer several steel frame obelisks via Oxford Garden Centre. These include the Faux Rattan Obelisk (£14.99, 1.5m height) shaped like a witch's hat; the intricate Paris Obelisk (£34.99, 1.8m); and the slender Eiffel Obelisk (£12.99 for 1.5m or £19.99 for 1.8m).
Any other business?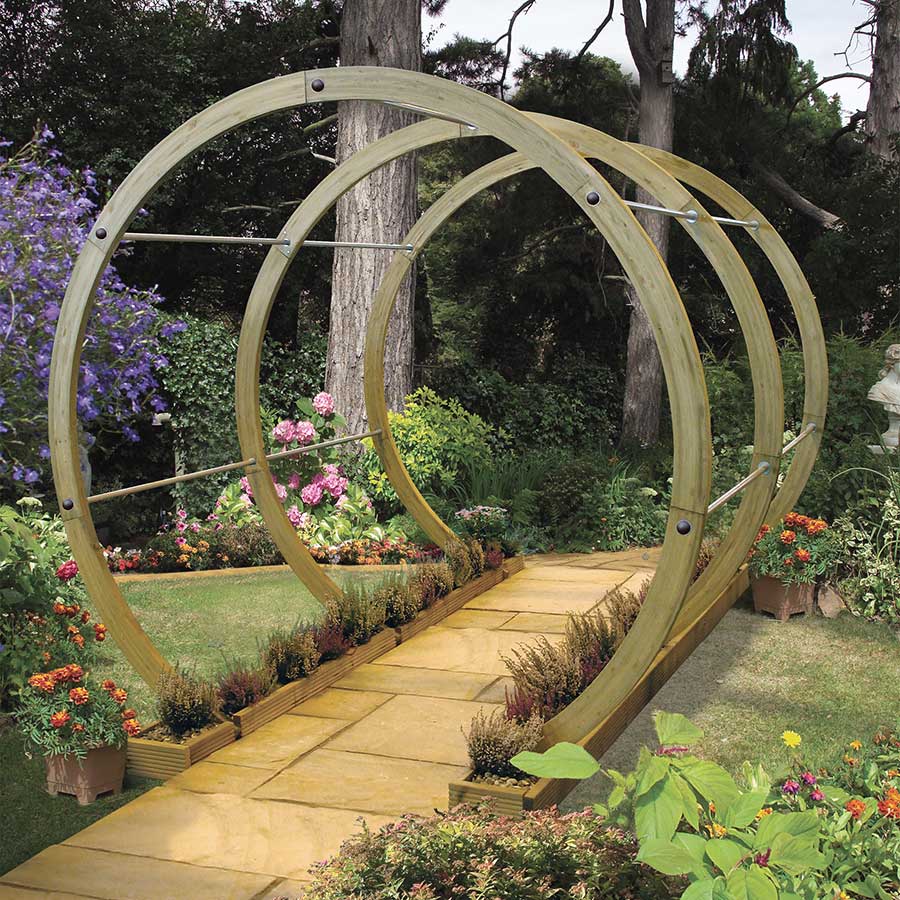 Plenty. Grange's design team is known for thinking out of the box – just look at the spectacular Flower Circle (£522.50) now available at Oxford Garden Centre. This free-standing wonder adds panache to any garden area, whether over a pathway or as a standalone feature.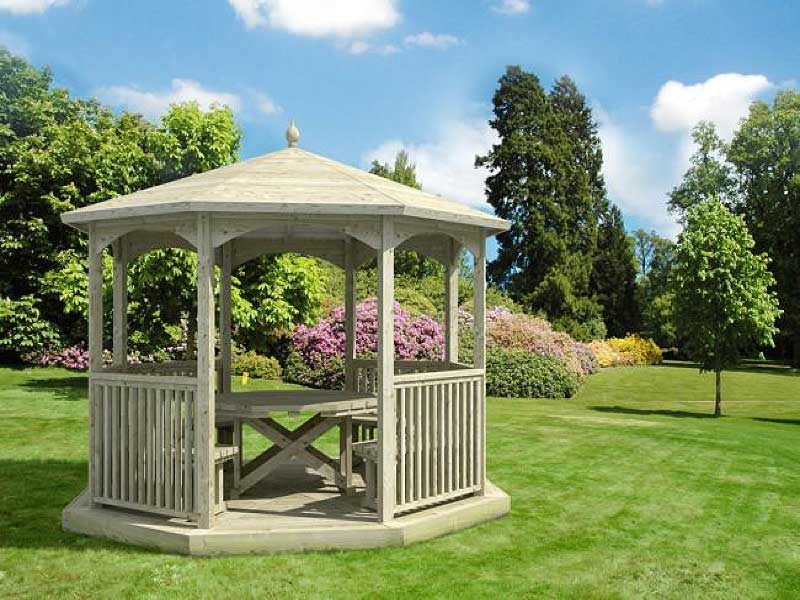 And that's not all. Are you ready to drop some serious dough in pursuit of garden perfection? If so, Grange's 8-Sided Riviera Gazebo (£3,499.99 with seat and table; £2,999 without) is the last word in outdoor opulence. Dine in style, play outdoor board games, host garden parties, use it for an outdoor workspace – heck, you could spend half of your life under its majestic roof.
As mentioned earlier, our Grange garden structures are currently on a 4-week delivery lead time. However, we guarantee it'll be worth the wait. You can explore the full range via the online shop, or visit us in person at our socially-distanced garden centre. In the meantime, feel free to speak to one of our experts via phone or email.