Get Ready for Spring with Luxury Outdoor Furniture Sets & BBQs
Springtime always seems to lift the spirits. With temperatures rising and our gardens and patios beckoning to us, what better time to take stock of your outdoor living setup?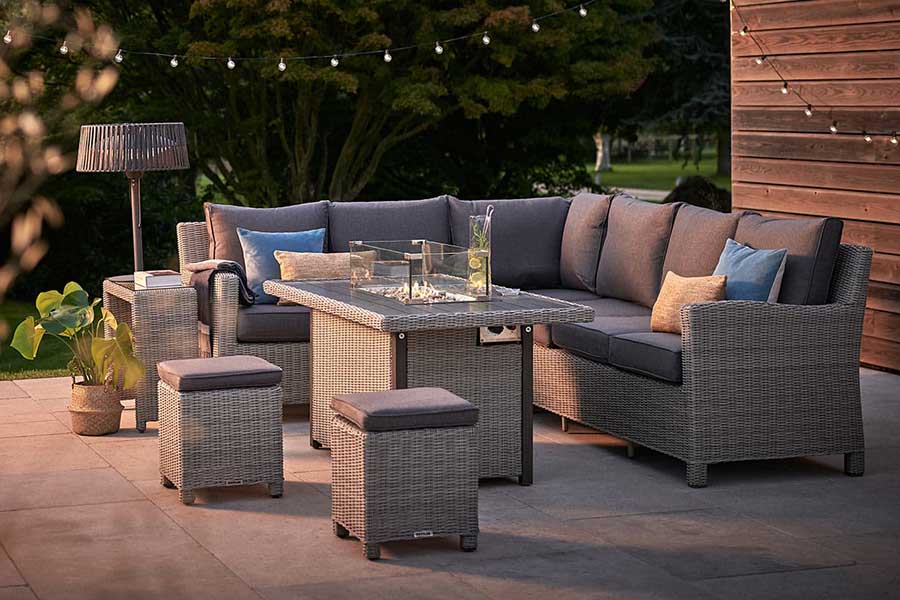 Much ink has been spilled over the resurgence of outdoor living and entertainment in British gardens since the pandemic first struck. At Oxford Garden Centre, our focus has shifted to serving this trend. No matter your budget or personal tastes, our range of garden furniture, accessories, and BBQs will help you take your home's outdoor living experience to the next level.
In this article, we'll introduce you to some of our most popular outdoor living products. Quality and durability are the common themes – we're proud to stock products that are guaranteed to serve you well for many years to come.
Look out for an 'Easter special offer' on furniture in the coming days. In the meantime, make sure to bone up on our garden furniture range and take advantage of free local delivery to all OX postcodes!
Garden Furniture
Luxury corner sets by Kettler are the biggest showstoppers in the OGC furniture range, bar none. New for 2022 is the Charlbury Corner Set (£1,799.99, 8 people) The design is based around a luxury mid-height glass top table along with a LH/RH sofa, corner seat, and small seat that combine to form one large L-shaped sofa. As you'd expect from Kettler, the materials are top-notch: UV-resistant 5mm wicker and long-lasting foam core cushions.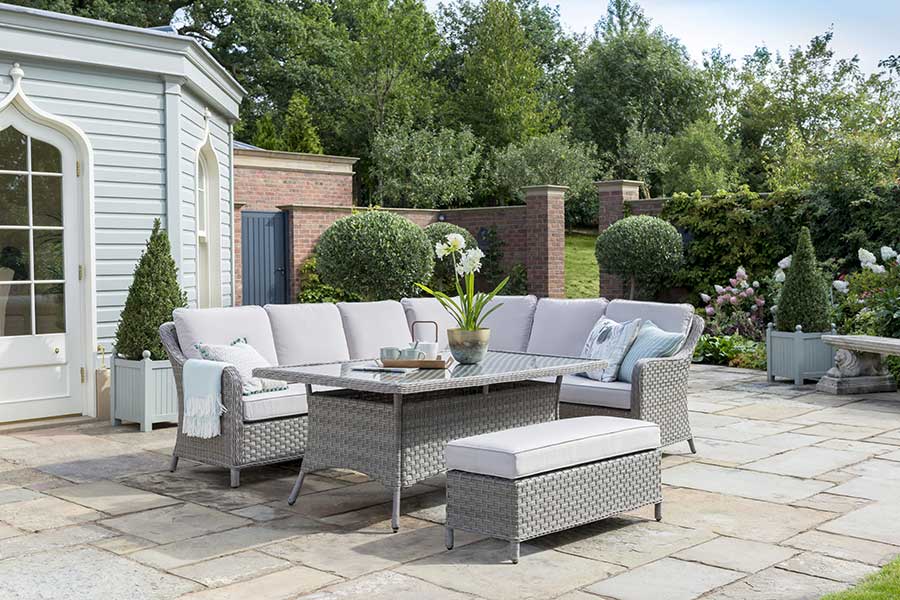 If the 8-person Charlbury set is a little too grand for your needs, we also stock the smaller Charlbury Mini Corner Set (£1,529.99, 6 people.) Like its bigger cousin, the mini set comes with a three-year warranty plus the option of a cover at £189.99 extra.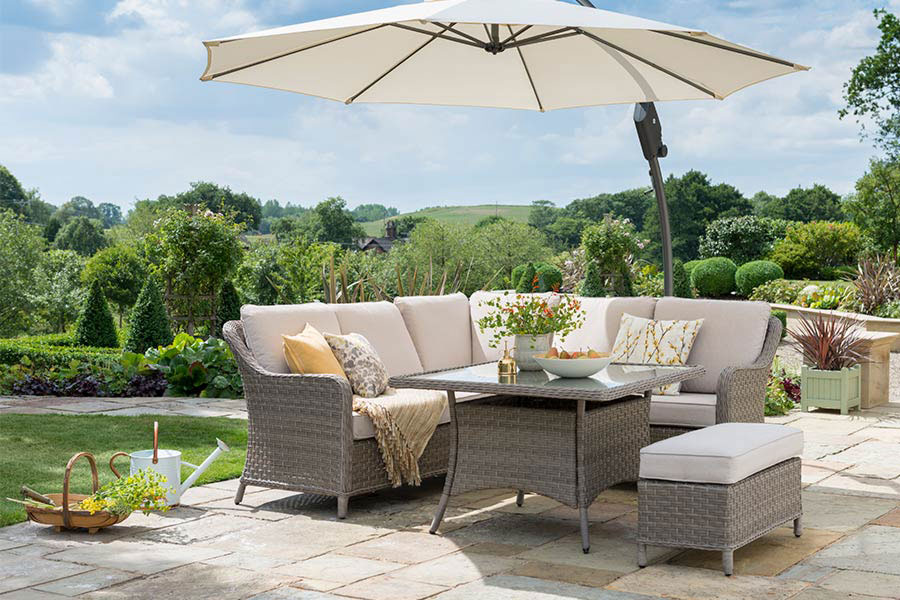 Another new-for-2022 arrival is the Elba Low Lounge Large Corner Set with Coffee Table and Footstool in Grey and White (£2,159.99, 6 people). With its inviting low lounge format and nifty teak side tables, these corner sets are perfect for whiling away the hours with a few drinks and snacks. The cushions even sit on a textile sling for an added layer of comfort!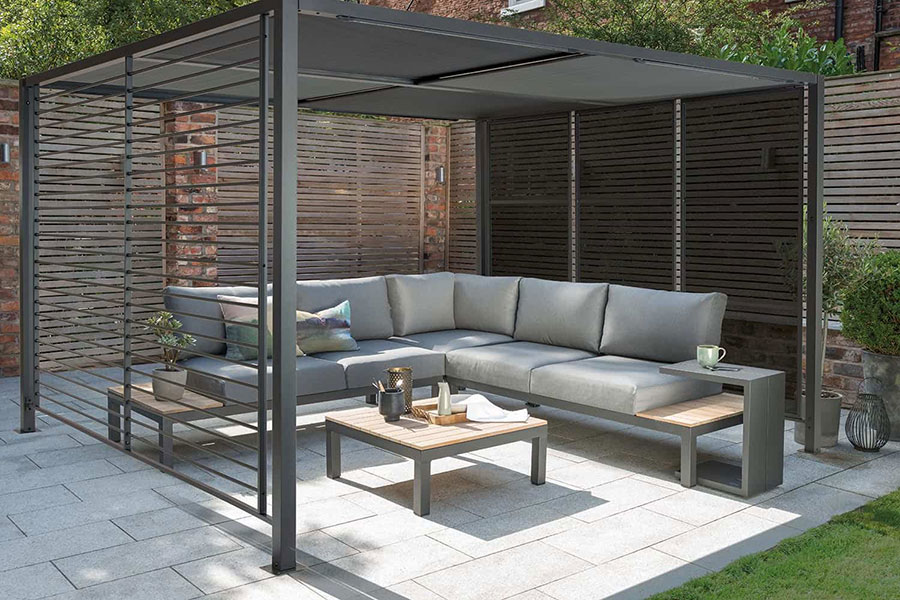 Another popular choice for corner sets is the Kettler Palma Corner Set (£2,024.99, 8 people). It is available in Whitewash, which has four types of table, or Oyster, which has two. The Palma corner set offers the same weatherproof wicker and foam core cushions as the Charlbury, but with the addition of a choice of tabletop material (glass or slat polywood) and the option of a cover at £184.99 extra.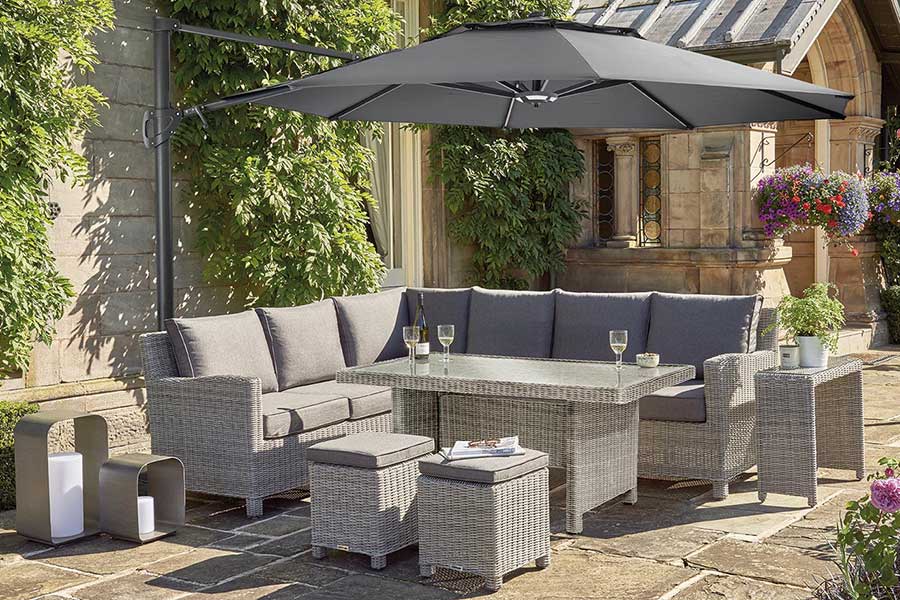 If heat is a must-have, look no further than the mammoth Kettler Palma Grande Corner Set with Table (£2,384.99), which comes with the option of a fire pit table. As with other Kettler furniture, a three-year warranty is offered.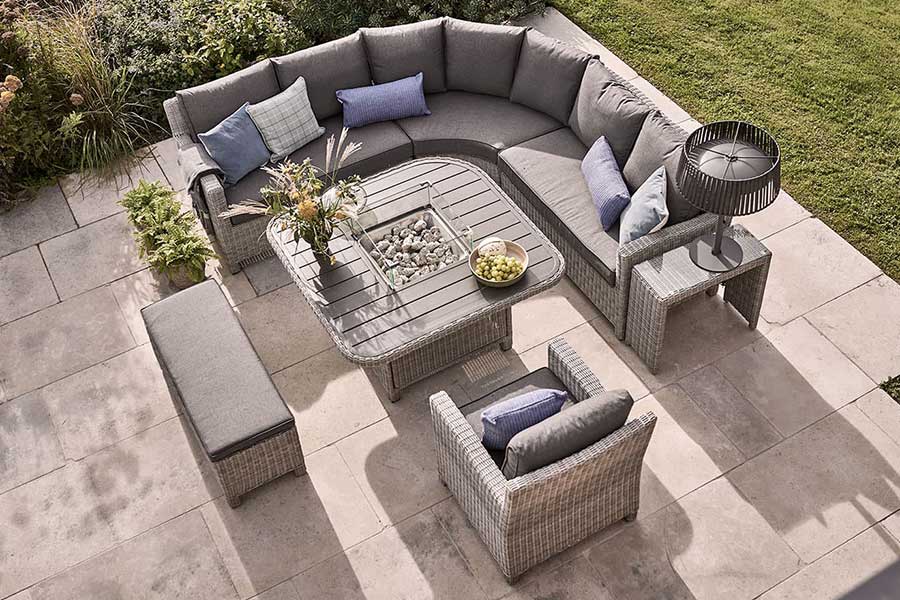 If corner sets aren't your thing, the Charlbury Lounge Set (£1,349.99, 4 people) is an excellent option. Its smaller sofas and seats are more versatile than the L-shaped corner sets, yet they still boasting the durable and comfortable materials that Kettler is famous for.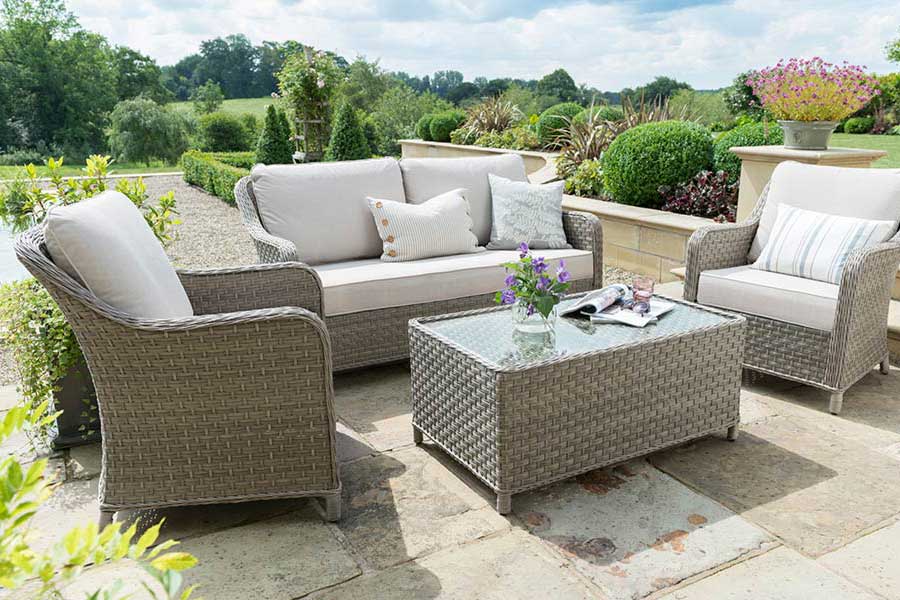 BBQs and Grills
Sitting and lounging is a big part of the outdoor living equation. But what about the joys of barbequing? At Oxford Garden Centre we are delighted to offer Heston Blumenthal's Everdure BBQs – true leap forward for outdoor grilling.
Our most popular Heston BBQ by far is the Everdure Furnace Gas BBQ with Stand + Pizza Peel/Stone (£899.99). Coming in a choice of three colours, Orange, Mint, and Graphite, this ultra-reliable, ultra-powerful BBQ boasts an extra-high hood for convection cooking. It's powered by three independently controlled burners that ensure the BBQ is ready to cook in just five minutes. You also get a free pizza peel and stone, plus the option of a cover for an extra £95.99.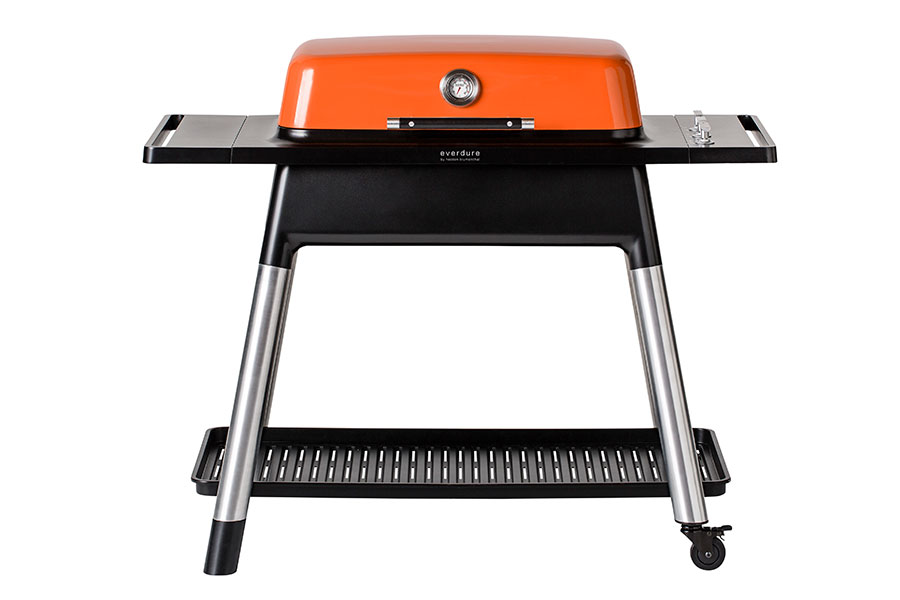 For a truly epic BBQ experience, though, look no further than the Everdure 4K Outdoor Cooker with Cover (£1,799.99, was £2,299.00) in Orange or Graphite. According to Heston, the 4K "blends the convenience of gas cooking with the distinct smoky flavours of an authentic BBQ." It features an LED control screen on the front side that lets you mix-and-match a range of different cooking settings while keeping an eye on the oven and food temperature.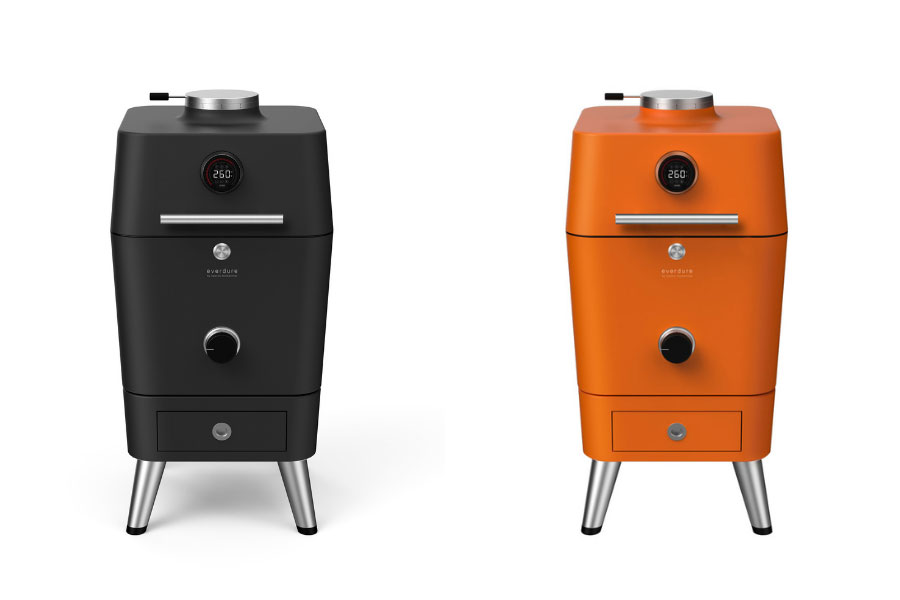 Last, but not least, we're offering a full £1,000 off the Kettler Neo Outdoor Kitchen (£6,499.99)! Truly in a category its own, this modern wonder of the world offers virtually everything you take for granted in a standard kitchen, but outdoors. Six burners, an oven, cast-iron grill, a bar fridge, sink, storage… you get the picture. We'll even throw in free delivery and installation – a helpful option given the sheer size and complexity of the Neo.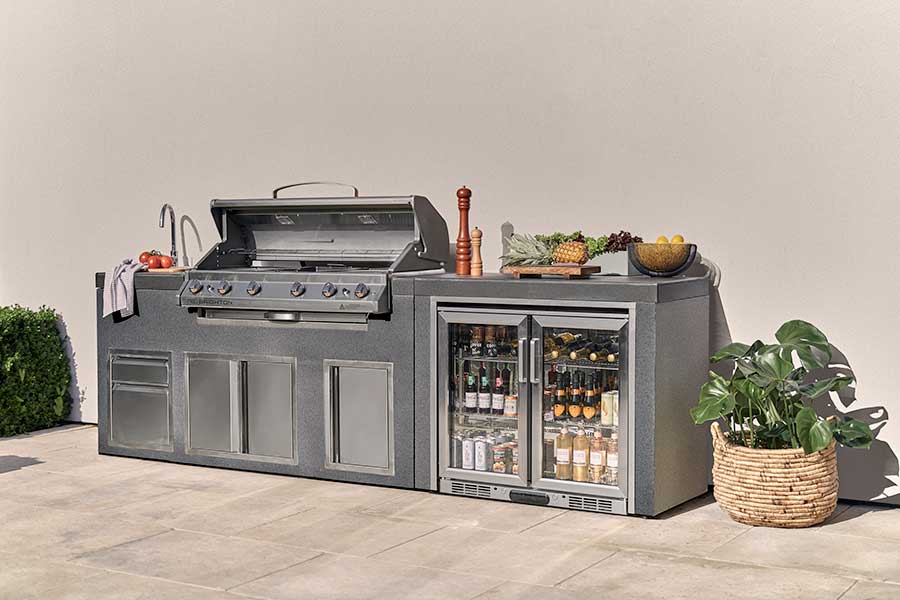 We know that purchasing a long-lasting outdoor living product is no easy commitment. If you'd like to get a closer look at our luxury furniture and BBQ collection, come along to our garden centre near Oxford. Our friendly staff will be on hand to answer any questions you may have about our outdoor living products.
Now you can bag yourself a fantastic deal. All of our Kettler rattan garden furniture sets, and selected metal garden furniture sets, are now available with 10% off rrp while stocks last!