Our Top Picks for Outdoor Heating this Autumn
At Oxford Garden Centre, outdoor heating has been one of our biggest success stories in the last two years. As we approach autumn, customers are continuing to raise their "outdoor living" game – hardly surprising, given the increasingly high cost of drinking and eating out in the UK.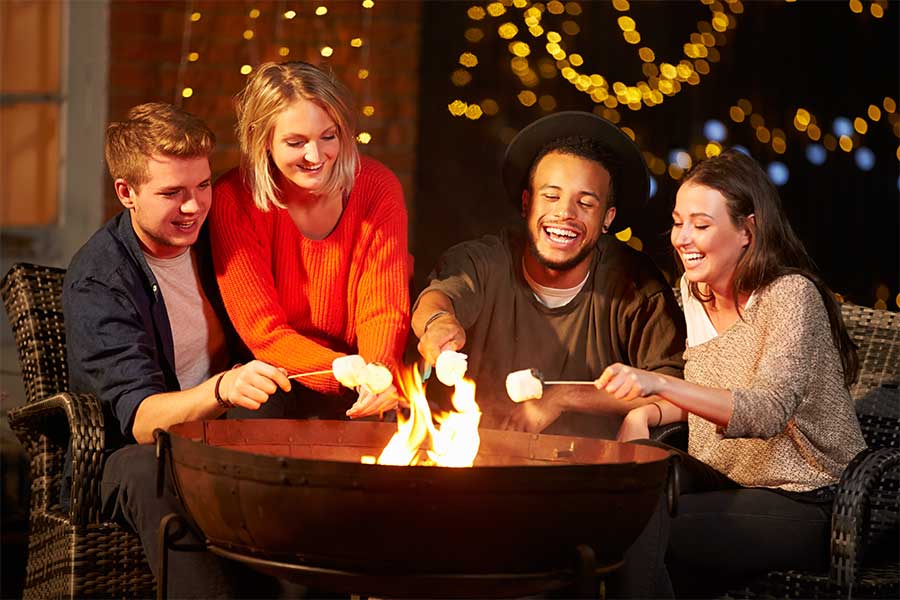 While we can't do much about inflation this autumn, we can certainly offer an alternative to an expensive night out with friends. Our large range of fire pits and outdoor heating equipment is decently priced and covers all the bases, whether you have a small balcony or a sprawling patio.
Don't forget: We offer free local delivery to all customers living at an OX postcode, and you can also shop for your perfect outdoor heater in-store.
Gas Fire Pits
Powerful, easy to use, and with a very wide heat range, gas fire pits are a proven winner for larger outdoor spaces.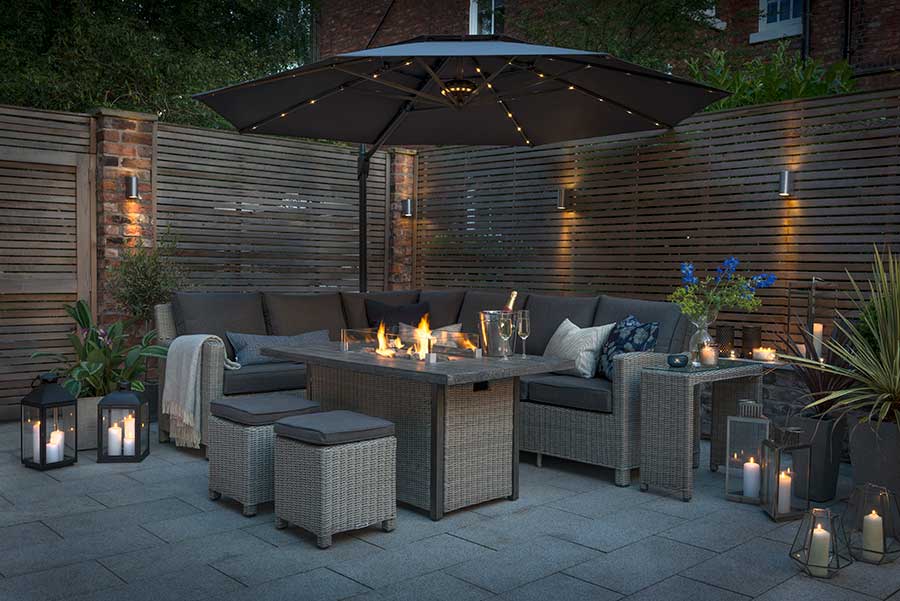 We stock three showstopping gas fire pits by Kettler, one of Europe's premier outdoor furniture and garden heating specialists. The Kettler Palma Fire Pit Table in Whitewash (£836.99, or £901.98 with cover; 3-year warranty) is made with the same luxurious materials and weatherproof shell you would expect from Kettler. The heat level can be easily adjusted via a control panel.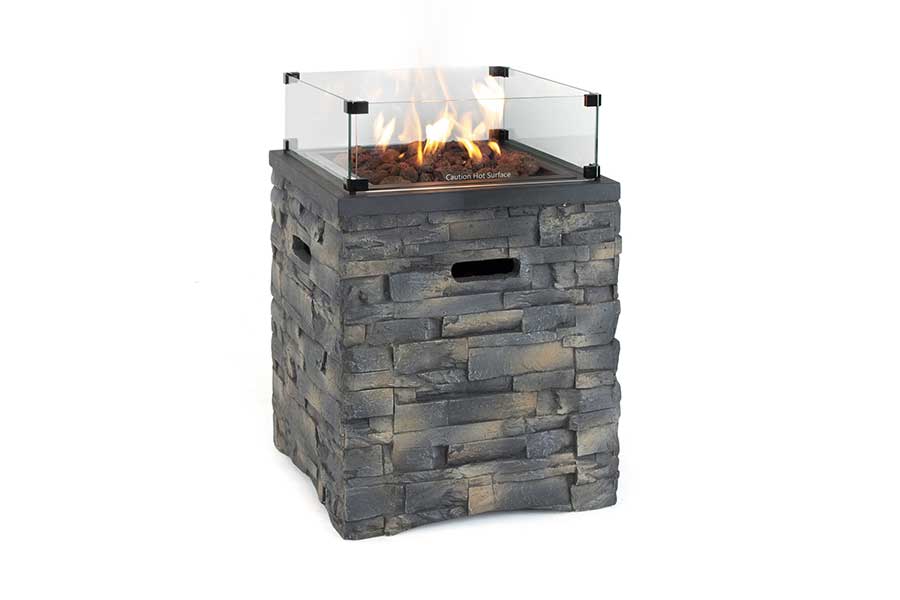 The Kettler Kalos Stone Gas Fire Pit Square with Cover (£449.99, was £499.99; 12-month warranty) has a more rustic charm. Perfectly square at 52x52cm, it boasts a weather-resistant stone-effect shell and stainless-steel burner. Its bigger cousin, the Kettler Kalos Stone Gas Fire Pit Coffee Table (£854.99, was £949.99; 12-month warranty), offers the same quality, style, and durability, but on a larger scale. Note that both require a 5kg propane gas bottle, bought separately.
Solid Fuel Fire Pits
A reliable alternative to gas, solid fuel fire pits at Oxford Garden Centre come in all shapes and sizes. They rely on wood or fuel pellets for heat – this takes a bit more effort to ignite, but once up-and-running will produce a delightful smoky ambience.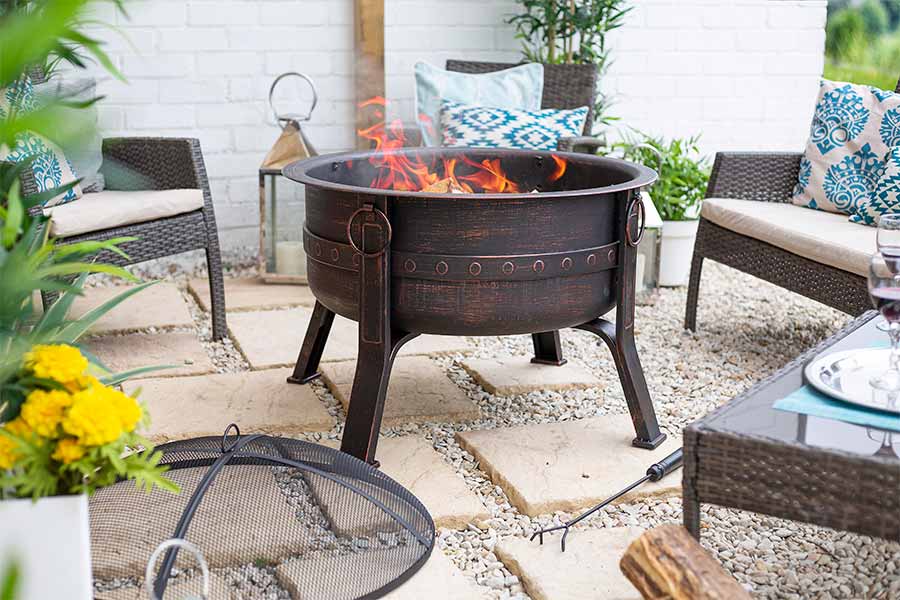 At the entry level, La Hacienda Albion Fire Pit (£52.19, was £57.99) and La Hacienda Explorer Fire Pit (£57.59, was £63.99) are perfect for smaller spaces, with the latter boasting foldable legs ideal for picnics or camping holidays. More robust heating options include La Hacienda Brava Fire Pit (£179.99, was £199.99) and La Hacienda Wildfire Steel Firebowl with Grill (£143.99, was £159.99).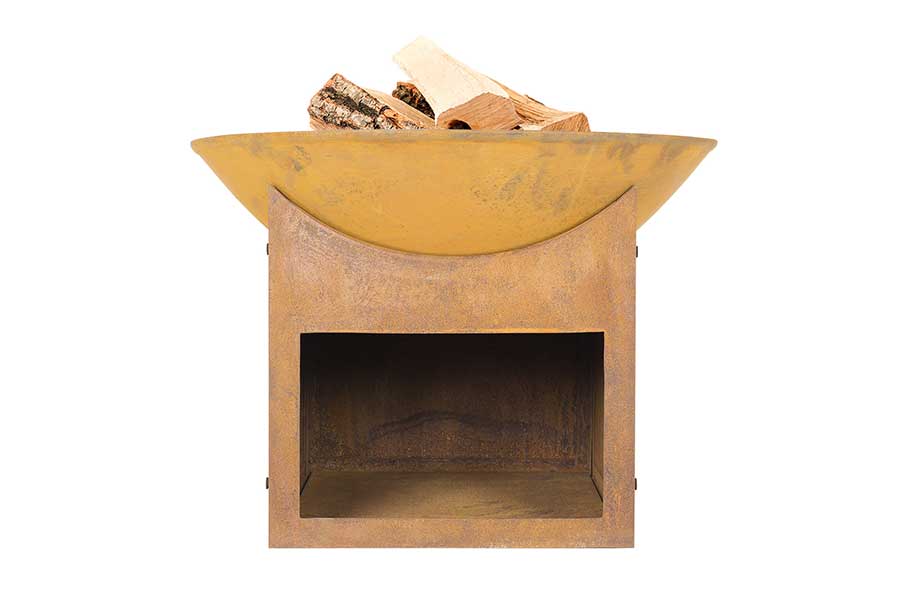 For sheer looks, it is hard to beat the oxidized effect of La Hacienda Fasa Fire Pit with Log Store (£93.59, was £103.99) and La Hacienda Moho Fire Pit with Log Store (£176.40, was £195.99). These wide, deep fire pits both feature generous storage space underneath for your solid fuel.
Standing Heaters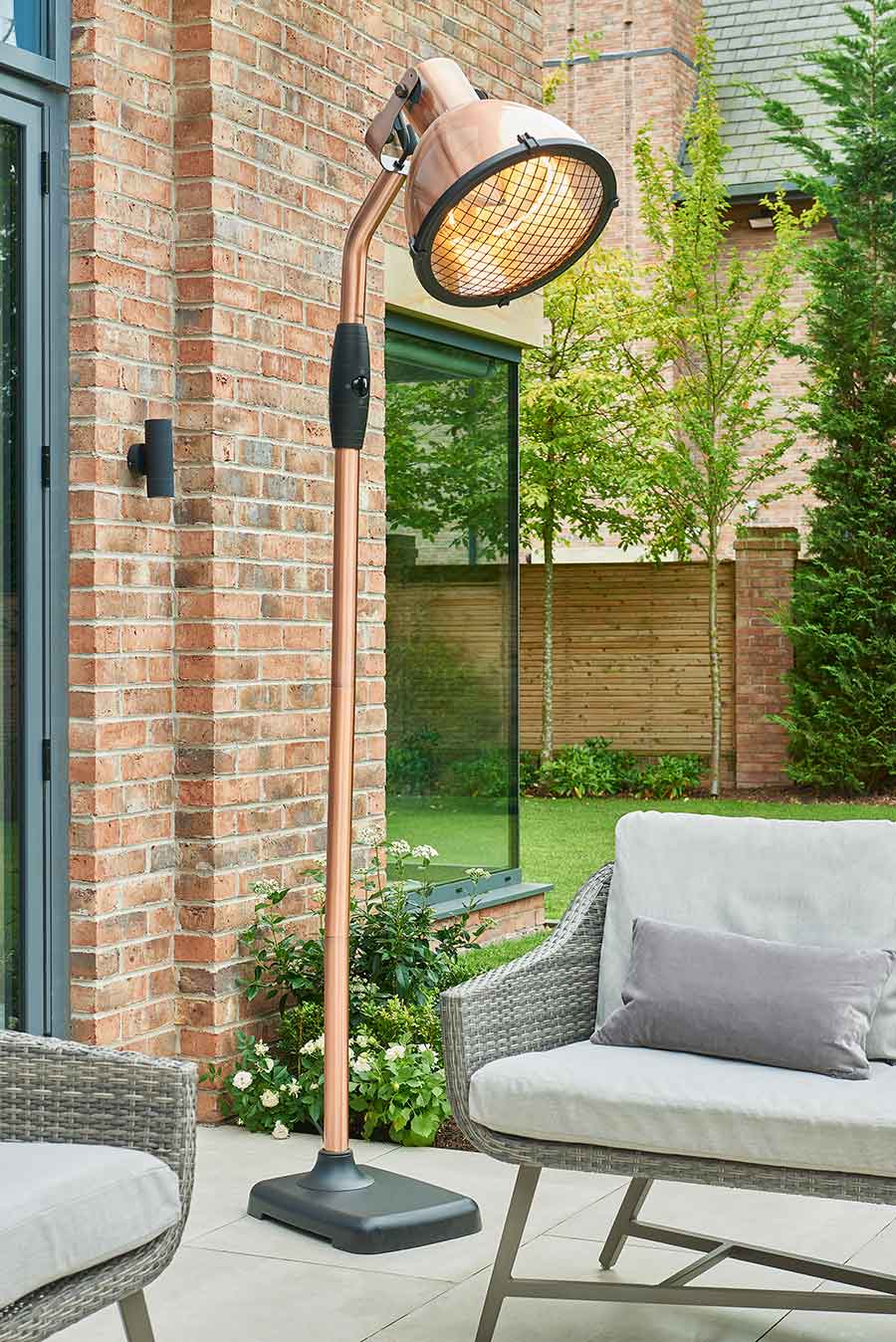 For quick, easy, and versatile outdoor heating, look no further than Kettler's electric standing heaters (12-month warranty). All come with a range of temperature settings that can be switched via remote control. At the more value end, the Kettler Kalos Universal Heater Floor Standing (£241.20, was £279.99) offers 800W, 1200W or 2000W heating modes – strong enough for even the largest patios or deck spaces.
If you prefer an angled style, we recommend the Kettler Kalos Copper Floor Standing Heater (£377.99, was £419.99). This heater boasts a range of temperature settings from 1000, 1500W or 2100W and a beautiful copper sheen. At the higher end, the striking Kettler Kalos Plush Electric Overhang Heater (£629.99, was £699.99) runs from 800W-1800W. It boasts a taupe coloured lamp shade and versatile overhanging shape, letting you reach angles that other heaters just can't.
Table Top Heaters and Hanging Heaters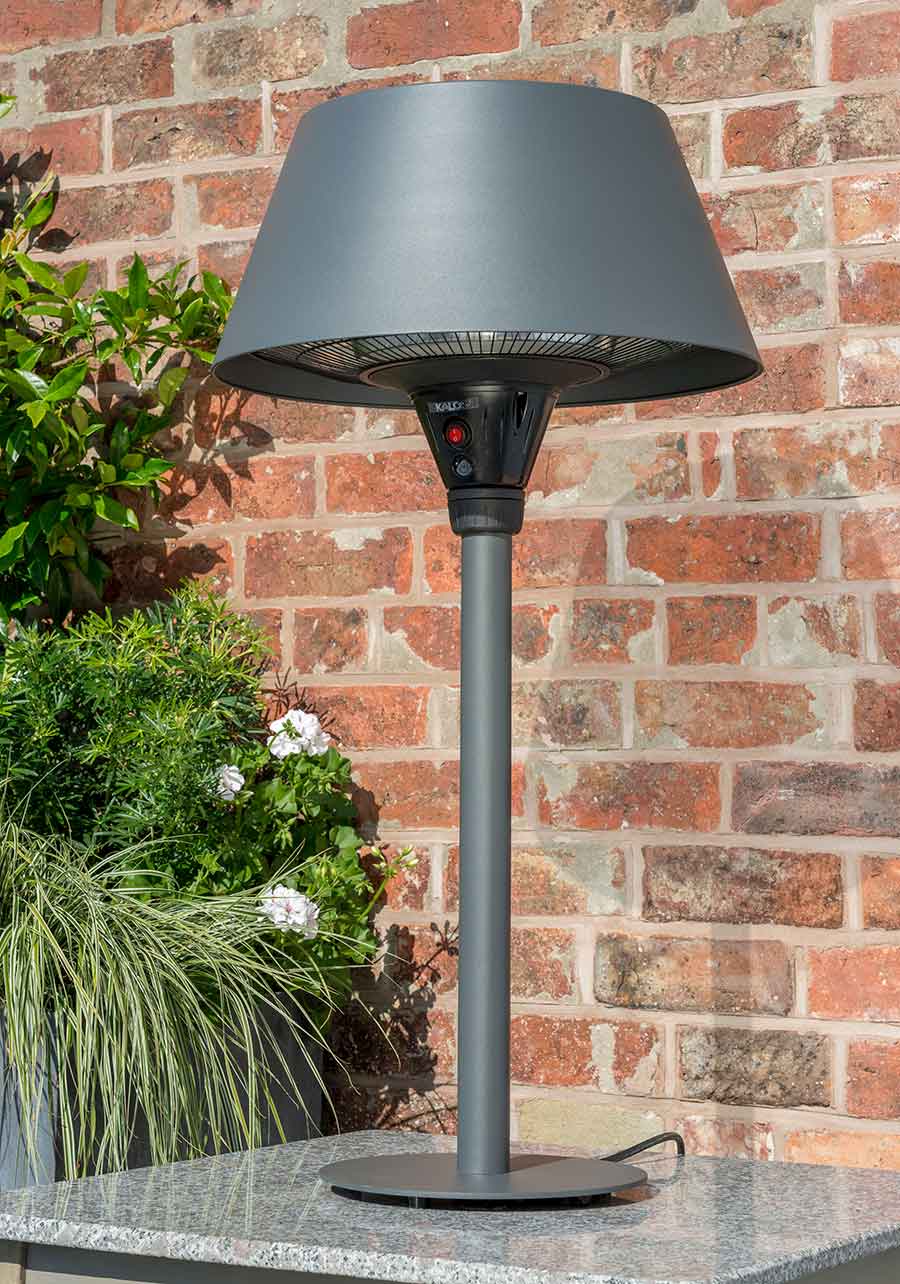 The smallest and most versatile electric heaters are those that you can just plonk on a table top. Kettler's Kalos Range again rides to the rescue with two stunning electric table top heaters: the Kettler Kalos Plush Electric Table Top Heater (£152.99, was £169.99; 1500W) and Kettler Kalos Universal Tabletop Garden Heater (£161.99, was £199.99; 1000W).
For an unobtrusive approach to heating, Kettler' pendants can be simply hung and forgotten about. The remote-controlled Kettler Kalos Universal Heater Pendant (£152.99, was £169.99) offers temperatures up to 2000W, while the efficient, eco-friendly Kettler Kalos Plush Electric Heater Pendant (£188.99, was £209.99) reaches 1800W.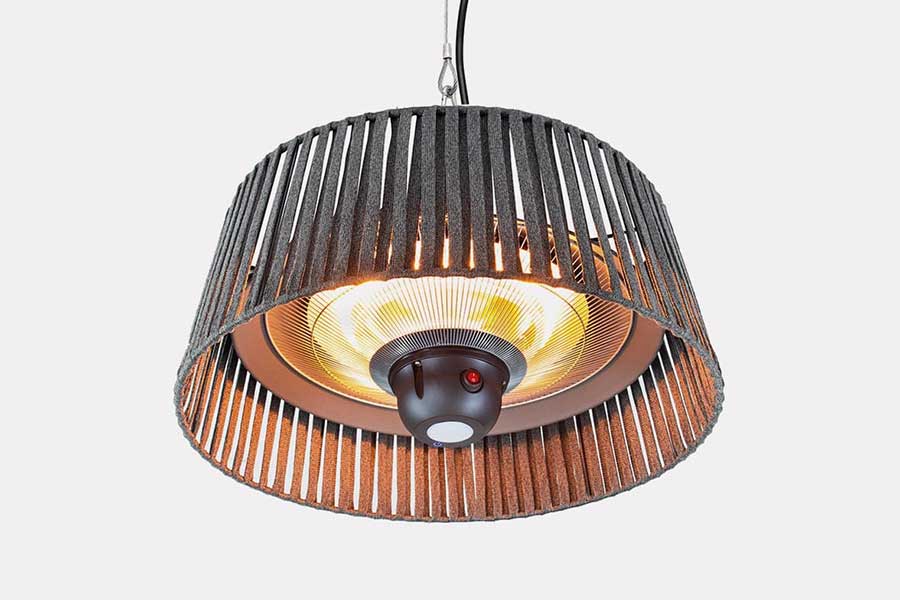 Click here to browse our complete range of outdoor heaters and fire pits. We are fully stocked in all our heating products, with a friendly team of outdoor living experts ready to answer any questions you may have. Feel free to visit us at our buzzing garden centre near Oxford, or reach out via phone or email on our Contact page.