Make Delicious Pizza in Minutes with Our New Ooni Pizza Ovens
Home outdoor dining has come a long way in recent years. Take pizza ovens: With the pandemic forcing hosts (and indeed garden centres) to up their game with events such as pizza parties, the demand for quality gas- and wood-fired pizza ovens has never been greater.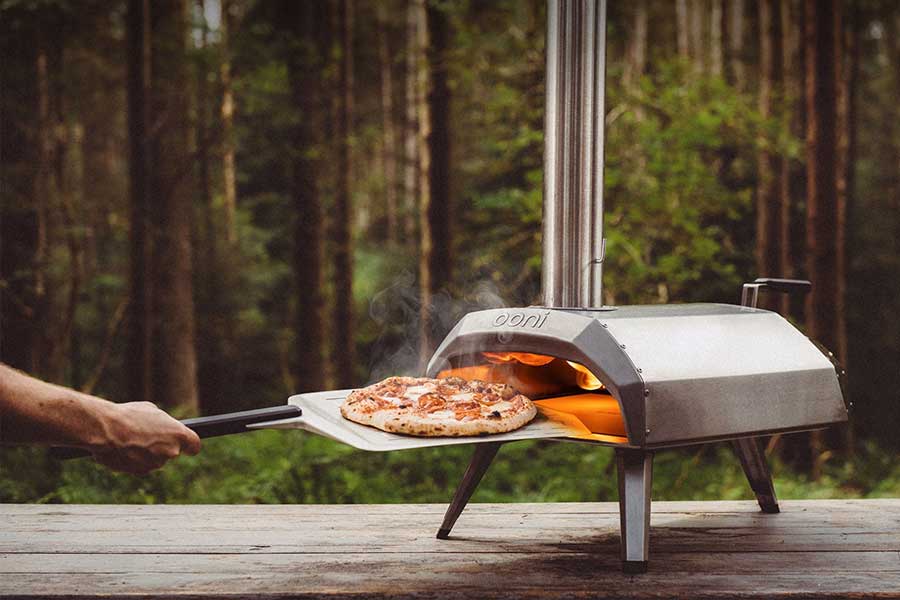 At Oxford Garden Centre, we are delighted to add to our outdoor dining range in the shape of three new Ooni pizza ovens, now available in store or via our website. This premium brand specializes in lightweight, beautiful outdoor pizza ovens that are perfect for outdoor dining, pizza or BBQ parties, and even camping trips.
Ooni pizza ovens allow you to cook authentic, stone-baked pizza in as little as 60 seconds with just a few basic ingredients. If that isn't enough to get your mouth watering, we've also included some tips and recipes below to help put your new Ooni pizza oven to good use.
All Ooni ovens at Oxford Garden Centre are covered by a 5-year manufacturer's warranty. We'll also throw in Free Local Delivery for customers who live at an OX postcode.
The Ooni Pizza Oven Range
Ooni Fyra 12 Pizza Oven - £299.99
Ooni's flagship wood-fired pizza oven cooks amazing pizza with minimum fuss. The secret is the fibre-insulated stainless steel body with flame keeper and thick baking stone, which greatly improves the oven's heat retention.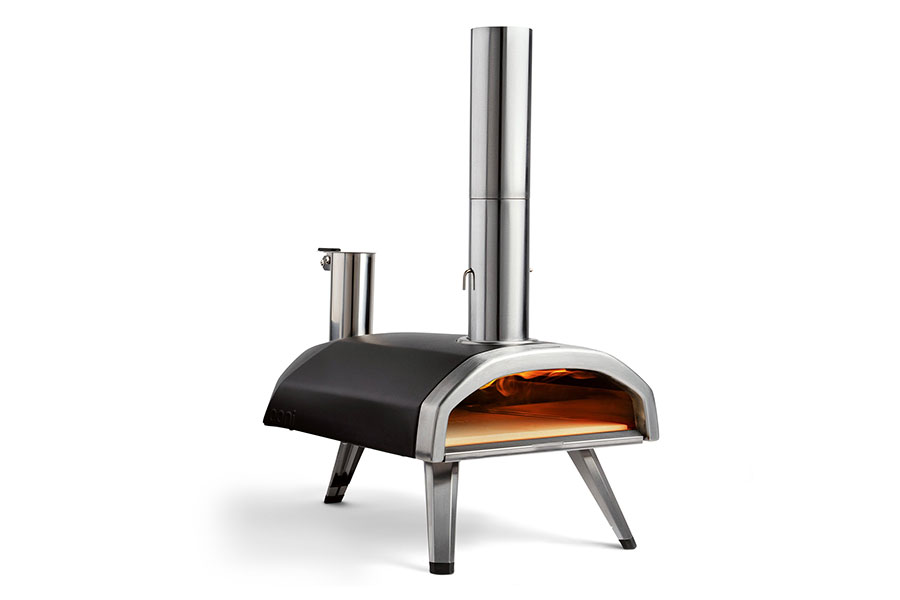 Weighing in at just 12kg, the Fyra is highly portable – perfect for a garden patio, lawn, or even the beach. While we recommend Ooni Hardwood Pellets (£9.99) for fuel, the Fyra also works a treat with BBQ Charcoal Briquettes (£17.99). What's more, thanks to the custom-designed fuel tray, there's no excess ash to clean after cooking.
Ooni Karu 12 Pizza Oven - £299.99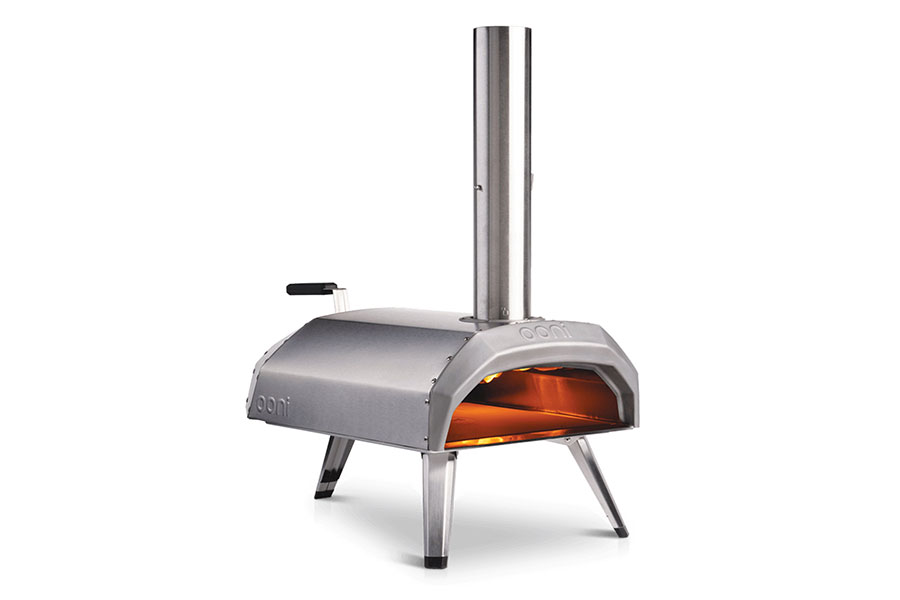 The Ooni offers the same high performance and beautiful stainless-steel design as the Fyra, but with a trick up its sleeve. As well as being compatible with hardwood pellets or solid fuels – think Sustainable British Gourmet Lumpwood (£18.99) – the Ooni can also be used be fuelled by a gas burner. And like the Fyra, there's no excess ash to clean up after.
Ooni Koda 12 Pizza Oven - £349.99
Boasting temperatures of up to 500°C, Ooni's top-of-the-range gas pizza oven weighs a mere 9.25kg – the most lightweight of the three ovens. Its funnel-free design makes the Koda even more portable and storable than the Fyra or Karu. The cherry on top is an adjustable heat control dial that allows you to cook at the perfect temperature.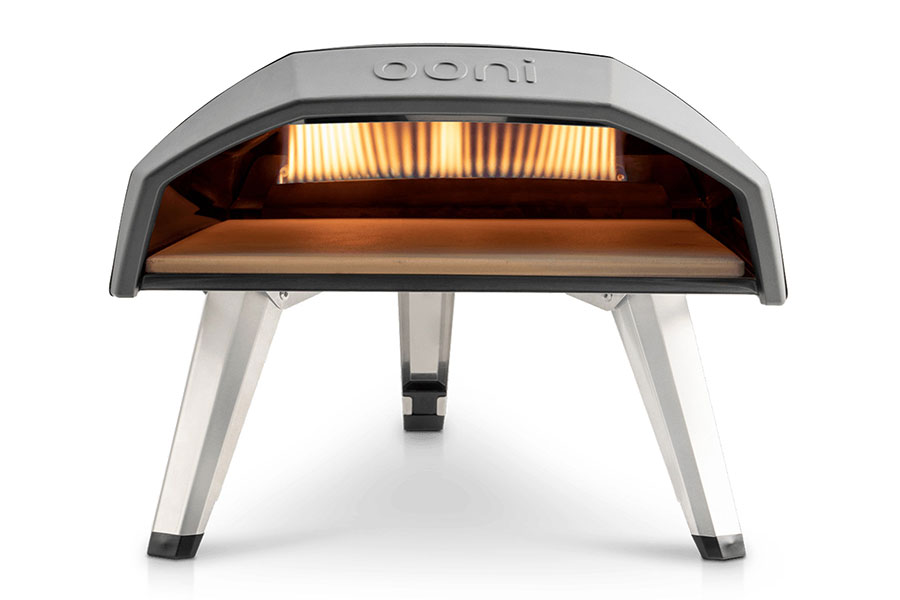 For the gas burner, we recommend the Flogas Leisure Gas Cylinder (from £37.99) in either 6kg or 11kg size (for in-store pickup only).
Pizza-cooking tips from Ooni
Normally we could devote a whole article to the best ways to get the most out of your outdoor pizza oven. Ooni, however, have beaten us to the punch with a fantastic online resource for budding pizza-makers.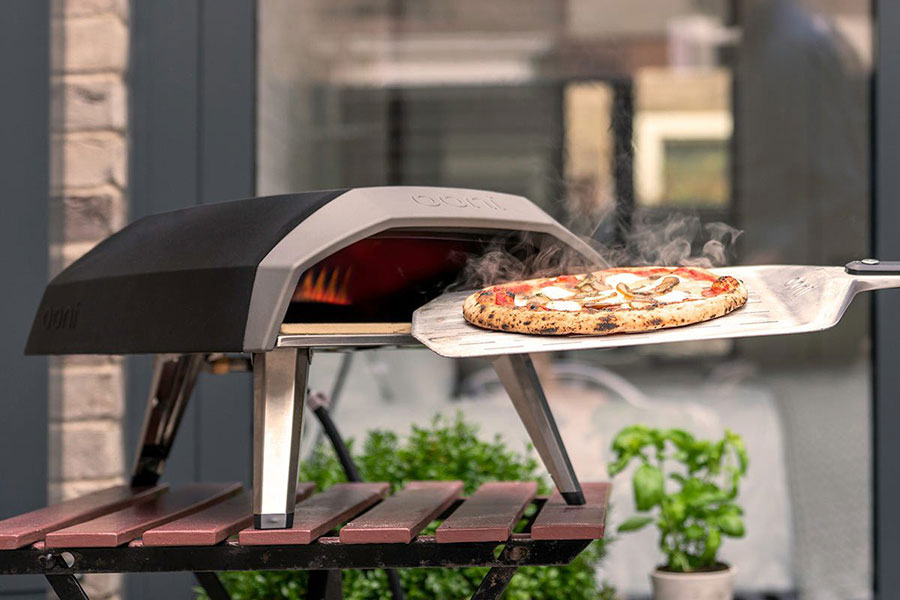 Any pizza-related topic you can think of, Ooni have it covered. Their step-by-step YouTube videos include How to Make Neapolitan-style Pizza, How to Stretch and Toss Pizza Dough, How to Make Sourdough Pizza… and the list goes on.
Most useful of all for Oxford Garden Centre customers is Ooni's custom video guides for cooking with the three ovens in our range: Karu, Fyra, and Koda. In these helpful videos, Ooni's experts explain clearly how to set up, light, and cook with each oven.
What else can I do with an Ooni pizza oven?
Pizza may be the star of the show, but Ooni pizza ovens can cook quite a bit more. Classic BBQ proteins such as burgers can easily be cooked in any of the three Ooni pizza ovens we stock. The YouTube video for the Karu offers some mouth-watering suggestions: steak, fish, chicken wings, and even nachos!
Because Ooni pizza ovens are so portable, they can easily be taken to friends' houses, or even camping trips. For a proper gourmet outing, why not pair your new Ooni with a portable BBQ such as the Weber Q1200 or Q2000 portable BBQ or the Heston Blumenthal 'The Cube' Portable Charcoal BBQ?
If you have any questions about our new Ooni pizza ovens that are not covered in Ooni's online resources, feel free to reach out to us via phone or email. You can also visit us in our garden centre near Oxford, where we stock all three Ooni ovens plus a wide range of fuels and lighters.