Have You Seen Our New Cafe Patio?
When we took over the garden centre last autumn, one of the first things we wanted to get our hands on was the outdoor area adjacent to the cafe. We could picture our garden centre visitors taking pots of tea on the patio and enjoying scones in the sunshine and knew our sister business, AWBS Landscaping, would make it look fantastic.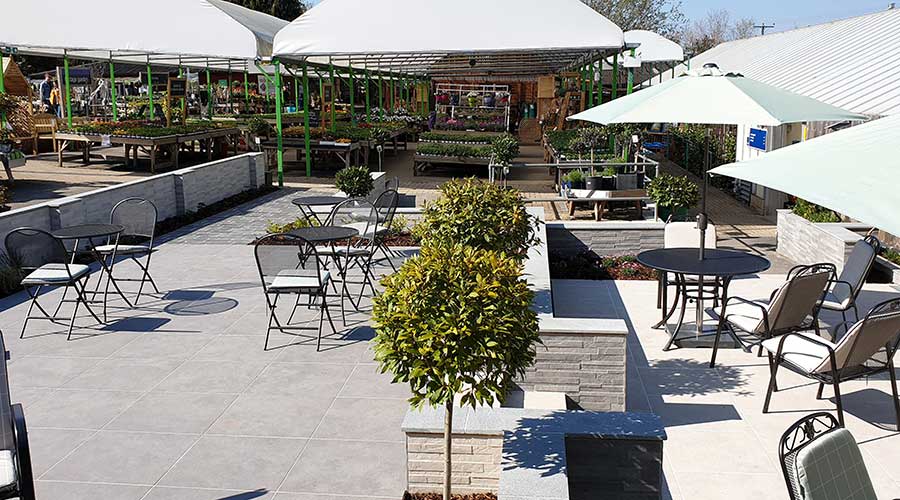 Our owner Adrian White commissioned the landscaping design so we could get it looking just right. Then, from February 2019, over five weeks, our AWBS Landscaping team made some serious changes.
There were a few challenges to overcome (the sloping site and working while keeping the access points to the café clear for visitors) but these were easily overcome by the crack team.
The result is a neat and stylish space, that opened just before the Easter weekend, where garden centre visitors can enjoy breakfast, lunch or afternoon tea when the weather's on our side.
Perfect paving for a pristine patio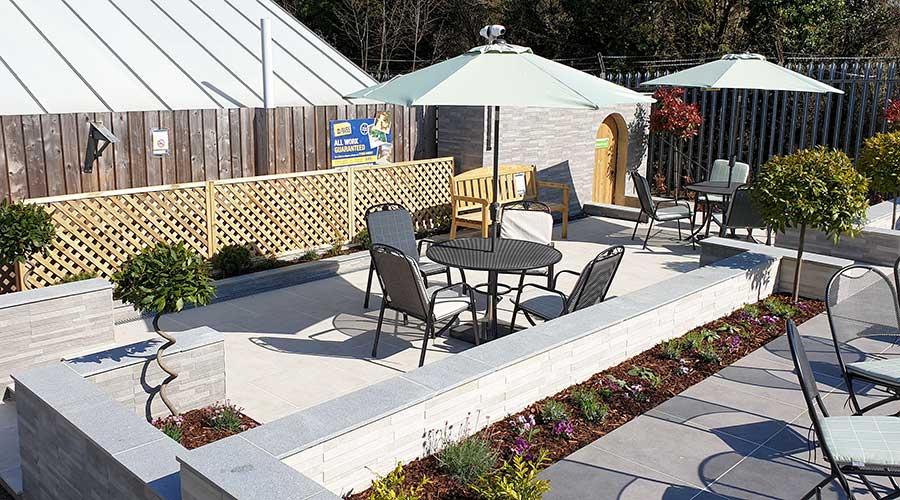 A cool and contemporary combination of paving solutions have been used, which not only gives a pleasing eclectic look but also showcases the products sold by AWBS and the landscaping prowess of AWBS Landscaping.
Digby porcelain cobble paving in warm and multi-tonal Namur was used for the approach to the patio area and Digby Dusk Granite paving was used for the copings.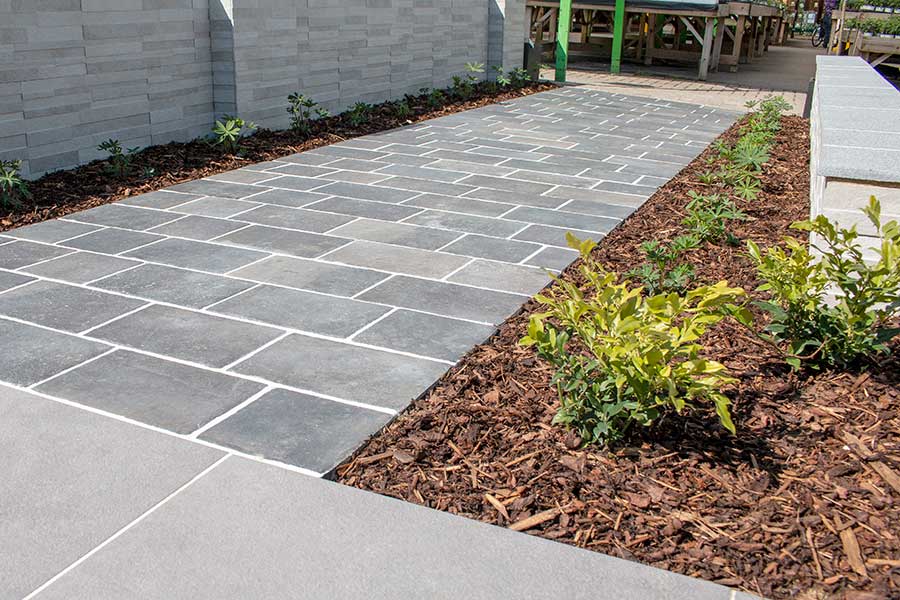 Pavestone porcelain paving in deep and soulful Mude is contrasted for a lovely effect with lighter Soile for most of the main patio space – both new products to AWBS for 2019. For a totally cohesive landscaping design, coordinating Pavestone porcelain wall cladding and Ivory Larsen Tile Grout were also chosen.
Landscaping design flair at its finest
You'll notice around the border of the funky feature walling in the lower patio area that we've used polished black pebbles for a touch of texture. While the steps between levels have been designed so they perfectly fit with the laying pattern.
We chose to have a Grange Tongue and Groove Gate added to the ultra-sleek fully clad arch. This charmingly cladded arch feature, which we're sure you'll agree is pretty impressive and demonstrates perfectly the skills of the team from our sister company AWBS Landscaping.
Gorgeous Kettler garden furniture
We've incorporated Kettler garden furniture into the patio area, which can seat 20+, so that garden centre visitors can get a taste of the quality outdoor dining furniture solutions we have on offer.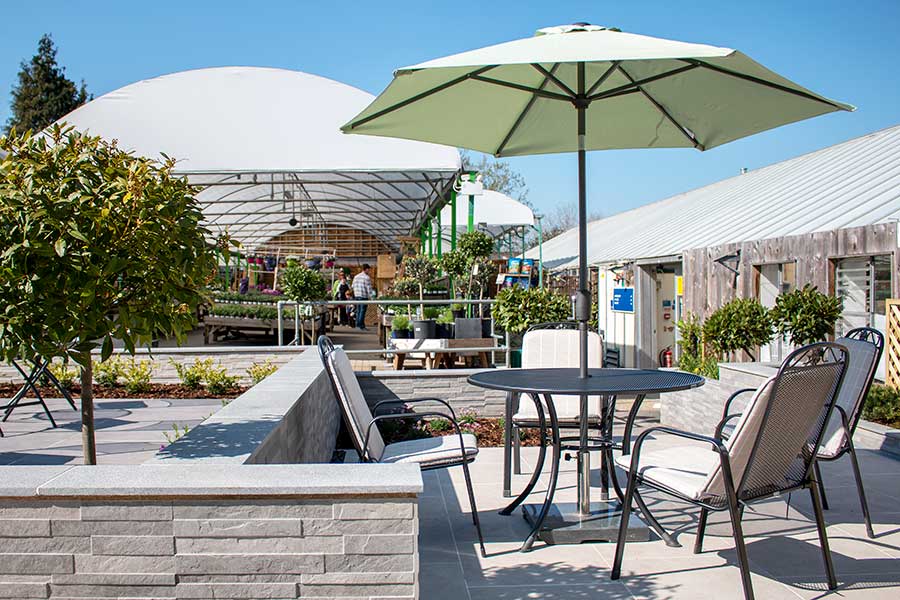 Customers can try out our Kettler Siena 6-seater or 4-seater Classic Mesh dining sets with cushions and parasols in a classic sage colour as well as our Kettler Caffe Roma Bistro set with foldable seats and tables – ideal for smaller spaces.
Lovely low-maintenance plants for your patio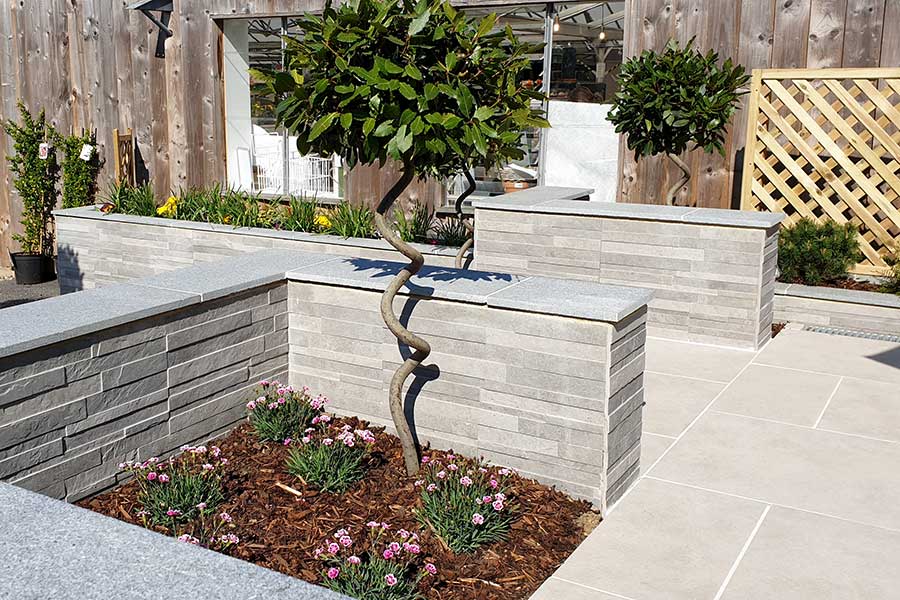 Last, and by no means least, came the planting. With some lovely border spaces of different levels and sizes, we wanted to display what the garden centre has to offer by way of low-maintenance bedding plants and trees. Our skilled and experienced horticultural team were champing at the bit to get their green fingers in the soil!
We've hand-selected some decorative foliage, ornamental grasses and herbs (including Lavender, Rosemary and Sarcococca) for a touch of texture, shade and scent that will outlast the warmer weather.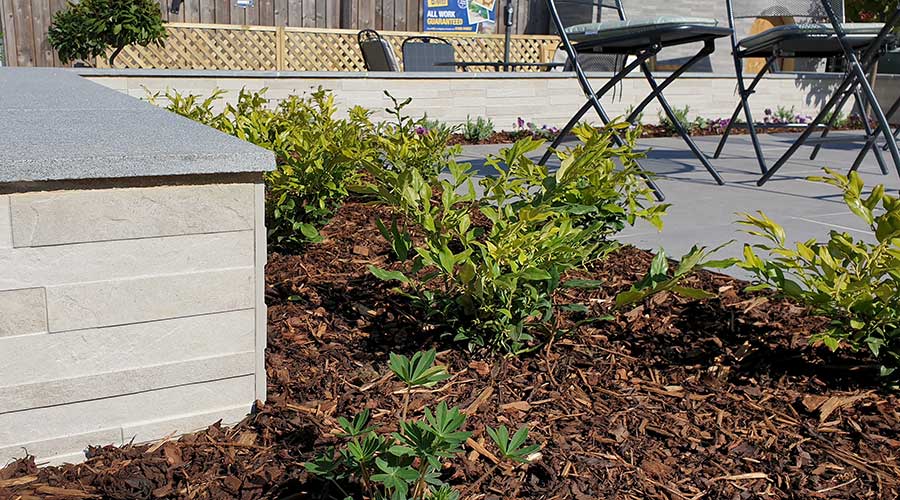 Our horticulturists have spiced things up with a mix of seasonal bedding plants and hardy perennials (such as Violas, Lupins and Rhodanthemums) which can be changed to add a splash of different colour as required.
Carefully positioned Bay Trees and Red Photinias add architectural flair either side of the steps between levels.
Pop in and enjoy a pot of tea on the patio
With some exciting new additions to our café menu too, such as lunch boxes for children and seasonal specials, we'd love to see you for a cuppa and cake on the new patio. You could even have one of our sumptuous afternoon teas (only £15 for two people) while surrounded by all the green offerings at Oxford Garden Centre.
Please call us on 01865 546030 if you'd like to book afternoon tea for two.