Get set for the Big Garden Birdwatch with Oxford Garden Centre
Taking place 26-28 January 2019, the RSPB's Big Garden Birdwatch is the perfect way to familiarise with local wildlife and the ideal time to start planning the improvements you can make – with the help of Oxford Garden Centre – to your planting and garden design this year.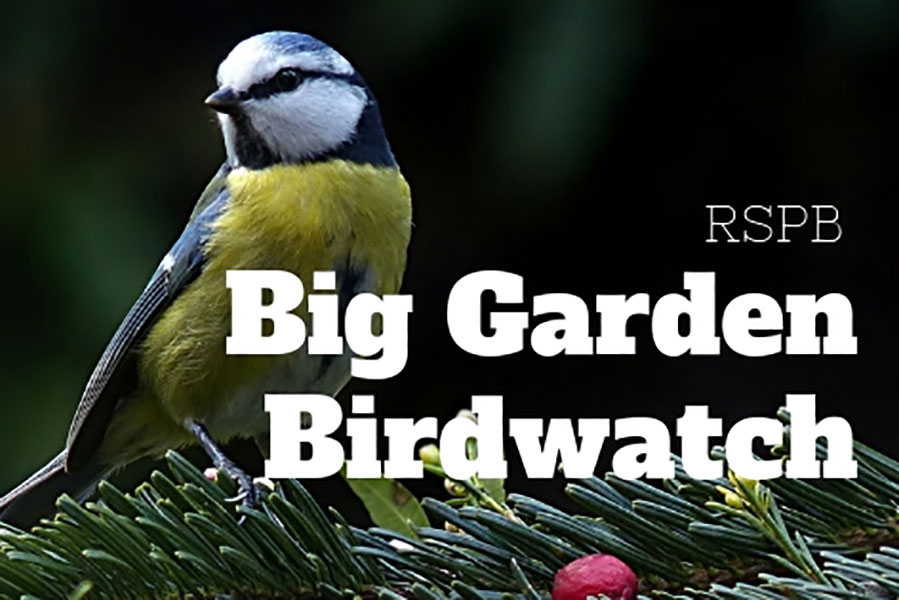 What is Big Garden Birdwatch?
In 1979 Big Garden Birdwatch started out as a simple activity for RSPB's junior members to enjoy during the winter. The aim was to get young people interested in nature and determine the UK's 10 most common birds. TV's Blue Peter helped its rise in popularity and it soon became an annual event held at the end of each January.
From 2001 adults started counting garden birds too and letting the RSPB know their findings. Now, more than half a million people regularly take part and the data collected is compared year-on-year to identify trends, with the population of some garden birds dwindling and others thriving. Our gardens are responding to changes in the environment and Big Garden Birdwatch is a great place to start identifying those changes and making adjustments.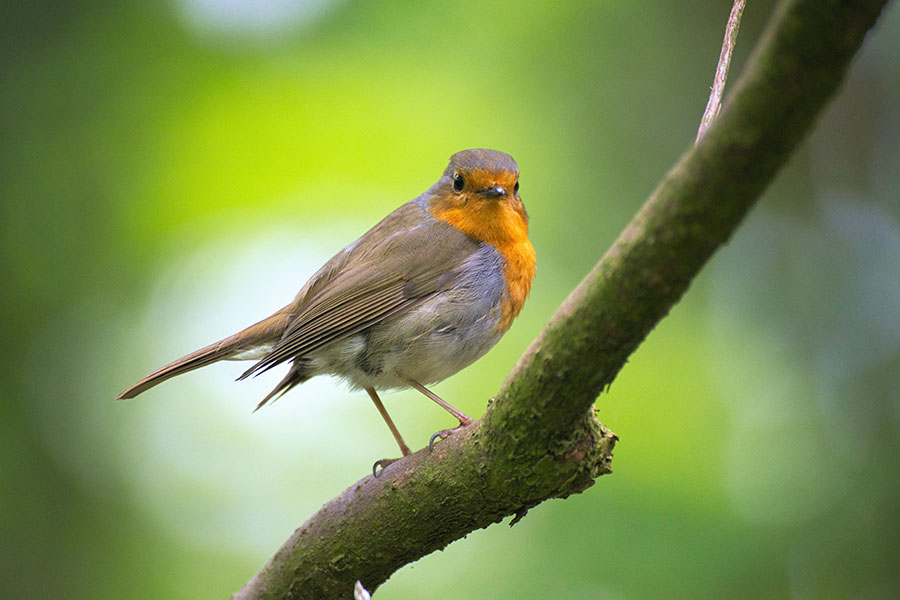 Last year an incredible 6,764,475 birds were recorded during Big Garden Birdwatch and house sparrows came out as the most common species (for the 15th year). With chaffinch, long-tailed tit, robin, great tit, goldfinch, wood pigeon, blackbird, blue tit and starling taking the other nine top spots.
Big Garden Birdwatch at Oxford Garden Centre
On the last weekend of January, a warden from RSPB Otmoor (located around 20 minutes' drive from our South Hinksey site) will be in-store and at hand to answer your questions about Big Garden Birdwatch and to offer birdwatching and identification tips. We have an excellent relationship with the RSPB and donate all our of date bird feed (that we can no longer sell but is still fit for consumption) to our local reserve.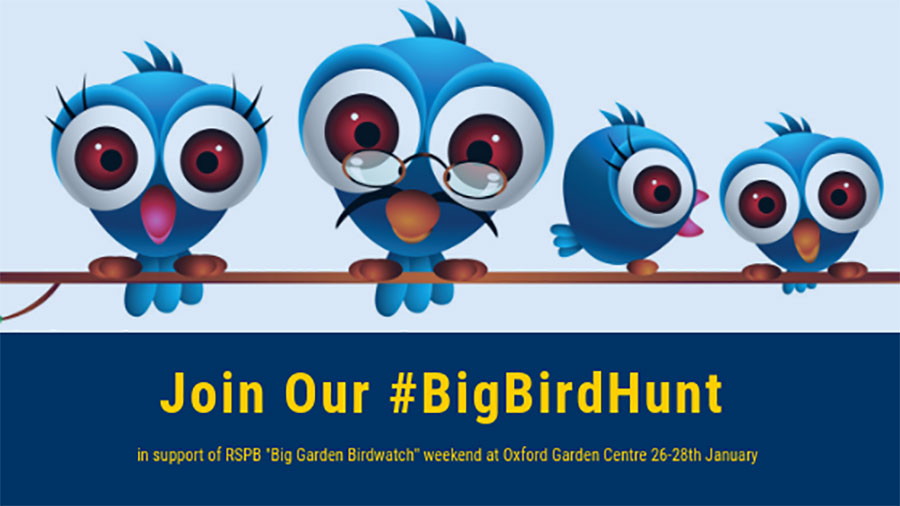 We'll also be running a children's bird hunt around the Garden Centre to encourage Oxford's next generation of budding ornithologists and anyone else who's interested in discovering more about wildlife. Those who find all pictures in our Big Bird Hunt will also win a bird-tastic prize!
There will be a number of special offers and RSPB recommended products in-store to help you make the most of your garden birds this winter too, including:
Poppy bird feeders – £8 each or 2 for £12

RSPB super suet balls – £11

RSPB metal peanut feeder – £13

Buy a box of RSPB super suet balls and get a fat ball feeder for half price
Oxford Garden Centre's top tips for attracting garden birds
Garden Centre Manager Andrew, who has 28 years' horticultural experience, says you should look out for the following birds in your Oxfordshire gardens this January:
Bullfinch

Blackcap

Fieldfare

Redwing

Redpoll

Siskin

Mixed tit flocks

Goldcrest (the UK's smallest bird!)
He also suggests you try RSPB sunflower hearts (£20 at Oxford Garden Centre), RSPB super suet balls (£11 at Oxford Garden Centre) and RSPB metal peanut feeder (£13 at Oxford Garden Centre):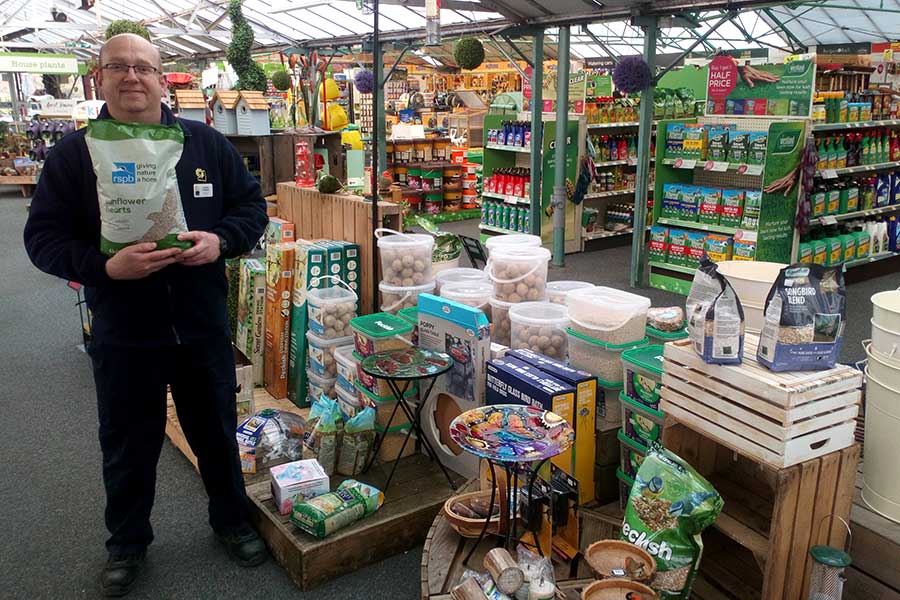 "Sunflower hearts are better than nyjer seed for finches and redpolls, put a nyjer seed feeder and sunflower heart feeder side by side and sunflower hearts will always go first. Super suet balls are good for mixed tit flocks and robins too. The tits will also be attracted to peanut feeders and if you choose a metal one, like the RSPB metal peanut feeder, the food will be protected from squirrels who are known to steal bird food and can break less sturdy feeders".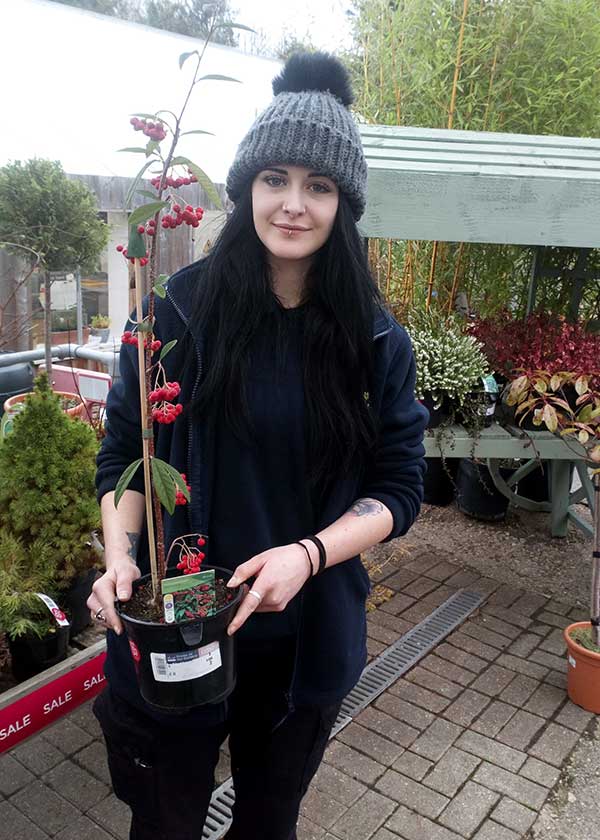 Cat, our Horticultural Manager, says: "Put a cotoneaster, which is part of the rose family and features nutritious red berries, in your garden to attract Britain's winter visitors like fieldfare and redwing. Other plants that will keep your winter garden birds happy include: pyracantha (firethorn), mahonia and a rowan". You'll find more plants that are natural food sources for birds recommended on the Gardeners' World website.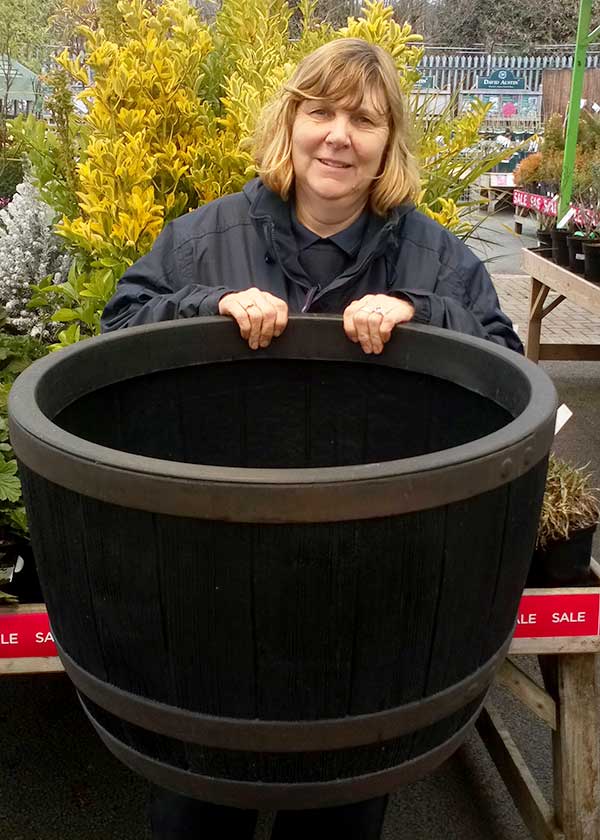 Wildlife and GYO enthusiast horticultural assistant Lorna adds: Why not put a Blenhiem plastic barrel in your garden to make a small wildlife pond? It's a place for birds and other garden visitors to drink from and could provide a home for amphibians. It's even big enough to house a lily, which will provide shelter against predators".
Andrew finishes: "Do come and talk to the RSPB wardens in-store, ask our horticultural staff for advice on the best plants and garden accessories and look out for my Manager's Special on bird feed (running 26-28 January)".
Have you signed up for Big Garden Birdwatch 2019? Sign up for a postal pack, which are being sent until 19 January. Online registration remains open until 26 January. Make sure to use #BigGardenBirdwatch to share your experiences on social media and make sure to tag us on Twitter and Facebook so we can join in the conversation.