Gardening Trends Spotted at Chelsea Flower Show and Hampton Court Palace Garden Festival 2019
If, like us, you revel in watching the RHS' top flower and garden shows on the BBC (bowl of home-grown strawberries and cream in hand) – or you've been lucky enough to visit this year's Chelsea Flower Show or Hampton Court Palace Garden Festival – you'll know that the show gardens are quite the trend-setters for UK outdoor spaces, humble or huge.
From using water features and glass for creating calming reflections to the lushest and wildest woodland inspired planting to the perfect picks for pollinators to combining soft planting with hard landscaping for a fresh look, here's 2019's top RHS garden trends. We've also included our floral favourites with growing tips you can use to make your Oxfordshire garden bloom and delight like a Gold Medal Winner.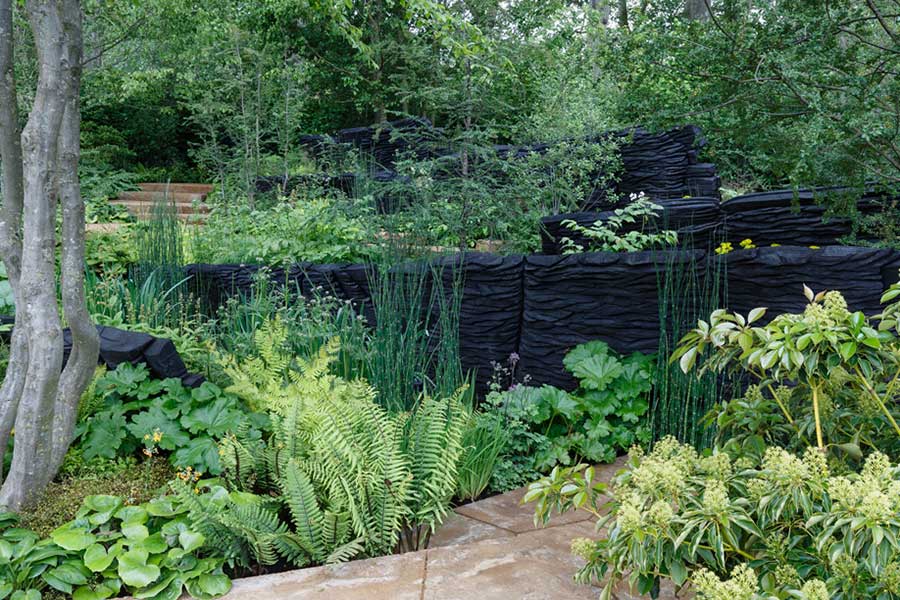 M & G Garden - Image courtesy of RHS / Neil Hepworth
As stated by the RHS, the best of British was in at this year's Chelsea Flower Show in May 2019: "The overwhelming trend at the 2019 show was that of using native plants, or at least selections of plants that grow wild in the UK.
"So many of the gardens were woodland inspired featuring lush, if understated, naturalistically styled underplanting, including plants such as Digitalis (Foxglove), Anthriscus (Cow Parsley) Ragged Robin, Red Campion and grasses such as Deschampsia.
"Many also had boundary hedges of native species such as Field Maple (Acer Campstre). Linked to this was the feel many gardens have of re-wilding – being reclaimed by nature. The manicured look is out, soft and relaxed is most certainly in."
This back-to-nature trend then hopped in a wheelbarrow and came up roses at the RHS' rebranded Hampton Court Palace Flower Show just a few weeks back too. In case you didn't get along to London or Surrey this spring or summer, Oxford Garden Centre has mulched down this year's most popular takeaways so you too can get some RHS sanctioned style in your outdoor space…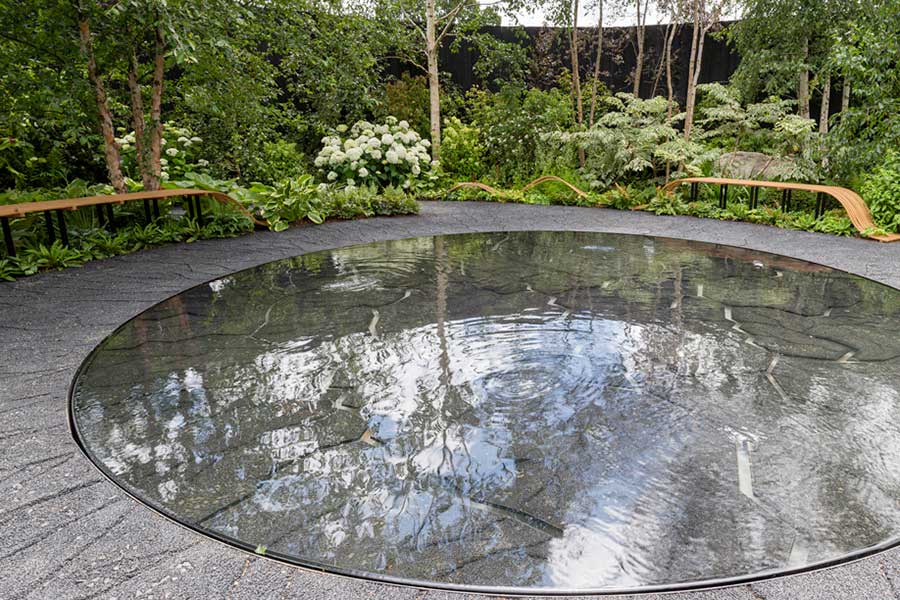 Smart Meter Garden - Image courtesy of RHS / Neil Hepworth
Creating reflections – The use of water or glass to reflect the planting and extend the beauty of the space was used at both shows. In Kazuyuki Ishihara's Green Switch Garden at Chelsea, raised glass wall rooms are used to blend perfectly with the dreamy Japanese planting, that includes Japanese maples, and extend the garden inside. While Matthew Childs' Smart Meter Garden at Hampton Court Palace makes clever use of water so that the central surface floods to form a giant mirror that reflects flourishing trees. This later garden, along with The Cancer Research UK Pledge Pathway to Progress, also shows how the use of circular paths can create a sense of calm that gives way to a central statement piece or garden seating that promotes reflective thought.

Lush green planting – A timeless trend that we hope will bless the British countryside for many more summers to come, lush green plants and trees were a hit at both shows this year. Revealed in the Smart Meter Garden mentioned above and the gorgeousness of The Greenfingers Charity Garden, lime and emerald to sage and olive are most definitely the classic colourways you should consider rocking on your plot. Taking the lush greenery from the grass beneath our feet to the spaces above our heads, living walls and living roofs were also a hit among eco-friendly garden designs at both shows.

Wild woodland way – After the popularity of the RHS Back to Nature Garden designed by HRH The Duchess of Cambridge with Andree Davies and Adam White at Chelsea Flower Show, a woodland-inspired space for retreat and play that uses large trees in various forms, this is a trend that keeps on giving. Soft planting (such as Snowy Woodrush, Bishop's Weed, Chinese Meadow Rue, grasses and Foxglove) and the placing of natural elements (such as boulders and large trees) has also been used in the Hampton Court Smart Meter Garden and multi-award-winning Stop and Pause Garden.

Planting for pollinators – The overarching pollinator pick for this year's RHS judged gardens is the Foxglove or Digitalis (Digitalis Purperia is the only wild variety). Evocative of English country garden style with their tall colour-rich spires, the Foxglove is a favourite of bumblebees. Plant them where you want in the garden and they will take over before you know it but resist from using a pot as they won't thrive. Lupine, with spikes of flowers and offering a kaleidoscope of colours, makes a show stopping statement but this member of the pea family is attractive to various bees and butterflies too.

Soft planting, hard landscaping – As always contrasts of hard and soft landscaping are a win but many of this year's show gardens have shown how far you can push those contrast boundaries by juxtaposing Fern and Hosta with black cracked pathways in the Smart Meter Garden. Likewise, for his Chelsea Flower Show Gold Medal and Best Show Winner The M&G Garden, Andy Sturgeon used dark slate style charred wood walls to contrast warm honey-tone paving and lush green planting.
Oxford Garden Centre's floral favourites from this year's Chelsea and Hampton Court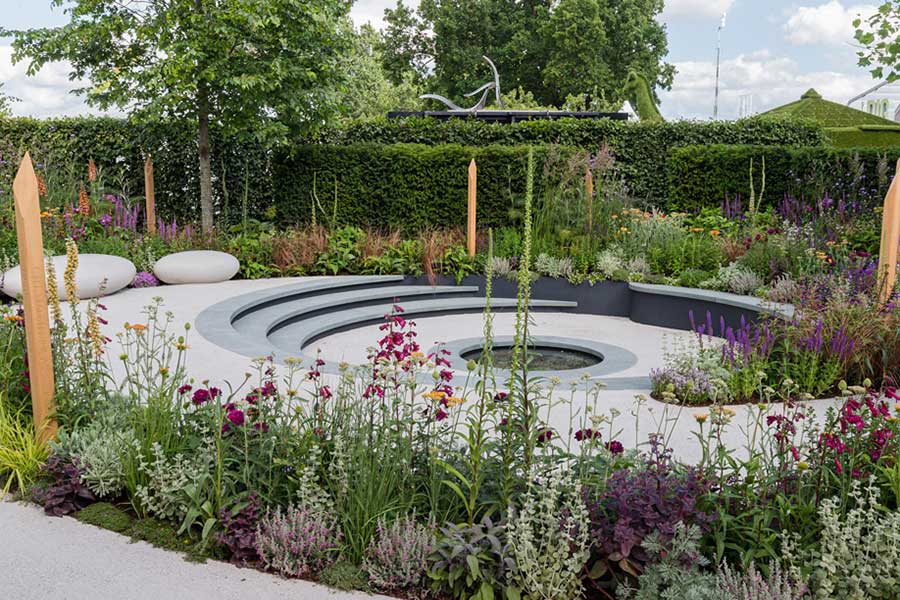 Cancer Research Garden - Image courtesy of RHS / Neil Hepworth
Foxgloves
Either biennial (producing foliage in the first year and flowers in the second) or perennial (flowering every year), Foxgloves or Digitalis are excellent plants that can return bigger and better the next year. A mature plant's flower stalks can be a good 1.5 metres tall and one plant can produce many. Digitalis will grow in any soil and are easy to care for. Though in heat from 20 degrees up it is good to keep on top of the watering. Due to their height, they fit best at the back of a border and they're self-seeders that replace their own flowers.
Our Head of Horticulture Andrew Gardiner, says: "Digitalis, or Foxgloves as they're commonly known, come in a vast array of colours. An Oxford Garden Centre favourite is Elsie Kelsey, a white flower with red centre, which is perfect for the bees to hone in on. We have Digitalis in stock from £2.99".
While we like the classic English colours for a classic English plant, Gardener's World presenter Monty Don's favourite from this year's Chelsea Flower Show was the Canary Island Foxglove with its warming marmalade tones.
Roses
No English garden is complete without a Rose. Fast growing with a long flowering period (from May to sometimes December), you always get a good return from these plants. And if you have a smaller courtyard garden or balcony there's no reason why you should miss out, look for one of the compact Roses that are happy pot dwellers.
The Festival of Roses marquee at Hampton Court Palace is always a sensory wonder to behold and there were a fair few early bloomers at Chelsea in May too. Though the 2020 Rose of the Year, named at this year's Garden Festival, is the perfectly peachy Sweet Honey 'Kormecaso'.
Andrew adds: "Most of our Rose stock is from the world famous David Austin collection, we have a vast stock of climbers, ramblers and shrub roses available from £22.99 (the lowest price David Austin Roses in the Oxfordshire area).
"They're good for beds and pots, which we have a big stock off. You can also buy all the garden tools and accessories you need to keep your roses in tip top form from Oxford Garden Centre – with snips for deadheading (vital for a long flowering period) food, compost for bedding in, and RoseClear® to help rid of those pesky pests.
"For roses in pots, use a mix of John Innes No.3 soil mixed with 20% compost and keep on top of the watering. In the ground; just use rose tree and shrub compost and Rootgrow to give your precious plant a kick-start. They work best placed midway in a border or scattered around the garden – they make fantastic lawn centrepiece too".
Oxford Garden Centre's favourite Roses are Munstead Wood, Gertrude Jekyll, Ancient Mariner, Dami Judi Dench and Brother Cadfael. All are deliciously scented and placed around our cafe patio so you can enjoy their vibrancy and aroma while sipping at a cuppa or relishing a light bite!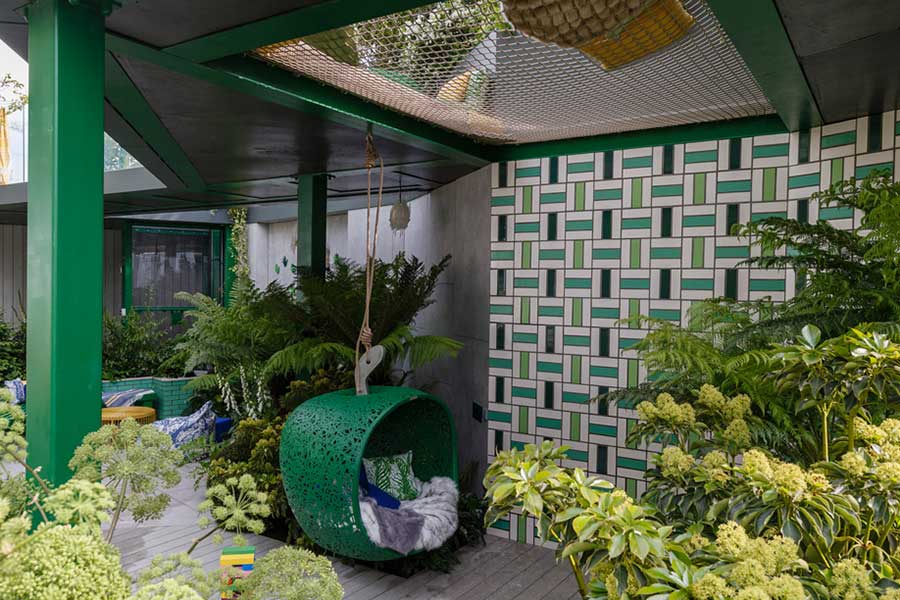 Green Fingers Charity Garden - Image courtesy of RHS / Neil Hepworth
Astrantia
A perennial that returns bigger and better year after year, Astrantia have tall flower stems with clumps of small flowers atop. Great if you're planting on a budget and showcased in many ways across RHS medal winning show gardens this year, Astrantia can grow to large sized plants. These can be split or have cuttings taken to spread across your space, so you can get far more bang for your buck.
"They come in all different colours and we have several different varieties priced from £10.99 at Oxford Garden Centre," Andrew continues. "Astrantia can be kept in pots or in borders where they're ideal placed midway. The pollinators love them! Dead head them regularly and keep them watered".
We hope that our round-up of this year's Garden trends at Chelsea Flower Show and Hampton Court Garden Festival has given you plenty of floral food for thought and innovative planting inspiration.
From Chelsea and Hampton Court Palace to Oxford
Do pop in to Oxford Garden Centre for your Foxgloves, Roses, Astrantia and other RHS rated plants. Remember we stock all the garden compost, plant pots and garden tools and accessories you'll need to create your perfect Oxfordshire garden too.