Winter Garden Storage Ideas: A Complete Guide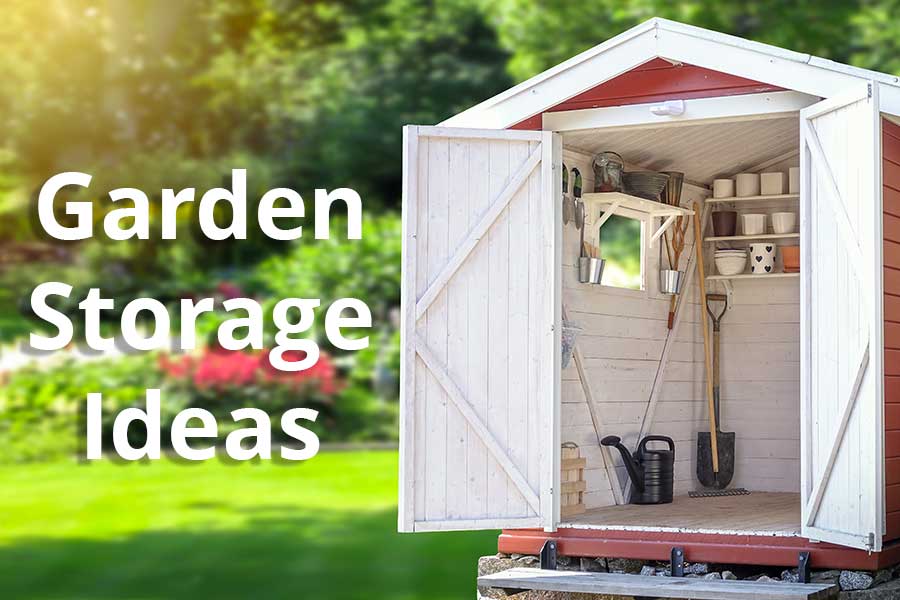 As winter approaches, many gardeners are faced with the challenge of where to store their outdoor tools, furniture and equipment. However, proper garden storage is crucial to ensuring that your items are protected against the elements when the weather worsens. And, of course, for keeping them organised, secure and ready to use again when spring rolls around.
Not sure where to start? In this guide, we'll explore various winter garden storage ideas to help you maintain a well-kept outdoor space year round. Keep reading to learn more.
Why invest in outdoor storage?
First off, let's consider why it may be worth installing a shed, summerhouse or other garden storage now summer's over:
Garden furniture – if you purchased a high-quality furniture set to make the most of the summer sun, you'll want to protect it now. While some models are weatherproof, others are not – and the cushions won't appreciate heavy rain or snow either way! It may also be useful to reduce garden clutter ready for working on your lawn in spring.
BBQs & heating – likewise, if you entertained a lot last season, you may well have a large BBQ or outdoor heater to store away. This will help to prevent rust and mould. You'll also want to keep your charcoal in a dry, cool space away from any moisture.
Garden tools – tired of hand or power tools cluttering up your garage? Tuck them neatly away in a lockable shed or plastic garden storage cupboard for safekeeping.
Children's toys – with wetter and colder days upon us, it's unlikely that your kids will be playing outside as often. So why not take the opportunity to tidy up your garden and store their outdoor toys and games out of sight? Plastic outdoor storage is ideal.
Bikes – although bikes can be used all year round, their bulky nature will quickly add clutter to your garden. And in winter, you should be looking to store them out of the rain to prevent corrosion anyway. Don't have a garage? Then a shed is your best bet.
Logs/ winter fuel – have a log burner or an open fire in your home? Then you'll need to keep your solid fuel dry. Log stores and small sheds are both great options.
The best garden storage ideas for winter
Whether you have a small patio or an extensive lawned area, we can provide the perfect garden storage solution for you. In conjunction with leading supplier Shire, we offer durable timber sheds capable of housing everything from lawnmowers to bistro sets. Plus outdoor cupboards and small plastic tool sheds that are extremely handy yet take up minimal space.
Additionally, we offer summerhouses, potting sheds and spacious workshops that double as useful storage areas and covered work areas during the off-season. Let's take a look at each garden storage idea in more depth.
Sheds of all shapes and sizes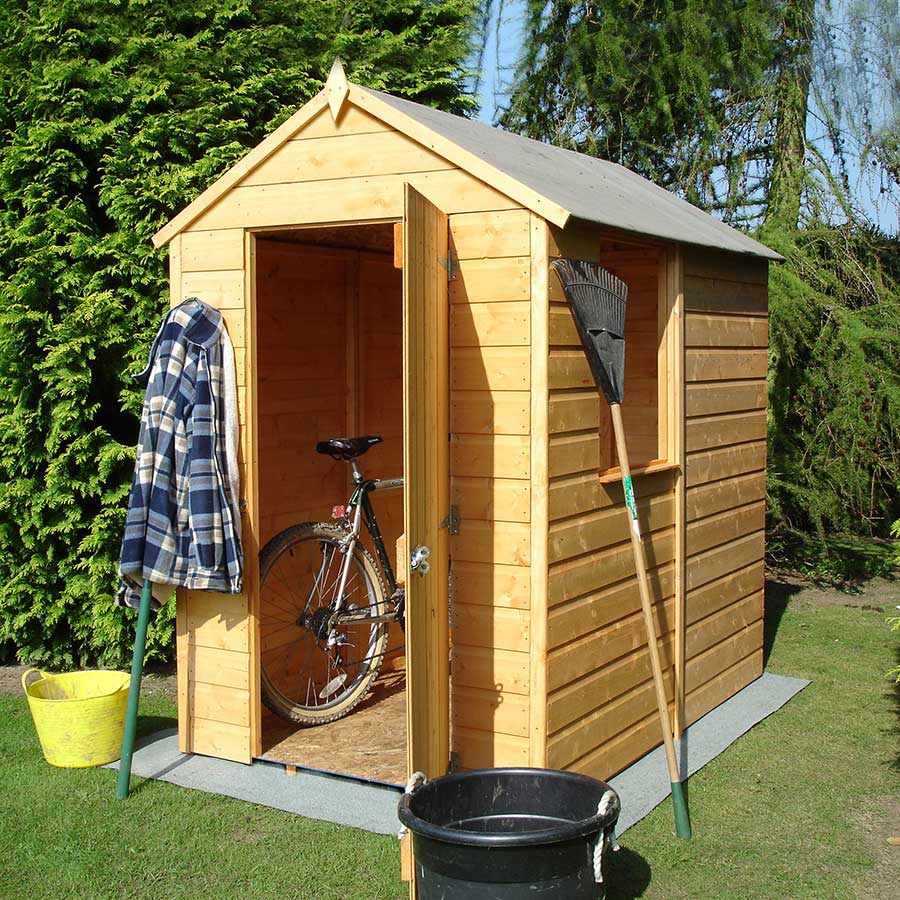 Provided you have the square footage, a sturdy garden shed will serve as a multifunctional space for storing many different items. Think bulky garden heaters, bikes, BBQs, garden furniture, tools and more, all safe and dry behind a hardwearing, padlocked door.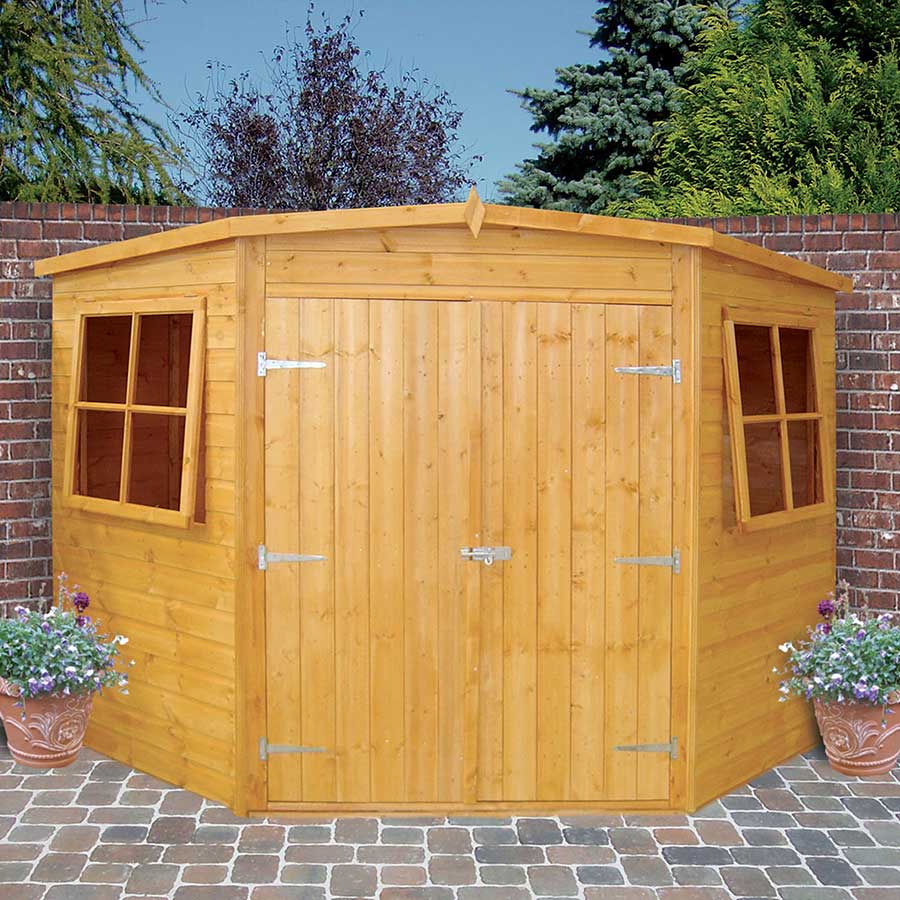 At Oxford Garden Centre, we stock classic overlap designs and modern shiplap models with flush panels. Plus a choice of single or double door sheds. Each one is built from sustainably sourced pine that has been pressure-treated for longevity. This is topped off with a waterproof felt roof and either a honey-brown or red-brown finish to complement your garden.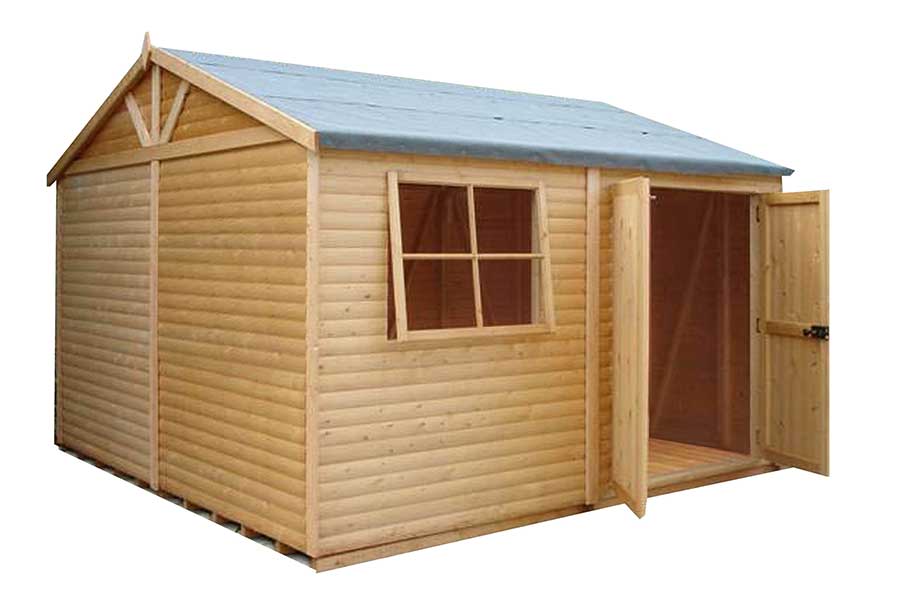 Many of our shiplap models also feature windows to utilise natural light, including our corner sheds built for tight spaces. Meanwhile, our large workshops provide the greatest amount of space. They are also fully braced and come with robust joints to withstand windy conditions.
Tip: luxury shiplap sheds are more watertight than overlap designs and less prone to mould. As such, if you're storing valuable power tools or furniture cushions, you may want to upgrade.
Bike storage sheds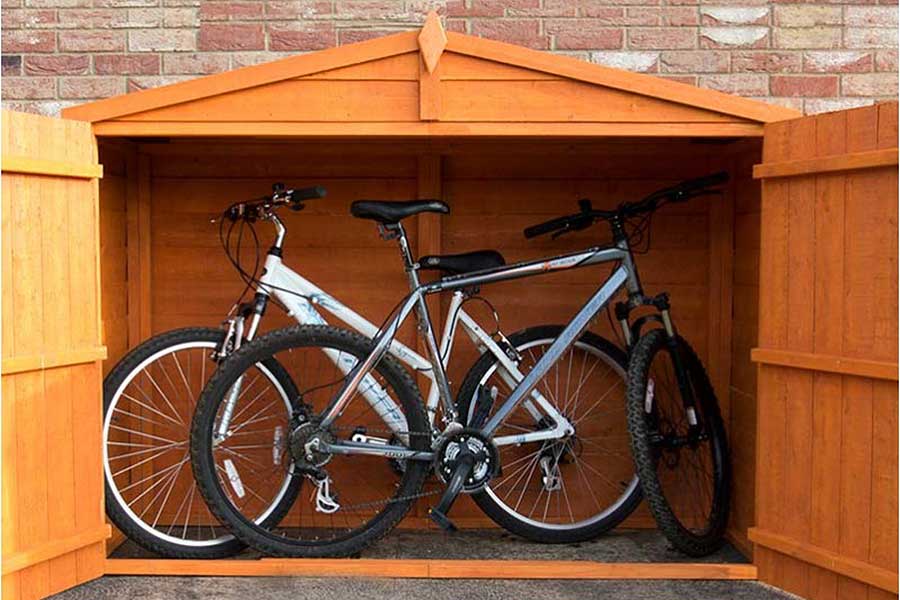 Or if you only need a place to keep your bike, we can supply units designed specifically for that purpose. Our bike storage sheds can hold up to 3 bikes at once and the floorless design allows water to drain off easily. That way, you can put bikes away wet, without worrying about moisture buildup. They also look like a standard shed, with no windows. This privacy feature is a great garden storage idea when it comes to keeping high-end bikes securely out of sight.
Space-saving stores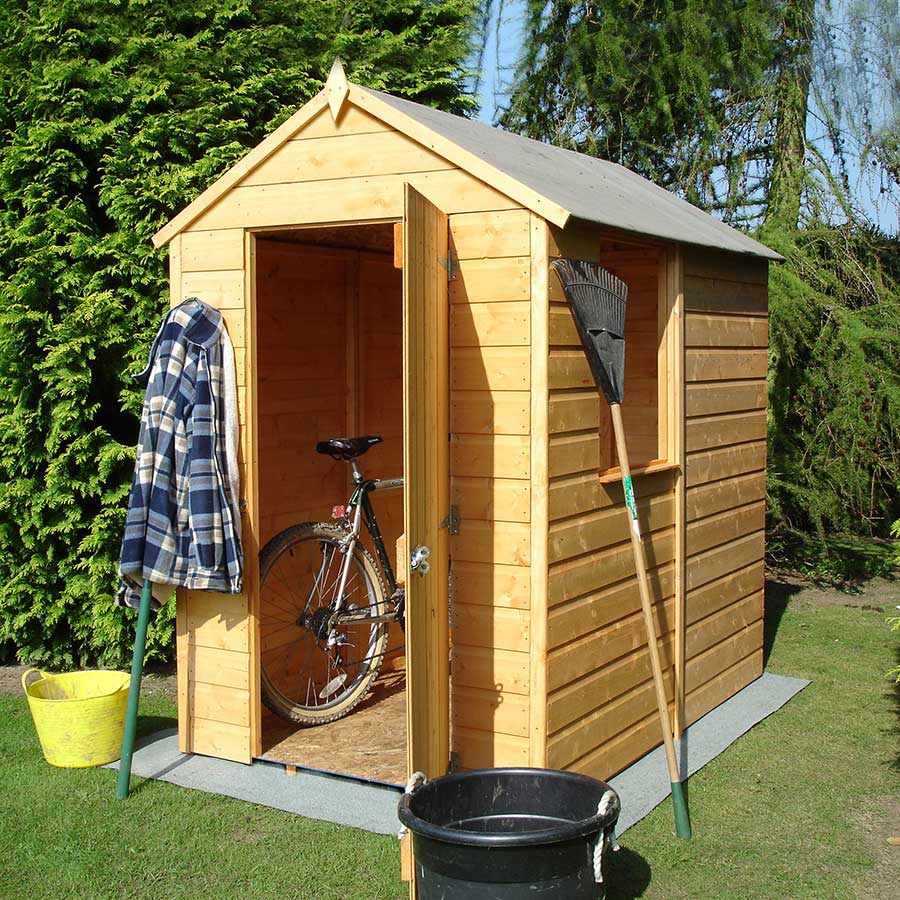 If you're short on space, how about a tall storage cupboard instead? A slimmer version of a standard shed, our handy garden stores will slot seamlessly into a small garden or courtyard. Yet you won't have to compromise on height. In fact, this garden storage idea is one of the best for storing long-handled tools like strimmers, brooms, rakes, aerators and forks upright.
Plastic storage cupboards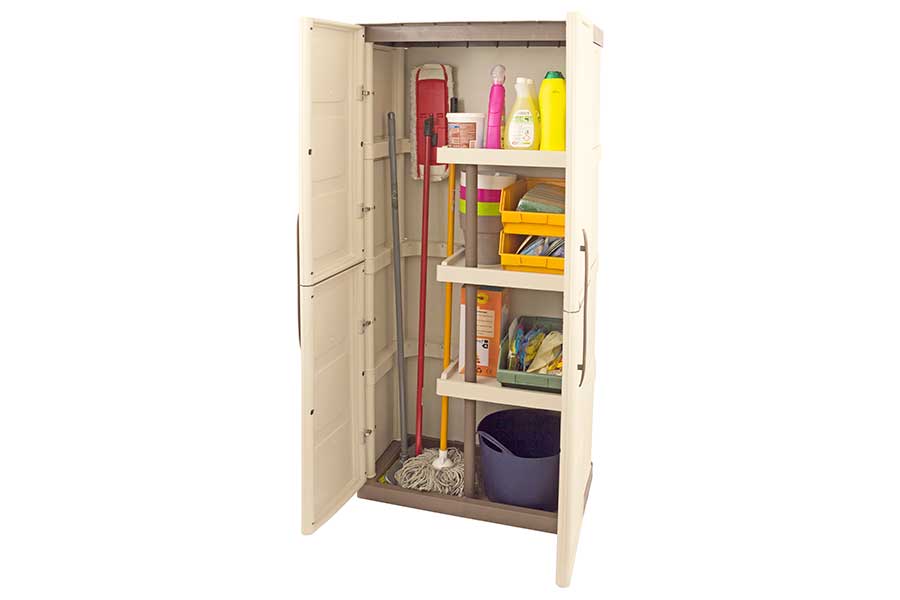 Alternatively, you may refer a low maintenance plastic garden storage cupboard. Made from long-lasting polypropylene, these can be used outdoors or within larger sheds and garages. Opt for a tall cupboard with both shelves and a full-length space to accommodate the tools mentioned above. Or select a small unit to keep hand or power tools and hardware organised. Either way, our UV-resistant and rot-proof plastic storage units could last for up to a decade.
Log stores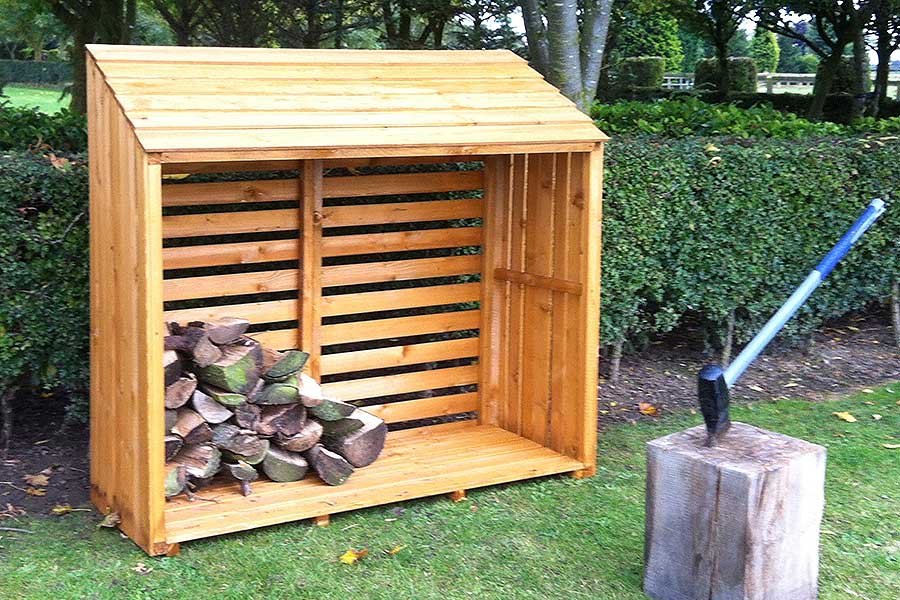 Want to keep your logs, kindling or coal protected from the elements this winter? Instead of bringing them indoors and attracting pests, you should definitely consider a log store. We have traditional sloping roof designs to aid water run-off, as well as contemporary triangular models. Both of which are attractive yet practical and compact enough to fit on patios, decks and more.
Glazed summerhouses & potting sheds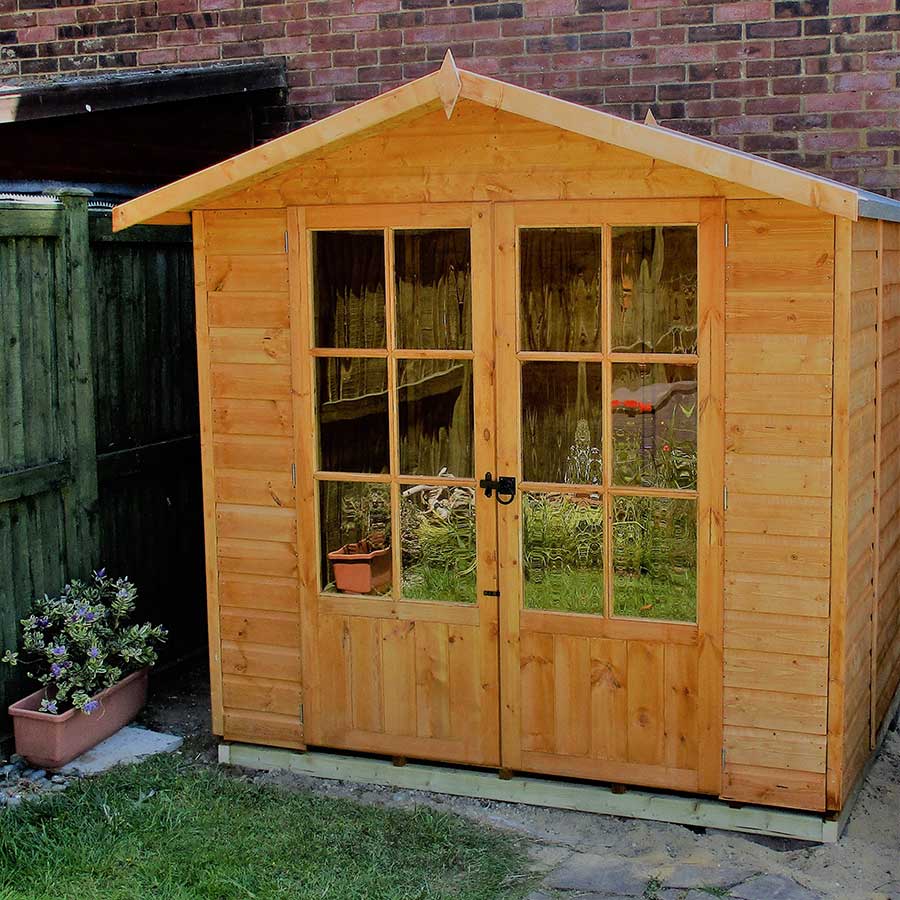 While summerhouses and potting sheds aren't the most obvious winter garden storage ideas, that doesn't mean they can't be utilised. When not in regular use, summerhouses are perfect for keeping your garden furniture, BBQ and children's toys free of moisture. Meanwhile, potting sheds can be used to store pots, tools, compost and more. Plus, as they're warmer than greenhouses in winter, you may even get a head start on potting bulbs before spring!
Browse sheds, storage cupboards and more online
If you think any of the garden storage ideas we've outlined above will work for you, why not view our complete range online. Although we do not have sheds on display, if you would like advice or would like to speak to someone in person about garden storage, our knowledgeable staff will be happy to help you in store.
Better yet, all products qualify for free delivery in mainland England, with most items delivered in around 2-3 weeks depending on current stocks. In addition, Shire offer an extra-cost installation service and custom-builds upon request. Simply speak to a member of our team to find out more.