Explore Our Range of Timber Garden Structures at OGC
With the long, warm days of summer in full swing, many of our customers are considering arches, arbours, and pergolas as a worthwhile addition to their garden.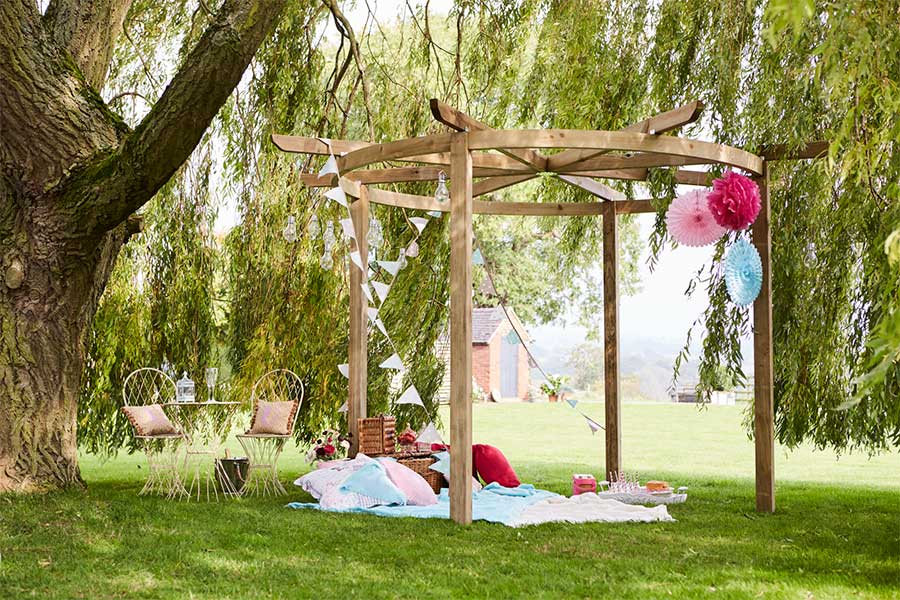 These beautiful timber structures make attractive and practical centrepieces for almost any garden. They have several features in common: each can provide shade and privacy, as well as a place to grow climbing flowers. But there are some important differences between the three that may affect which type of timber garden structure you choose to buy.
In this article we will explain the difference between these popular structures, and cast an eye over the best garden arches, arbours, and pergolas currently in stock at Oxford Garden Centre.
Garden arches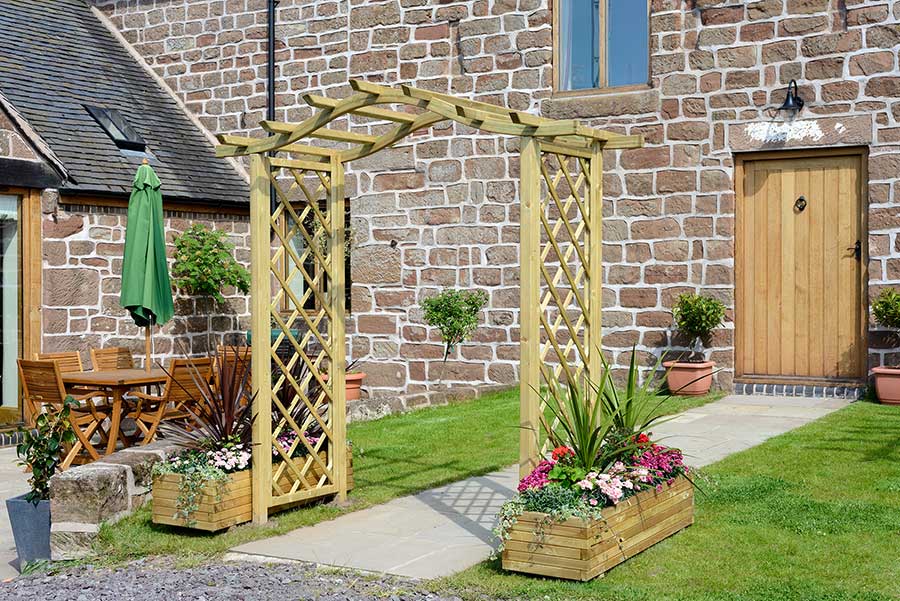 Garden arches are the simplest of the three timber structures. They consist of a freestanding structure with an arched top and lattices or trellises on either side. They are designed to be walked through, making them perfect for placing over a path or for framing an attractive view in the garden.
We stock several stunning garden arches by Grange, a British company with over 150 years of history. Among the most popular are the Grange Elite Garden Arch (£179.70), with its simple but attractive domed top; the larger Grange Elite Portico Arch (£252.90) with diamond side trellis; and the Grange Valencia Arch (£228.31) with stunning slatted roof finished with pointed finials.
Garden arbours
Although similar at first glance, arbours differ from arches in one key respect: seating. All garden arbours are designed with a built-in bench seat ideal for lounging. Some also feature bonus storage space under the seating, adding to their practical use. Arbours work well if positioned against a fence or wall – you'll appreciate the added sense of privacy, as well as the protection from wind.
Grange provide a handful of beautiful entry-level garden arbours, from the traditional bow-shaped Grange Montebello Arbour (£285.32) to the half-trellis Grange Romana Arbour (£245.60). At the grander end of the scale, we offer a selection of stunning four- and five-sided timber arbours by Shire, each made from FSC-approved Northern European Pine: The Shire 7x6 Pressure Treated Arbour (£589), the Shire 4x4 Corner Arbour (£443.99), and the Shire 4x4 Honeysuckle Corner Arbour (£442.99).
Garden pergolas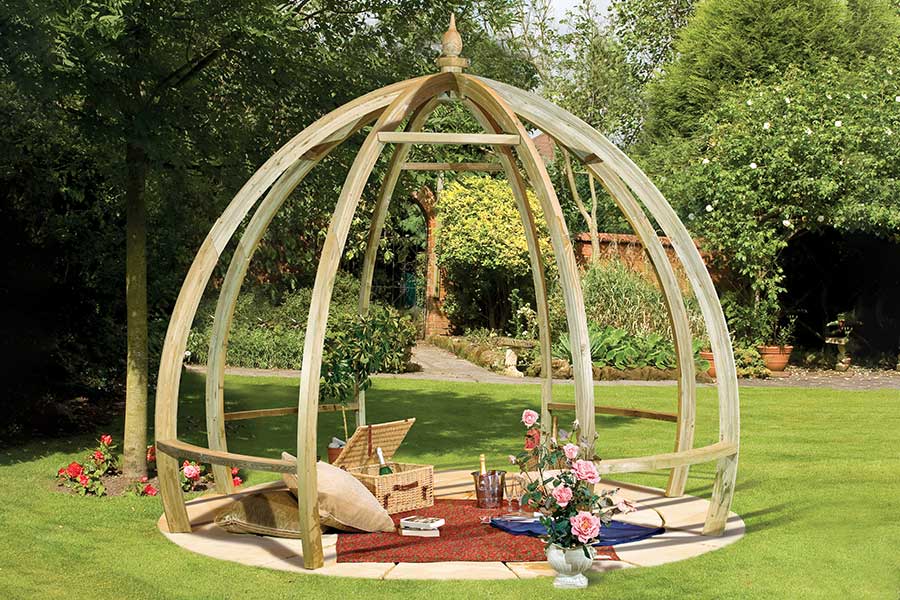 Pergolas stand apart for their wow-factor and sense of occasion in the garden. They are larger than arbours and do not come with built-in seating. Instead, these free-standing structures are best used to create a focal point for outdoor living spaces. Their design keeps things as open as possible while offering a stage for growing plants, lights, or covers.
You can customise a pergola to your heart's content, whether decorating with fairy lights to set the scene after dark, covering with thin fabric to create a mini play area or picnic spot, or using as a support structure for climbing plants.
We stock three magnificent Grange pergolas, each with their own distinct style: the minimalist Grange Traditional Pergola (£604.12), the circular Grange Carousel Pergola (£710.99), and the domed Grange Apollo Pergola (£1,189.70).
Plants and shading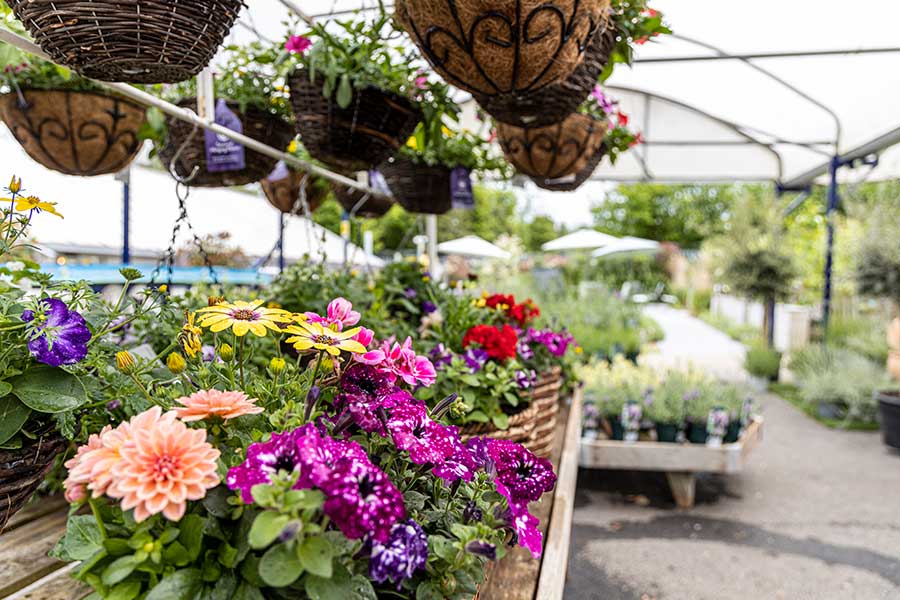 All our garden arbours, arches, and pergolas can be adorned with climbing plants of your choice. At Oxford Garden Centre, we stock a wide range of roses and climbing plants ideal for attaching to a timber garden structure. While we do not currently sell plants online, we invite you to visit Oxford Garden Centre to browse and shop our fantastic range of plants and trees. And our horticultural team are on hand to provide any help and advice you may need.
If your goal is to create shade in the garden, a pergola with climbing plants alone may not be enough. Instead, we recommend the robust Kettler Deluxe Panalsol (£1,259.99, was £1,499) as a belt-and-braces approach to providing shade over a garden furniture set or hot tub.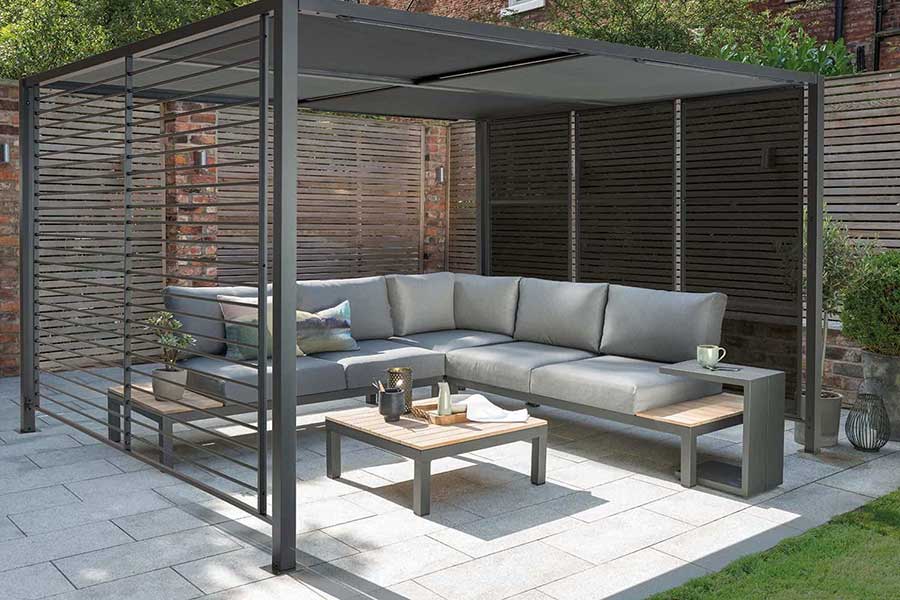 With so much variety on offer, we encourage you to speak to one of our garden experts for advice on purchasing a garden structure that works best for your garden. Pay us a visit at our garden centre near Oxford, or reach us via phone or email. We are on hand to answer any questions you may have about OGC's structures, or indeed any other garden product online or in store.
And a reminder – all garden structures at Oxford Garden Centre are included in our Free Local Delivery service to customers with an OX postcode.