Bio-Degradable Pots: The Future of Sustainable Gardening?
It seems like a lifetime ago. But back when our daily lives felt "normal" – i.e. in February! – climate change was widely agreed to be the biggest challenge facing our planet. With the fight against Covid-19 now raging, businesses and consumers can be forgiven for having shifted their priorities. After all, it's not easy to prioritise the environment when your health and finances are at stake.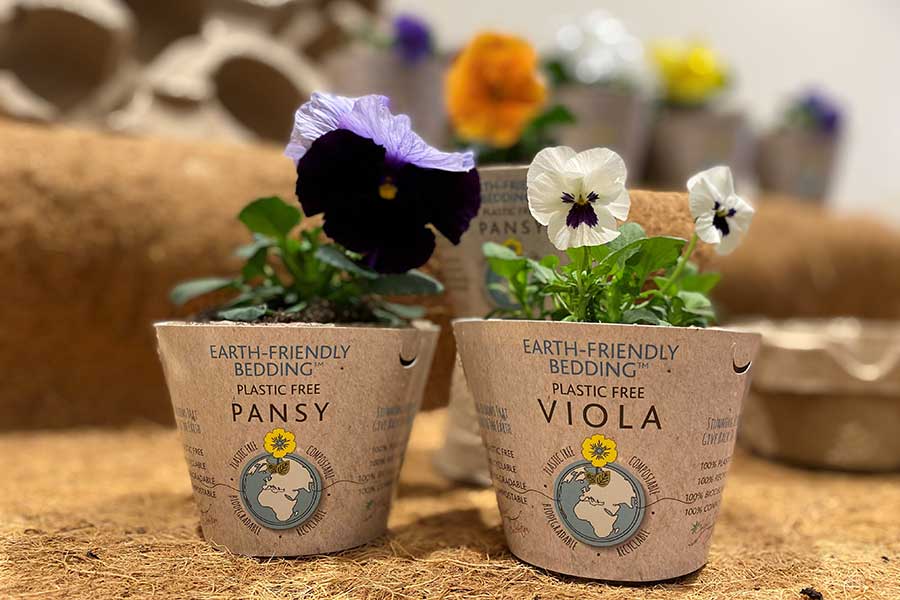 In the long run, however, experts warn that it's more important than ever for us to move toward eco-friendly behaviour. At Oxford Garden Centre, we're always looking for new products that are better for the environment. Waste plastic in particular is an urgent environmental issue that calls for all responsible business to address.
In this spirit, we're delighted to unveil our newest product range for 2020: bio-degradable pots. Read on as we explore the many benefits of these unique pots, plus a great collection of organic alternatives to compost and feeds.
No plastic, no waste
Coming soon to Oxford Garden Centre, our new bio-degradable pots (£2.49, 10.5cm) are provided by Quality Ornamentals. They're an innovative British company with a strong commitment to reducing plastic products in the garden. We're fortunate to be one of a handful of garden centres in the UK to be trialling their bio-degradable pots. At 10.5cm wide, the pots are ideal for small flower displays, and we hope to roll out larger pot sizes in the coming months.
What does "bio-degradable" mean when it comes to garden pots? In short, the benefits are simple: no plastic, no waste. Here's a breakdown of…:
100% Plastic Free – Most budget garden pots contain some form of plastic. Our bio-degradable pots are made entirely from non-plastic materials.
100% Recyclable – They can easily be recycled at the end of the lifespan, unlike regular plastic pots.
100% Biodegradable – Our pots break down naturally to be decomposed by bacteria and other living organisms.
100% Compostable – Throw them on your compost heap without a second thought!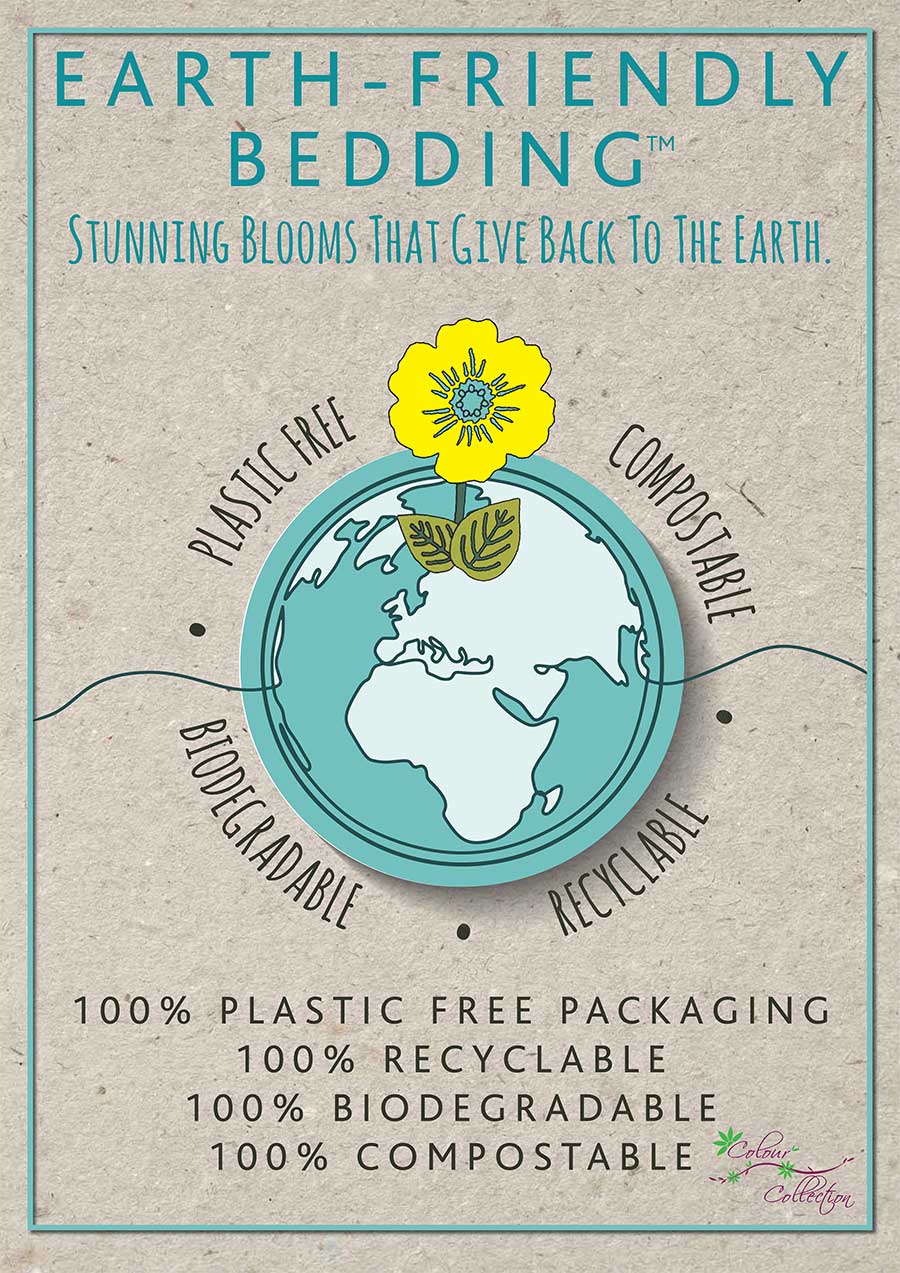 These four benefits also apply to the packaging for our attractive bedding plants. For 2020, we're offering a stunning "colour collection" with a dazzling variety of colourful blooms. These bedding plants are ideal for baskets and window boxes – be creative!
Compost and feed alternatives
Another great way to help the environment is to introduce organic products into your gardening routine. Endorsed by the RHS, Melcourt SylvaGrow Organic Compost (£7.99, 50L) is a 100% peat free option for the eco-conscious and has sold extremely well since its introduction in late 2019. Take advantage of our 5 bags for the price of 4 offer and get busy with organic potting and planting.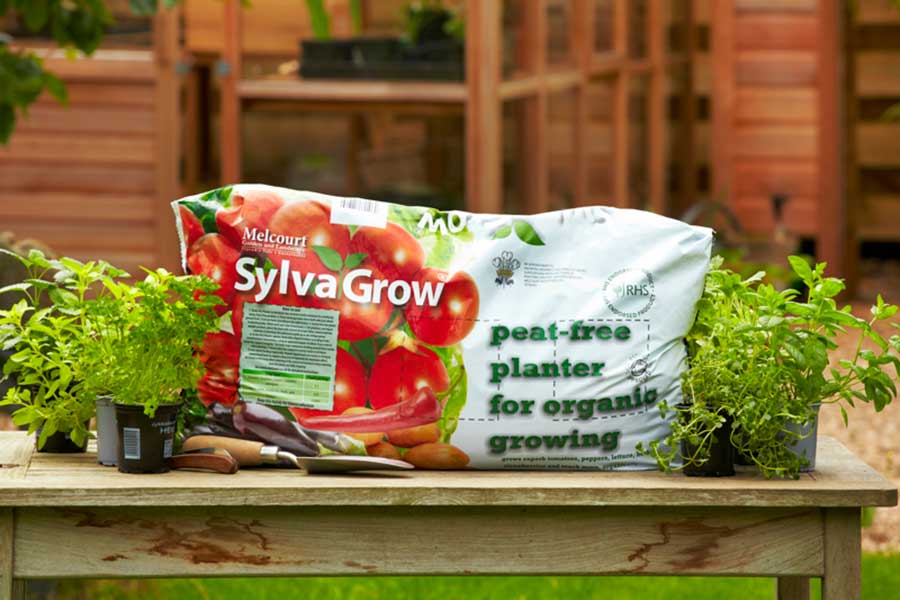 Another peat free alternative is Melcourt's Peat Free Multi Purpose bags (£7.87, 50L), also 4 for the price of 5. It features slow-release fertilisers from quality green compost and conifer bark – perfect for sustainable growing. We also recommend New Horizon All Plant Compost (6.99, 60L), naturally peat free and well suited to growing seeds, fruits and vegetables. If you're in need of a simple planter or grow bag, plump for the Melcourt SylvaGrow Peat-Free Large Planter (6.49, 45L). Like its aforementioned cousin, it's 100% organic and peat free.
We've also bolstered our Miracle-Gro range with two new organic products for 2020. Both the All Purpose Concentrated Plant Food and the Fruit & Veg Concentrated Plant Food are made entirely from plants. Choose from a liquid bottle (1L, £5.99) or a granular box (1kg, 7.99) – the results are both superb. In just 7 days you'll start to see healthier plants, fruit and vegetables in your garden.
We've all seen the upsetting videos of plastic pollution in our oceans. Indeed, consumer behaviour can have a major impact on wildlife, whether we realise it or not. But by investing in bio-degradable pots as well as plastic-free packaging, gardeners can help with the fight against plastic waste at the same time as sprucing up your garden!
If you have any questions about our incoming batch of bio-degradable pots, just get in touch. Our garden centre remains closed temporarily due to the current restrictions. However, we will be offering contactless delivery from April 14th onwards.